Sorry, it's been a while, I tried to write, didn't end up finishing anything.
But today the final episode of Fruits Basket season 2 aired for non premium users, so I assume I can now talk about this show with no fear of spoiling it for anyone who was invested enough to care, and for anyone who's not into anime, but reads my posts anyway out of curiousity, welcome.
I won't bother with a full review of all the good and bad elements of the show, writing, and art. I do really like the art style, and I will commend it for how well they do facial expressions, particularity the eyes, since it contributes to how one reads the show, but other than that I don't want to get into all those logistics.
We're all here for the in depth hot take right?
Well, I probably couldn't' make any observations about the depth that hundreds of other people haven't made and microscoped far more than I have time or energy to do, plus I think the show speaks for itself character wise, and doesn't need a lot of dissecting.
But I want to talk about the themes of the show, that's what makes it most interesting for me, though I do love the MC Kyo (best boi), Momiji, Haru, and the two best friends of Tohru, (the main main character,) Arisa and Hana
So if you don't know, here's my short synoposis of the important stuff:
Tohru Honda is an orphan, homeless girl who lives in the woods because she's got a complex about being a burden to people and her granddad wasn't ready to take her in yet, she gets found by one of he classmates, Yuki Sohma, and his cousin (sort of) Shigure, turns out she's on their property. After her tent gets buried in a landslide, they insist she stays with them until her granddad can take her in.
Just as you think you see what kind of anime this is going to be, andother family member, Kyo, crashes in the window, and accidentally Torhu bumps into his chest, he turns into an orange cat, then the other two try to help and turn into a rat and a dog.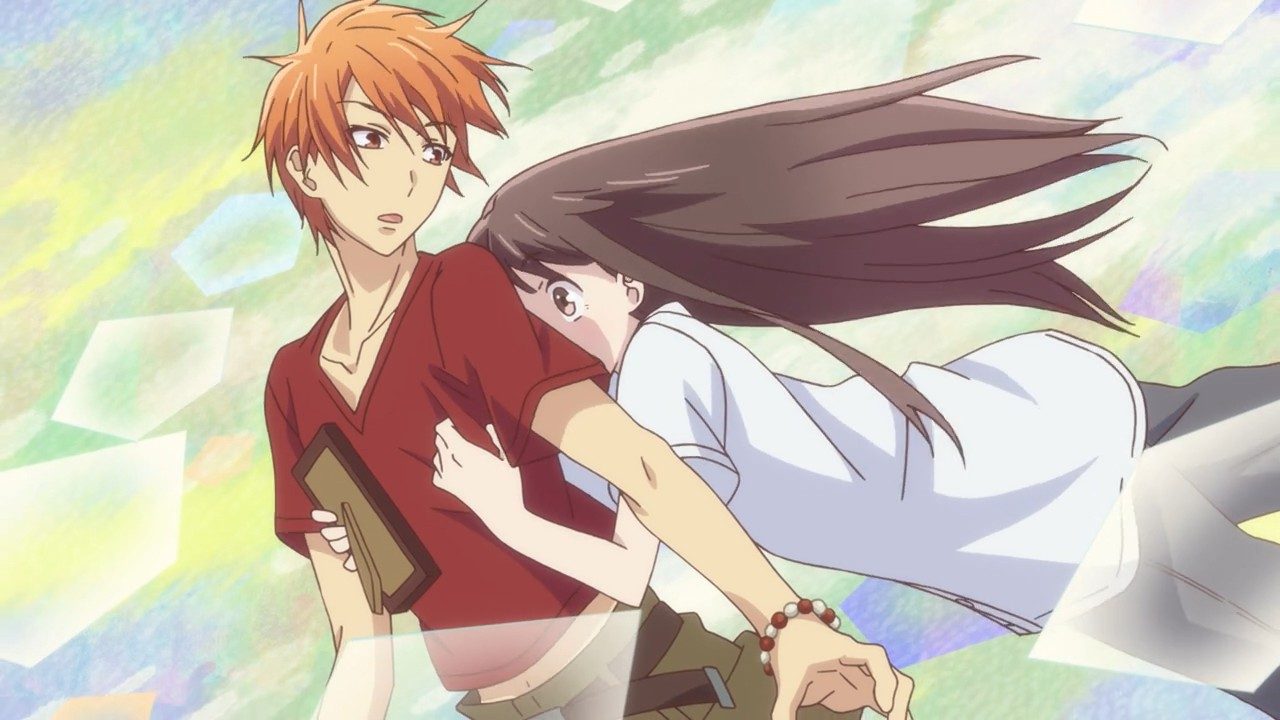 Turns out the Sohma family is cursed, 12 members of their family are possesses by the spirits of the Zodiac, 13, as it turns out later there is also a god character.
Tohru is surprisingly okay with this, like any true Disney Princess type would be, and agrees to keep the secret. A lot of hi-jinks ensue, she meets all the other zodiac members, including the psychotic Akito, and the… strange but lovable Ayame, Haru, Rin, Kisa, and all the others I can't remember the names of, plus Kagura who is kind of likable at times and not at other times.
With time we learn more about the backstories of all the Sohmas, most o them are tragic, a few had happier lives but were burdened with knowing how bad it was for the tohers, and knowing that evenutally Akito would want all of them to come live with her. This same Akito who tries to flat out murder one of them, and beats up and mentally and verbally abuses the others.
Akito is strangely isolated, depsite supposedly being in charge. I hated her at first, and then I started to pity her over time. At this point, the only thing I really couldn't get past was the attmepted murder, it feels too unreal…or too real, not sure.
I didn't know when I started the show that it was written to be an in depth metaphor for abuse and family sins, I saw an ad for it, but no one I knew had watched it so I went in pretty blind.
Something that still boggles my mind about it is that the week my sisters and I watched it, was the week my dad was gone ballistic and we were trying to come up with a plan to get him out of the house, and then he did move out. Needless to say, Fruits Basket could be triggering for me, for both of us, but it was also a bit cathartic to see it enacted out and see other characters mirror our own feelings.
And yeah, I'll get this out of the way now. Yes, Akito does remind me of my dad. The temper tantrums, the mood swings, the long speeches telling people how much they suck, the manipulation, the promise of love that everyone, even the recipient knows is bullcrap.
I don't know that I really see myself in the other characters too much, because the striking difference is that most of them don't talk about it being "wrong" for Akito to act the way she does. They are still in the cycle where you just can't question it, it's just normal, but they imply it. Most of them are more apt to blame their parents or themselves for being monsters.
Akito uses the word "monster" a lot too. It's notable because that's what victims of abuse often feel like they are made into, a monster. I felt that way. My father felt that way. Turns out when you are not loved properly, or worse, when out of love you are told that these terrible things are true about you.
But the way the Sohma family curse is handled is perhaps the most spectacular aspect of the show and manga.
My expectations kept getting subverted, in a good way, watching. AS a Christian, I know a lot about curse, especially family ones, what most people call inherited traits, if they have a name for it, addictions being the most easily recognizable one medically speaking (that's self inflicted) I don't know that the name really matters much, but I find Curse the most appropriate term.
Like FB states, the curse is a bond. Shown by the woven cords anime likes to use to symbolize an eternal connection. A bond that Yuki (I think) tells Tohru was initially meant to be a good thing, but somehow overtime it became a loss of freedom and choice for the cursed members, and became toxic for the whole family. We later find out that when the animals meet Akito, they cry and feel both an attraction and a revulsion, "beloved" "Hated" they think, "Come closer" "get away." Etc…
Very much true to real life, with abuse. There's a sickening sort of attraction. I still sometimes feel it thinking of my dad. I got to where I loathed the sight, sound, smell, feel of him and anything that reminded me of him, but I would still be drawn to be around him and want his approval. Over time apart my revulsion has died down more, but if I try to picture being around him it often comes back, I am still healing.
Interestingly, I was told I cried whenever my dad held me as a baby, somehow I picked up on the unrest in my house hold, babies can sense stress even in the womb, it's proven. But I yearned for closeness with him as I got older. Drawn, and repulsed, as long as I can remember it was like that. He was always very rough, he'd hug a little too tight, too long, something I found out was symptom of BPD, who knew?
It was strange, the hug thing, like it was purposefully too tight, like the intention was to cause pain, even while gratifying himself, I know because I used to do it to, on purpose, I've become gentler, I wasn't always that way, I think I picked up the habit from him.
"I still taste you on my lips, lovely bitter water. Terrible fire and fuel to burn is honey on my tongue, and I know I shouldn't love you, but I do"-The Oh Hellos
The Sohma family bond was forged to keep them from being alone,just like God created family in order so man wouldn't be alone, but as man corrupted, so did family. We aren't told why (so far) but clearly the same thing happened to the Sohmas.
It's a truth that we humans are too messed up to stay bonded generation after generation and not corrupt, it's why we have to leave our family, we have to explore. Ever wonder why evil empires almost always have a primary family in charge? It's not that family is evil, it's that when you inbreed, and try to keep a family the same, not letting the members forge new families like God said "to leave father and mother and cleave" to your husband or wife, then the same sins become out of control.
Staying connected, but not staying so close you can't breathe, that's the key.
So, FB is quite accurate. But it goes even further. Characters struggle with love, being able to love freely, or love at all, and we learn more about the curse.
The Curse primarily affects love, there seem to be physical effects also, some member get sick easily, some get abused by their parents just because they are cursed, both in some cases. And of course, animals follow them around…some of them. Let's hope a tiger doesn't show up some time around Kisa… though that might solve her bullying problem (also apparently int he Japanese Zodiac a tiger is different from a cat, even though they're the same type of animal…? I guess they both get picked on a lot.)
But all the Cursed members either can't love properly, or they fall in love and it goes wrong. Usually because of Akito, but it seems to go wrong even without her help too, there's often something too desperate about it, as you would expect.
Being emotionally unbalanced is a part of the curse too. It also seems to effect only some people, Haru goes dark and destructive, Kagura had moods swings and destroys stuff, the monkey, whatever his name was, is way, way too insecure… I mean sheesh.
In Season 2, Tohru decides she wants to break the curse, but no one knows how. She decides to join forces with Rin, who is also desperate to break the curse, but neither of them have a clue, they are just trying not to despair.
Tohru has of course, fallen for Kyo, the cat, and gotten close to Yuki (rat) in a more platonic way, as well as the other younger members, and Hatori, the doctor/seahorse.
It's basically Beauty and the Beast with abuse instead of pride as the big shadow over the family.
Then in the final episode today, we find out that one member has already been freed of his curse, but not told anyone till Shigure called him on it. Kureno, the former Rooster.
Kureno is not my favorite, I don't get him, and I'm puzzled by his role in the story, plus he's shipped with a 17-18 year old and he's like 27. Age gaps don't bug m too much, but the guy is weird and he's Akito's sex toy, so I'm not sure how to feel about that. He needs therapy.
But his role in the curse is interesting. He got freed one day of being an animal, but he doesn't know why or how, he remembers nothing significant about it it would seem, but Akito flipped out and got so hysterical he promised never to leave her anyway… which as Tohru points out, is basically just the curse without the animal side effect, but that's family soul ties for you.
Kureno feels guilty for being freed while the others are not, so he keeps it to himself. Contributing to the cycle. roving he is not in fact free.
I was puzzled at first, I got this spoiled for me when I looked up info about the show, but I didn't know exactly when or how it would happen, so I forgot about it. I thought the curse would be broken with love, but Kureno seems not to need love to break it.
But then I thought, maybe this twist is good. I'm not going to be that girl who justifies everything just to keep liking the show, but there is a way this could be better.
Since we're not clear on what the curse is, we can assume it affects everyone differently, perhaps if just needing to love someone else truly was the answer, it would have been discovered long ago, after all, all the Sohmas have fallen in love, right? Or most of them have.
The only hint from Kureno's story is that is might be some kind of revelation. Whether that comes form love, or from some other source, who knows.
In real life, though, sometimes the moment when you are freed from your family really is hard to pinpoint. I've had times of relief, where a cloud just lifted off my mind, but I know that I built up to it over time with prayer and consideration and better choices. I know people who've not had that moment yet. I haven't had the ultimate one where I realize I'm over the damage.
I understand Kureno's survivor's guilt. I get it too. While his life isn't easy, he feels it could be easier for him to leave, to be free. But the very knowledge keeps him bound up.
It proves the curse is in their minds just as much as their bodies. In a way, his freedom made him more bound than ever. Which, I can attest to, without God, freedom is just another form of bondage because you have no skills to be free, most freed people just end up slaves again in another relationship.
Why the curse is accurate in another way is that death doesn't stop it, it reincarnates. While I mostly think that's a stupid idea, it works excellently to show generational sins. Death cannot be he answer for the Sohmas, but life seems not worth living for them, most of them sink into a kind of resignation.
Which is quite dangerous. It's giving up. It may not make you into a psycho, (though it usually does eventually), but it makes you like a robot.
Kureno was the most resigned of all because he chose to remain chained when he could have been free, recognizing Akito's hold on him didn't just have to be the curse, it could be through pity also.
But Akito really hates all the people she loves, she knows she will never have complete security, she fears the breaking of the curse because it would leave her alone, and her mind is the most wrapped up in it. It makes sense, all the others are just bound to her, but she is bond to all of them, making her even more stretched between two worlds, two feelings, two desires. Freedom is something she seemed to give up on a long time ago.
I won't ever justify abuse, but I do understand it. I understand it because I see the same profane love in myself as in an abuser. I don't believe there's a single human who never hast hat temptation. My favorite book is "Till We Have Faces" which is C. S. Lewis fictional exploration of Profane love vs Holy love. Most of us call it Unconditional.
Parents say they love unconditionally, and bless them, some of them really do. I love those parents.
Some, however, mean that it don't matter how bad you screw up they will love you…as long as you don't leave them, don't stop loving them.
True love is love even when there is no love in return, it's giving whether or not you get anything, but it's not the desire to not get loved in return, it's the constant hope that you will be, and even if you aren't, you recognize love is the Right State of Being, and you will not come out of it for anything so petty as demands.
But a True Lover can receive love better than anyone else also, because they know it's worth, they will not scorn it, because they know it can't be bought, they will not worry about deserving it. That's why to understand True Love is to be emotionally healthy in every way, and none of us are,
But the closer I get to Real Love, the closer I get to being whole. I at least now know what not to want.
FB does not present this kind of love as a whole through the main characters, it presents parts of it. We see it the strongest in Tohru's mom, her best friends, and in Momiji, (the rabbit and also one of the best people on the show).
People who both give and receive love much more freely than even Tohru. Tohru is loving, but she sucks at receiving it. What's great about Momiji is he's so open. He hugs Tohru even if it changes him into a rabbit because what does he care? Hugs are more important than curses, right?
Breaking the curse would be simple enough if it was just the animal things. A Christian could do it in two minutes.
But breaking abuse just isn't done in minutes, or days, or weeks. As long as the curse is tied tot hat, it will be a process. Even if the beast part goes away, they will have to heal.
I think that is the real point of the show: Healing is a process, and if you don't give up hope, if you stay open to love and face your demons, you can get there. And those who give up, draw back, and embrace their darkness will become worse than they were before.
I look forward to Season 3, I will probably refer back to this show again when I write more about abuse and recovery and anime, but for now this seems like a good place to stop.
If you watch it, what did you think of the ending? What do you think will happen (no SPOILERS) and who do you relate to the most?
Until next time–Natasha.