Sorry it's been so long, I got kind of busy last week.
Whew! I may keep this short (which for me is less than 1000 words, of course).
I am starting to do a little bit better with anxiety, and I thought it might be a good time to share some of the ways I deal with anxiety, some are light, some are deep and heavy, but if I've learned one things about mental problems, it's that you have to take a holistic approach to them, it's never just one change, it's a lifestyle.
The fact is, people who are anxious live an anxious lifestyle until the symptoms become indistinguishable from the cause. For example, not getting enough sleep causes anxiety, then anxiety causes you not to sleep enough, thereby creating a viscous cycle.
In my case, I have led a love deprived life for so long, it's become hard to even recognize that as the source of my anxiety.
Lately, the anxiety has gotten worse with me trying to resist it, going so far as to have an attack, because you get anxious about being anxious. (Sanders Sides anyone?)
Anyway, let's get to the meat of it.
1. Prayer
Before you do anything else, you have to prayer. Some people say meditate, I say that's hogwash. Perhaps it can help some people, but for me, left to my own thoughts, I find no peace. I have to get outside myself, focus on a Higher Power being able to help me.
I will say, it hasn't been easy. A lot of times God has felt blocked from me, by the heavy cloud of dark feelings I have. I don't think He was ever gone, or even really silent, but my receptivity tends to wane with the more fear I feel. But prayer is still indispensable, especially if I am alone.
I do find it's better, if someone else is around, to ask them to prayer for me, hearing them say it aloud builds my own faith. "Faith comes by hearing, and hearing the word of God."
2. Physical Touch
On the note of asking people for help, something that's been doing wonders for me is just being hugged when I start to have an attack of panic or fear. Even when I feel sick, as I do a lot when I'm afraid, if someone hugs me for 10 minutes or so, I feel calmer, able to deal with it.
This is part of my story, I was touch deprived as a baby, briefly; and then i developed a hypersensitivity to being held, kissed, or touched at all, and I started hating it, as a result, my family slowly stopped touching me for several years of my life, except every so often, or if I initiated.
I had no clue this caused deprivation and a lack of feeling loved, I began to feel the loss as a young teen, and reach out more for it, but my ad, as if in some kind of punishment, then said he'd respect my wishes about not liking touch, after ignoring them for years when I said I didn't like it, as soon as I said I needed it, he wanted to "respect that" he'd already stopped touching me, but you'd think he'd be glad to get a chance to work with me on this, and figure out what I'd be comfortable with, y dad was never one for subtly.
The rest of my family really didn't get it either, and up until the last two years, it stayed that way, I wasn't hugged very often.
Now, they are starting to realize I need this, and reach out and do it, I still have to ask a lot of the time, but I am learning not to be embarrassed about this too.
Note: I am not saying you should push an anxious person to let you touch them a lot, even if they do need it, that trust may not be there to let you work with them on it. I recommend asking them what they are comfortable with, and starting with very small touches and if they don't respond negatively, try hugging lightly. I'd say never do a bear-hug or full-frontal hug with someone who still acts nervous when you touch them, it's just too rough. That's just my experience though, not professional advice.
3. Moving
My sisters actually found out about this technique, and have been employing it longer than me, but with their encouragement, I'm starting to do it more.
Getting out of the room you're in, especially if you can get outside, is a great way to stop anxiety, especially if you are having an attack where you can't breathe. That time you feel so trapped, being out in a wider space makes it better.
Also, for me, walking, even if it's just in circle, up and down, helps. When I get anxious, especially early in the morning, my body is stiff and tight and I carry tension in my back, throat, and shoulders. So walking in an upright position, stepping lightly, and trying to walk the way my chiropractor says to to practice stretching out the right way, relieves some tension. It seems to decrease the chances of a nervous reaction to food, or stress.
Walking outside is the best combination.
4. Drink Water
So many things feel worse when you are dehydrated, my appetite gets worse. When I feel anxious, my instinct is often not to eat, but also not to drink, to just hold still and try not to do anything to make it worse, which is the worst thing to do.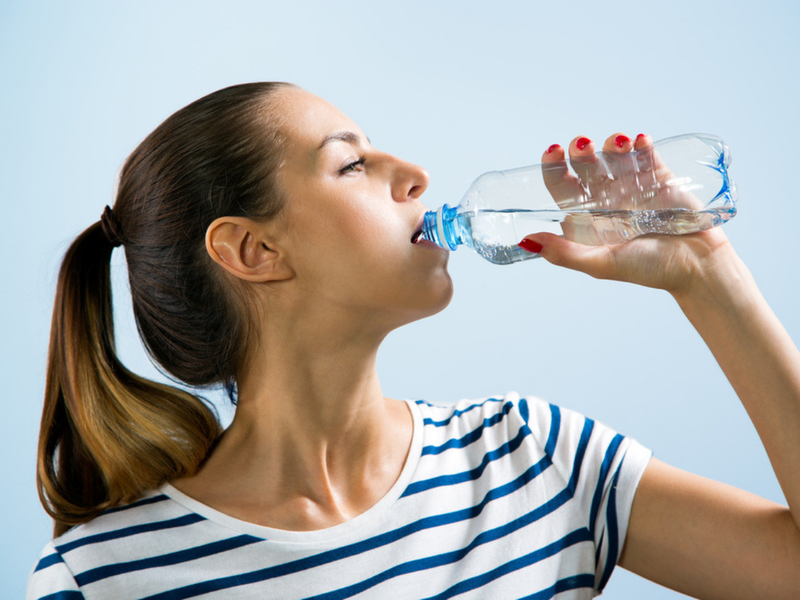 When I can't eat, drinking lots of water keeps the nausea down to a more manageable level, and usually helps bring back my appetite. It's important to stay hydrated after being adjusted too.
5. Relaxing Entertainment
This won't be the same for everyone, but I find that watching a lighthearted, wholesome piece of media while I eat helps me feel less anxious while eating. Playing music will help too, but the more my focus is taken off myself, the better.
One show I've been watching everyday while I eat is "The Cosby Show". say what you will about the actors, this had to be one of the purest, best, most wholesome shows ever made for TV, at least at that time.
I can't even describe how good the writing is, subtle, heartfelt, true to real life, without disrespecting a particular race, gender, or age group. Most of the episodes don't have a "lesson" per sec, but are just about a family loving each other, doing kind things for each other and other people, and spreading that love around. Weathering life with each other.
Perhaps it's because my home life was not like that as a kid, though it is becoming more that way now, that I like watching this. It shows me what could be, and reinforces the changes I am trying to make. I don't have to roll my eyes and say "that's such a toxic way to handle it" like with most shows.
There's some movies I go back to also, when I need to be uplifted. Usually it's not inspiring movies for me, just movies about family, and getting through life while finding meaning in simple things. Perhaps what I most need encouraged now.
Inspirational stories are great, but at a time like this, they can put pressure on me to heal faster than I can really heal. We are in such a hurry, as a generation, to outgrow our problems, and overcome, but we don't want to learn patience in order to do it. We just want to be better Now.
And we can get better, quickly, or slowly, depending on God's will, but what everyone needs to hear is that you will do both, if you life to adulthood and face struggles.
Sometimes healing is like getting surgery, you go in, it's done, and you just have to recover afterwards.
Other times healing is like physical therapy, months and years of work and reinforcing and changing how you do things until you're on the right track.
And if one thing gets to be quick for you, something else will be slow. It'll be different things for different people.
Mental illness is often a long process, I've heard of people who got delivered of it in one go, and that's great for them. God can do anything, but the majority of us have to walk a path. God is glorified whether it's fast or slow, because it is still by His grace anyone recovers.
I believe even non-Christians owe their healing to God, who else gives us the things that cure anxiety? Most of them are God created things, Nature, Music, Love. Even art is just reflecting God's creation.
Perhaps it's even good to notice this stuff while you are still young, because if you walk it out for a few years, and get through it, you have the whole rest of your life to be free.
I may not like having this now, but when I'm 30 or 40, I'll be glad not to have waited till then to realize all this, by then I'll have been practicing living without fear for a very long time, maybe when I'm 80, I'll have forgotten what it feels like to be anxious.
I don't think anxiety is a permanent condition. The people who say it is usually have only been dealing with it for a few years, and usually without God, even therapists and counselors tend to deal with the same patient only for a few years. how do they know it wasn't eventually possible to kick this stuff completely.
It may always be a part of your personality to be tempted by anxiety, but all us anxious people know the difference between being tempted, and actually becoming afraid. The suggestion flashes before your mind, and you either latch onto it and sink, or you ignore it, and swim ahead.
I have been anxious since I was a kid, but not all the time. If it can go for a season, surely it can go for a lifetime.
I may not be out of the woods yet, friends with similar problems to me say it's taken them a few years, or longer, to get free, some are still in the process; but they did get free.
It probably takes 2 years on average to change your lifestyle enough to not encourage anxiety, and it may take 5 years or more to not be tempted by it hardly at all. If I had to guess, assuming you were working on trusting God, and building up better habits all that time. For those of us who give up on it, of course it takes longer.
My dad has had anxiety since he was born, pretty much, and is now almost 60. I have come farther in one year than he has in his whole life. Though I think there were times he did better, but from his stories, he's never been rid of it.
But my father doesn't try to be rid of it. He prays, but makes no lifestyle changes with that prayer, and doesn't seek the kind of counsel and reassurance that would help him, unless a lot has changed since I last saw him.
Me? I'm changing everything, one step at a time, and my life is becoming the kind of life I wanted for so long. It's far from finished, and it will never be perfect, but what is Possible in my mind had expanded a lot.
I think that's a good place to stop. I hope you found some of this helpful, or enlightening, or fun, and that you are continue to fight your battles. If I helped even a little, t was worth it. Until next time, stay honest–Natasha