Whew! I have been looking forward to writing this one!
Let's talk about this anime: Darling in the Franxx.
I heard about this from an AMV of all things, and someone in the comments gave me the title, so I looked it up, liked the reviews, and decided to check it out. Then my sister, who I convinced to join me, told me "Oh, I heard this whole show is one big metaphor for sex." I was surprised since the review I watched never mentioned this (nor most of the plot) just the ending. But I said the reviews were so positive, I was sure it couldn't be just sex jokes, people said it was deep and moving. So, both my sisters agreed to try out one episode.
Spoiler Warning now, I will be talking about the end and all major plot points:
So, episode one did confirm all my sisters thought, and I was kind of grossed out. They refused to watch any more, but I was still convinced it had to get better if so many people who weren't even anime fans liked it. So, weeks later, I finally picked it back up, and within about a week, I both finished it and convinced them to watch the end with me, my younger sister actually got more interested because I watched a back story episode and she paid attention and decided it was interesting.
By the end, we all liked it, and actually had no complaint about the ending, which was a rare opinion among the fans, I already knew.
I tend to run long with reviews, so I decided not to bother giving a full synopsis of the show's plot here, trust me, the plot is the weakest element, and the end was all over the place.
But what is worth talking about is the themes, pacing, and characters themselves.
Fun fact, this show is not based on a manga like most anime, it's actually original.
One of the best epidsoes is the backstory of MC Hiro and 2nd MC Zero 2, it's the first anime epsidose I've seen with a split narrative throughout the whole thing and it was very skillfully done even by my American standards (as it's far more common here).
The characters
So, the characters of this show, who I will not be able to spell all the names of, sadly, are a cast of kids who pilot special mechs that are designed after weird bug monsters, typical anime stuff. The mechs need a male and female pairing to operate, and the teens are basically organized into different types of ships. We have
Goro and Ichigo– the competent pairing (you've seen it plenty of times in anime)
Miku and Zorome–the old married couple, who bicker constantly and are often immature but would rather do that with each other than get along with anyone else.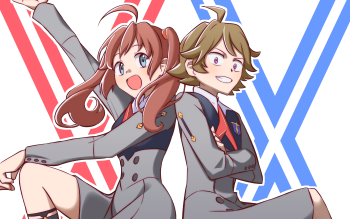 Eventually after some partner swapping, we also have Kokoro and Mitsuru
And we have Ikuno and Futoshi, who are the only non-ship partners (she's supposed to be gay, he gets married to someone else later.)
Lastly, of course, we have Hiro and Zero 2, who I think the show believes are the pervy couple, but they really aren't.
The whole confusion kicks off after Hiro fails to be able to pair with his old partner, Naomi, and she's taken away from their home, she comes back later though.
So, these are the pairings we have to work with and analyze, like most multi-ship animes, the show uses the different personalities and dynamics to show different ideas of romantic or friendship love. Over time as they develop emotions and affection for each other, the friendships get stronger, though feelings get more complicated, and they become more of a family than a plantoon (squad? What's a ten person soldier group called?)
We see the kids mature, and resolve conflicts that arise form having emotions. They start to realize people aren't perfect if they have feelings, which is why the Adults on the show have chosen to shut down all their feelings, but by the end the kids understand that to not have feelings is really not to be living at all, it's not to be human at all.
This anime offends me less in the "not having answers to its own problems" complaint I usually have, because the kids are starting from the ground up, and have no resources to teach them morals or philosophy, you wouldn't expect Socratic answers from them, just gong off feelings and their own logic is all they can do, and their logic isn't so bad considering.
What makes Hiro different, we are told, is that he asks questions, what attracts him to 02 is that she also fights the system of cruelty and apathy that he hates so much but doesn't understand how to leave. He's just a kid when they meet, but they promise to be together forever. Which the show appropriately acknowledges as marriage.
02 is embittered by eyars of mistreatment as a living experiment from a very sick doctor (who is still somehow not the villain) and being told she's a monster. She starts off as a very uncaring, sometimes psychotic seeming character. While she clearly is drawn to Hiro, she doesn't realize who he is, and tries to use him to get her goal.
She had the most complex character, I would say. While we don't approve her behavior, we see how ears of being told you're a monster, and forced to act like one by being sued a s a weapon, and given men to literally drain the life out of, without anyone seeming to care about it, would twist someone pretty bad. She shows signs of guilt, but is unable to change just because the team calls her a monster. It takes Hiro thinking that for her to realize what she's done, but she still doesn't stop because she thinks she's lost it all already.
Hiro then realizes he has to be with 02, even if she's done some bad things, because she is still a person who he loves, and he wants. So, he forgives her, and she finally accepts his love. Then the 2nd half of the story begins.
Along the way, we deal with Ichigo having feelings for Hiro, and having to accept he won't be hers, which is hard when she's never had love before, and doesn't see other options, though Goro loves her. And Mitsuru and Kokoro begin to develop a relationship also. Culminating in them getting married, torn apart by the Adults, and then eventually getting back together and having a baby.
The characters are not extrmeely intersting in of themselves, but they are human and likable. I didn't expect a whole lot since there was so many, but they all did what they needed to for the plot, and it's not a long enough show to spend as much time as MHA or Naruto on developing personality ad backstory for everyone, the pint it the expereinces they share, and what they do with them. Sci-fi anime tends to focus more on that then on individusla, form what I've seen.
Themes
Okay, this is the strongest aspect of the show, and I want to try to stay on track here, there's a lot I could talk about.
First, the elephant in the room: Sex, is the show really about sex?
Yes, and no.
I would not show any kids this show, the innuendo isn't really the problem because it's mostly non visual, but there are scary, gory elements I didn't have an easy time with myself.
That said, if you're a parent looking this review up to see if it's okay for kids, just watch it yourself first and decide if your kids can handle it.
I'd say young teenagers are more at risk of missing the deeper themes and just watching it for the sexual innuendo, and probably young adults too, to be honest.
I mostly don't get turned on by animation, it's just not real enough for me to be effected, it bothers me more in live action movies, I try to avoid highly sexual ones. But a 2D character? They don't look like a real person. So, I can watch most anime and only be grossed out by the idea of it, not tempted to actually look. But this is a specific trait of mine and I am cautious recommending anime to other people who may have more of an issue, as clearly plenty of otakus don't have any difficult sexualizing 2D characters (ew).
So, if you do have a problem with it, this may not be the show for you, at least int eh first 3 episodes, it gets better after that.
The show is about sex. It's like one long Sex Ed class, there's metaphors for infertility, deep intimacy, compatibility, DNA, and possibly STDs, though it was unclear. A lot of the language has double meanings.
However, on the other hand, none of what it says about Sex is really wrong. The show is not promoting immorality, or promiscuity, or perverseness. The topics are broached lightly, but the mature route is taken by the kids. They talk honestly about how they should treat each other with respect, and forgive each other for having a little trouble occasionally with ogling, as it is hard to never do that if you like someone (and if you are married, wouldn't even be natural.)
Kissing is talked about, and Hiro decides it is something you should only do with the one person you love, you should kiss around, basically. Partner swaps are taken seriously.
Though riding in the Franxx mechs is a metaphor for sex, the show remembers it is just a metaphor, and doesn't treat changing partners as cheating, more like realizing you're not right for your bf or gf and not forcing yourself to stay with them. Though Kokorp does break a promise, it's not literally marriage, since the show later has actual marriage, so you don't have to feel it's the icky affair divorce and infidelity would be.
Also the Franxx are a metaphor for emotional intimacy, the kids literally connect their minds and feelings inside them, and while sex is one way to do that, it's not the only purpose of the metaphor. People who are not sexually attracted to each other can still pilot together, if they have mutual trust and are willing to try, because it is also about relational intimacy. The lesbian and the reaming guy can still work together because they are friends, not as effective as the others maybe, but it's not a sexual thing for them.
Some fans probably saw this as inconsistent, but I saw it as wisdom on the writer's part not to take their own metaphor too far, that always cause major plot issues in a story, you need to remember no metaphor is perfect.
The idea that you should find the right person and stick with them forever is actually stressed constantly by the show. And you could say it leaves room for arranged marriage, at least two of the couples are put together by the Adults without getting a say in it, but they eventually grow close and make it work, while the other get to choose their own partners eventually, and they make that work. The point is if you are willing to try and you have a decent person, you can learn to get along.
Then there's 02, she, I eventually realized, is sort of in the role of a slut/prostitute, if you follow the metaphor. She lets herself be used, and devours other people, which of course is a sexual term, one found in the Bible also. Used specifically for harlots and cheaters. like most lusts, 02 does this because she has no self respect and feels it is all she is good for, and she hates the men she is given the same way most sinners hate the ones they sin against, she calls them "fodder" because that is what the system is giving them to her to be, and she hates it but feels stuck.
As with many whores, though, 02 secretly dreams of love and trust just like ordinary people can have. She met Hiro years ago and wants to find him again and be with him, no matter who she has to kill and what she has to do. As her conscience grows, she gets more desperate and unhinged, then feels ashamed once she finds out the truth.
I thought it was one of the most powerful thematic moments when it hit her that her lifestyle of debauchery in order to find love was exactly what made her unable to have it once she did find it. A major reality check you could say.
Then, in a Hosea like move, Hiro forgives her and accepts her anyway, and she confesses "I am a monster" but he's already told her he doesn't care.
Let's unpack that.
Should you actually be with someone like that? People like 02 have very deep issues, and often will do what she did, try to suck your life out in order to fill their own void, like with her, it may not even be something she always does on purpose, it just happens. Then they may start doing it on purpose as a way to cope.
The show stresses that 02 is a monster in some ways. That her actions made her that way, even if her DNA didn't. But believing she was a monster is what caused her to do that. Hiro was the first person who made her feel human and she wanted to be human so she could be with him.
I believe the "monster" metaphor is meant to represent how people do have ugly parts to them, and you have to accept that.
I was reminded of Fruits Basket, which I am also currently re-watching, in episode 23, I believe, when Kyo laments his mother covering up his ugly form. he says he knew it was monstrous, and he wish she would just face that with him together, instead of pretending he was not what he was.
People are not literally bests or monsters, but it's a metaphor, so we can't take it too literally. The point is that we all have ugly sides to us.
I don't hold with calling that a good thing, it's not. But neither of these shows seems to be falling into that error. 02 is clearly not a monster for her horns and pink hair, bur for her actions. Kyo had damage and a curse that makes him have an ugly side, but it is not who he is truly, he transforms back to a human when Tohru accepts that about him.
I was reminded of myself. I spent many years worried about being a monster, I used to think it was just me, I later learned it's almost everyone, at some level, whether we all use that word or not. I struggle even today with wondering if anyone will ever love me enough to get past that.
Most people would not describe me as someone with confidence issues, or as a bad person. I have gotten much better at loving myself than I use to be, but it doesn't rear its' ugly head at times.
I know that I will always, in this life, have moments of insecurity. Maybe not about this, but about some things, to be human is to sometimes have fear. But you don't have to live in torment of it.
My family does accept me, much more than ever before, and I have healed, but an abusive past is a detriment to many people when they consider who they want to spend their life with. Though I do not believe I will repeat my dad's mistakes, some people don't think that way. And I know that the trust issues I have are likely to flare up in a romantic relationship, all the therapy in the world will not take it away, it just gives you a way to work it out. Something many people don't understand.
Hiro chooses to see 02 as beautiful despite her differences, and at first she rejects that as much as any broken person would, but when she realizes he loved her from the beginning, she melts.
The relationship is not one side though. Hiro teaches 02 how to accept love, but she teaches him what passion and emotion are, she brings him to life.
It's very much how I've read the male-female relationship is meant to work. Man gives strength and care to woman, she gives it back to him in life and beauty and enriching his existence, you need both.
Goro and Ichigo have a more typical anime type relationship where Goro had to be in it for the long game, and Ichigo doesn't love him at first, but eventually he does win her over, though we don't get to see it own screen. The point is he never becomes bitter because she likes someone else, and she learns to be mature about it, and let Hiro go. I was surprised at the illogical hate fans had for her, when I didn't really see any other way she would have handled it, knowing nothing and with 02 being a anything but healthy at first.
It's a tough call too, some broken people should not be in a romantic relationship, and if your friends are warning you about that, you should take it seriously. Other times, a broken person can be healed through a romantic relationships.
I am no expert in this field, but the best clues I can guess at are look very carefully at what kind of broken they are, the reason behind it, and if they seem at all willing to change. 02 wants to become human so much that once she realizes what that means, she changes very quickly, not without road-bumps along the way, but still, Hiro's trust in her proves justified. If she didn't want that, it would be an entirely different thing, and some anime do go there, some of Western shows go there (actually way too many now) and that is very toxic.
Final Themes
All right, the final themes I want to talk about are the idea of what makes us human, what it means to bring life into the world, and the surprising take on what sex is really about.
Some feelings make us human. But pure lust doesn't. The doctor character lusts after a creature on the show, but that makes him a monster, very Claude Frollo like. 02 understand lust in a weird, twisted, way, but not love. Hatred doesn't make us human.
But the alternative the show's villains offer, that of only purely spiritual feelings, is also not human. They don't quite go so far as killing god, thanks goodness, but the idea of becoming gods is actually voiced, to my surprise. The Doctor says repeatedly "I'm an atheist."
He might be, but is the show? Not really. Prayer is actually part of the solution to the final battle. Not prayer to any specific god, but still. Spirituality is not actually discouraged, but the idea of disassociating it with being human, and leaving behind humanity to be "spiritual" is what is denounced.
C. S. Lewis warned that Spiritual pride and Spiritual sins are the worst kind. The most dehumanizing. In the end, a witch becomes little better than a pure beast, because their value for anything good will be eaten away by their darkness, this is quite literally in "The Silver Chair" where the witch is literally a serpent. not human at all.
Now, the Bible teaches us that our mortal bodies do house sin, and we will be rid of them. But we will be given new bodies, not be disembodied spirits. Jesus is described as having a body.
The point is not to think of it as choosing between a body and a soul, but it becoming a new kind of being, never before seen, that is someone both at the same time. That is what the Bible says Jesus is, and that is is till now unheard of.
And, to my astonsihment, DITF actaully went to that conclusion.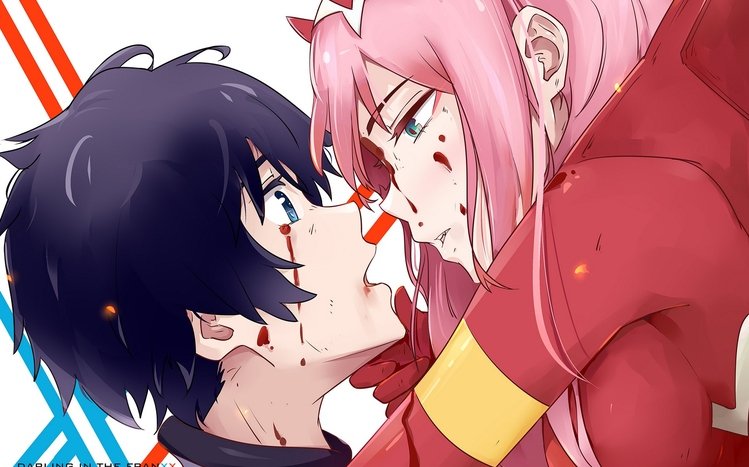 At the very end, 02 and Hiro combine their bodies, minds, and spirit, to become something that is both a physical and spiritual entity. Hard to explain with any scientific logic, but if you are following the metaphor, it makes perfect sense. True perfection is the melding of those two or three things.
Not many people even in church know this, but the sexual act is supposed to represent in a very small way, the connection between Christ and the Church.
In the best sex, between a man and wife, you experience the other person. You become one with them, while remaining yourself.
The show describes this as "I can't tell where you begin and I end" and going deeper inside that person.
While you could see that as crass, it only happens when the show is putting empathsis on the spiritual connection, not just the physical act of sex. Yes, the physical components do mirror the emotional ones in that way, I'm a virgin and I can understand that. The whole sexual design is a living metaphor for connection between people.
Which is why it's been degraded so much by the culture. We sexualize everything, because we have no ability to understand spiritual intimacy anymore. Sex is the closest experience to that the average person has, so many people bring it into everything.
But, it is about so much more than that.
The show is far from being vulgar. It keeps it within the context of a husband and wife, and explores what it really means.
It deviates a little from just sex, as they share memories too, but the point is it's a deep connection. When it goes from 02 using him to her doing it out of love, they become a whole new person, in a very literal sense.
The show ends with them saying they are ONE. Not like that weird alien creeps are all one, uni-formally, but ONE because they joined together two very different creatures, but embrace that fully.
I realize I can't write this without it sounding like innuendo, darn it show!
But there is a reason we use those terms about sex too, it is true. When it's between people who have that real relationship out of the bedroom it will be expressed in the bedroom too.
I don't feel embarrassed talking about it, though I've never experienced it, because I see it as beautiful. God-ordained, and I see no reason to treat it like a shameful thing.
I was surprised that the show used the terminology is did. It sounded like the Bible. Saying the two became One. Hiro literally leaves his Papa to become joined to 02 (though in this case, he wasn't leaving anything worth having, as PAPA was just the villain.)
The Bible has the unique idea, among religions, that becoming one doesn't take away your individuality. That God is 3 in 1, all 3 being different, but being 1. That husband and wife show this to us on a smaller scale.
It's like if you fit puzzle pieces together, the only way they can fit is if they are different, yet made to fit together. Men and women quite literally are made to fit together. If we were more alike, we couldn't do that.
In the most poignant part of the metaphor, Hiro and 02 even look alike, and have exchanged DNA (not like that), they have fully merged, yet remain separate in a way.
Not everyone knows this, but your DNA in sex does get imprinted ont eh toher person, in a strange way. Even if it's just one time and a one night stand. I've heard that it's harmful in every ocntext but marriage.
Married people start to look and act alike after awhile, and sound alike. My mom's sense of humor a=changed after marrying my dad.
Actually, if that's not happening, it's a sign of dysfunction.
Finally, the theme of life, and legacy. Not much to say on, but I really liked that the show depicted having a baby as something to value, and the beauty of new life. When Mitsuru cried at his daughter being born, I got emotional, something is very precious about seeing babies valued in media.
In Conclusion
There are more themes in the show, micro themes like what to do with unplanned pregnancy, and if you don't remember something are you still responsible, and I liked the show's way of handling them all, but I can't go into them here, I covered the most important stuff.
So, I hope this was enough to convince you to check this show out, but even if you don't, I hope you got something out of this post.
I have to admit, I better be careful who I admit having watched this too, since I think its reputation is skewed by the people who only watched it for the sex thrills. They were probably disappointed ultimately in its mature take on all that. I loved it though.
It's not the anime I enjoyed the most, and it may not be on my top 5 list of ones I'll re-watch, it's not really that kind of story. But it is beautiful, and poignant, and worth seeing at least once. It's also one of the first ones I've seen that I honestly can't disagree with the conclusion of, and that is remarkable.
Until next time, stay honest–Natasha
Make a one-time donation
Make a monthly donation
Make a yearly donation
Choose an amount
Or enter a custom amount
$
---
Your contribution is appreciated.
Your contribution is appreciated.
Your contribution is appreciated.
Donate
Donate monthly
Donate yearly
I was reading Pride and Prejudice, like I do usually twice a year, at least, and I started drawing some comparisons between the Regency Period and Anime.
If that sounds like a stretch, you haven't been familiar with both materials, I'm sure anyone who was would know exactly where I'm going right now.
It's funny how your background can influence your perception of something so much. Even just what country you are born in. It's not a new idea to me, but many people don't even think of their country as influencing their points of view. They think everyone thinks that way, if they are smart or normal people.
For instance, the odd blend of respect and disrespect in Asian cultures toward teacher figures, I've found it to be somewhat true. They allow for a lot of teasing and humor about certain things, but you absolutely never question others without severe punishment. Which can be the same here in the West, just usually over different stuff.
Free thinking is rare anywhere, even America, and I'm well aware of that as a citizen.
The difference is America puts more stress on free thinking being a good thing than many countries do.
I won't pretend to be an expert on the intricacies of other cultures, I will have to go on what I've read and watched and heard form people who've been there about it, but even so, there's some interesting things you could note.
My strange fan fic story
While I've been working on my now 3000 page long, year's wroth of effort, fan fiction, I've delved into Japanese culture at a very deep level. People who don't study anime deeply don't realize how much you can know about a real place from the fiction it produces. I've written before about how Anime kills God (Killing God With the Power of Friendship: an anime conundrum. ), and doesn't fix the problems it raises in its stories (Anime won't Fix-it!), there have a been a couple exceptions, very rare, that I've seen so far. Usually, it doesn't extend to the whole anime, just one part in it.
When I wrote my Naruto fan fic (I do plan to publish it, if anyone's interested, I'll probably link it to this blog eventually) I constructed a narrative about how the country would receive Christianity, all on my own, without doing research into Japan's history with Christianity, and I didn't really plan to make any statement on Japan itself, since I didn't know about it.
But in my history class, we briwfly covered that very topic, and then my sister filled me in more from a documentary she watched, there's also a movie called "The Silence" that I'm planning to watch.
My narrative was that if someone like Christian Missionaries came to the Naruto world (i. e. basically Japan), they would be feared and hated, and people would try to kick them out. I based this on the Bible and other accounts of missionary work not any history of Japan, I didn't know about it, as I said.
But to my shock, I learned that my fictional idea was almost exactly what happened. And I had written the motives and reasoning in much the same way without prior knowledge.
Japan has a lot of missionaries at one point, but when new powers rose up, they felt threatened but Christianity's freer way of thinking and thought it would encourage people not to follow their new ways, so they kicked them out as a while, and to this day, Japan has a very small christian population. And treats religious items and icons as the enemy in most of its anime.
Coincidence? I can't believe it.
(That joke wan't planed, but then I saw it and couldn't pass it up 🙂
I had taken characters of Naruto and explored their reaction to the ideas, just like I do on this blog with media, and I got the same result. Fear of challenging the status quo, fear of a loss of control… it was scary (for more if my ideas on Naruto, check out this series: Naruto: 5 months of frustration-pt 1.)
I got the idea that Japan must be terrified of God after seeing so much anime, and I got some confirmation from a fellow blogger who lives there that this may be closer to the truth than I thought.
I probably sound like I'm bragging here, but I don't think I figured it out because I'm just smart, in fact, some might still argue that I'm even right, but I do think fiction tells you an immense amount about its culture.
You have to have an eye for it, I've had years of training in critical thinking, writing tropes, and artistic style recognition, I spot this stuff very naturally. But most people could if they studied it.
I will say the most helpful advice about reading or watching the ideology of any art from a different background is this: Look for what isn't there.
Are there things characters never say that you would expect them to say?
Are there events that never happen that seem like they would happen?
Are there events that do happen, but for unexplained reasons that contradict the set up?
In American media this happens quite often too, but anime is almost unilaterally this way. It's called "anime logic" by the fans.
Other examples:
I notice it in French stuff too, as I've watched quite a bit for French class. And, I also notice it in ASL media.
Some things will never be said.
In French stuff, you will never hear that love is unimportant, I would be very surprised to be given a counter example of it. Tragic love is more popular than here, but love in some form is part of pretty much all their stories. They have a reputation for a reason.
In Deaf media, the opinion that Deaf people should try to become part of the hearing world more is not going to b supported by the media, whatever private opinions the actual members of the culture have. It's not allowed.
If I watched more I'd probably notice other stuff, I could say French media considers feelings more important than logic in writing, but I haven't seen enough to be sure.
In British writing, which I have read more of, logic and reality are much more central to any story, even a children's story. The question of what is real will come up in most stories, and logic is far more likely to guide the hero's actions than passion. If passion does take over, it will be pointed out as unusual, not seen as the most natural thing. The English always seem half ashamed of being ruled by passion, when they are, though that maybe a development more of the last few centuries. Shakespeare doesn't have the same feel, though logic and wit are the main attractions of his writing too.
All this to say, I do this with everything, and I've also become more acquainted with my own countries stories.
We value freedom, independence, and discovery. All our original stories usually focus on that. Growing up, moving on, and become your own person is one of our favorite themes, both form the start of our nation to present day.
Our disregard for the opinions of authority figures is often seen as disrespect and cheek by other countries.
But after studying their media more myself, I have come to be exceedingly grateful that I was born in America, if I had my personality and was born somewhere else, I'd be miserable, probably. Or I'd never have developed my skills to the point I have (I'm aware that there are free thinkers in other countries, but there's not such a rich support for it as here).
I'm a Xenophile, but I far prefer American idealism to any other.
America sees no reason to treat royalty, nobility, or gentry with any particular deference, we tend to see everyone as equally valuable int heir rights. One an's opinion may be right or wrong depending on their character, not their station.
To my Western audience, that no doubt sounded obvious.
But, it really isn't.
Authority in other cultures
In English books you will find great preference given to the opions of anyone higher ranking, whatever their character is known to be. From morality to clothing to food, they are just assumed to know better.
Like in "Fiddler on The Roof" when Rev Tevya says "If you're rich they think you really know."
There's some reason for this, rich people are generally more educated, and therefore might really know more, but as Pride and Prejudice so eloquently shows, that doesn't guarantee they understand any better than a common beggar the real problems of life, or how to treat people well.
Anime takes a very similar view to the British though, it tends to show that teachers and leaders may not always know best, but must be followed anyway. That rebellion is justified only when unspeakable atrocities have happened and the world is about to end, and even then, it's 50-50 whether the system will actually be overthrown.
The idea of contradicting a teacher/leader is almost unheard of, I've seen a couple exceptions, but notably, even then you rarely criticize the leader themselves, just say they are mistaken.
Oh, the times I've longed to see one of those sick tyrants get punched and told "You are a monster with a god complex!"
Instead it usually boils down to "Our feelings just make us not want to be mindless robots, so sorry, but we'll take you down, but please don't take it too hard, you're probably right, people suck, but we like being alive so..."
I'm all for being alive, but after the villains deliver their indictment against humanity, it feels like a hero needs more than "feelings" to come back with (literally every Fairy Tail arc ever.)
These are the good ones though, far worse anime have a compromise with evil that would be truly disgusting if we believed it was real. Like accepting a demon half, or something :-[
But, since they cannot defeat the monster, they befriend it.
This attitude doesn't surprise me too much if I think of how Asian countries tend to move from one dictatorship to another, some more subtle, others blatant, and even now the same ideas permeate their culture even if the legal system has relaxed in some.
I doubt many people there would even argue that point with me, if I put it to them in different words. What we call limited thinking is usually called tradition and family ties.
I'm not against tradition of family ties either if they are good, but Americans reserve the right to distinguish between good and bad traditions and family responsibility, while many cultures see no difference in duty, whether you have cruel or kind traditions or family. You show respect either way.
America promotes the idea of earning respect, for leaders as well as peers, while you will not find that idea in most countries, leaders get respect based solely on position.
Someone might wonder, though, if I disagree with this, since the Bible teaches it.
My answer is no, I don't think you get to disrespect a leader just based on not liking them. But I do think that you should not obey them if they are leading you to folly or evil. And that line just seems to disappear in many countries.
Of course, people are diverse, I can't make blanket statements without knowing I am ignoring the exceptions. So, yes, exceptions exist, whole groups of them no doubt. I am talking about the ideas generally promoted, not what I think every single inhabitant of a foreign country will act like. I feel I shouldn't need to state that, but I've seen enough comment sections and review to know people will not give me credit of taking that into consideration unless I say I am.
Being american also informed my view on my abusive father. I will probably never forget in this life him screaming at me multiple times "You WILL respect me! I am your farther!"
My life coach laughed about it, like "why would I respect you when you don't act worthy of it?"
The Bible does not say to respect your parents, it says to Honor them.
Honor is not respect. I realizing. You can honor the position they are in, acknowledge it, and be kinder to them because of it, without respecting who they are.
I don't respect my dad at all. He is, in my opinion, an almost 60 year old child, but he is still my Dad, and I will honor him as far as I safely can, which is not very far, and not as far as he wants.
The man doesn't know what respect is himself. To him it means blind obedience, never arguing with him, never questioning his words. Even when I pointed out that he was okay with my questioning other authorities, he said "but I'm your dad, that's different." How is it different? I wondered.
I think his idea is that if I loved him, I would not question him. I would just do what he says. I would ignore my better judgment.
But, I think being an american, I found it easier interpret the Bible as promoting independence in this case.
The Bible could make the case either for dependence or independence on rulers, it's all in how you want to read it, the truth of the matter is, the Real Message is telling us to use wisdom and discretion, and follow God first, than figure out how leaders factor into it. Some of the old saints rebelled or stuck out on their own, others did their best to live in peace with authority. You have to seek God for what to do in your situation.
And I am against any ideology that doesn't allow for that. My complaint against anime isn't that it promotes respecting leaders, but that it promotes it against all else. And the alternative is your own judgement based on feelings. Never turning to God and asking, what should I do?
Even though in real life, that is what people fall back on, whatever the media says.
There is no standard of morality in anime, unlike in British stories. The similarity to the British empire lies in this: that the British acknowledge God, but ignore the bible in how they treat the poor, lower class with less respect than the upper class, rich. There are most certainly exceptions, Elizabeth is an example of it, but the general attitudes is of that.
(Actually, it's funny, anime and Korean media both make rich people out to be quire decent human beings, who don't really care about money or status, at leas if they are a hot love interest, while American's tend to write all rich people as spoiled snobs. I find both portrayals equally stereotypical.)
The real crux of moral issues in anime is: who is stronger?
It seems like it's promoting the underdog, don't shows like MHA do that?
Not really… I wish they did, but anime can't commit to that message, no matter what.
Fairy Tail bases power off feelings, and morality is based off feelings.
But the logical point to be made is that, everyone has feelings, the bad guys do too, and there's might be very strong, so how does the power of feelings, or friendship, fix anything?
Anime won't go so far as to say evil should win, but the reason for good winning is pretty flimsy. What if some day, a villain has stronger feelings that a hero?
Actually, MHA stands out again as an interesting example here. When the hero killer Stain is cornered by the heroes, the strength of his feelings and convictions freezes all of them, and they cannot resist him. Deku recounts it in an awed, scared tone, recognizing he was so intense they couldn't make a move. Stain then collapses from injuries, and straining himself, not from any of them.
Here is a startling case of a villain truly having more passion than the heroes and the show rather uncomfortably moves on from the subject, but damage is done. Stain's influence still affects the villains and heroes to the current point in the story. Gran Torino points out only All Might has a passion strong enough to oppose Stain, it can't be said that Deku is there yet.
If anything, Bakugo is far closer, but not close enough.
Conviction is dangerous in anime but irresistible, they admit. To many people who want to see change. The heroes are not offering them change. One wonders who the real villains of the story are. The villains do evil, and that's not excusable, but if they didn't do evil, if they simply held the same view and rebelled in less reprehensible ways, would it change anything? Or would the heroes still look down on them?
When I watched it, I found Stain intimidating, but I didn't believe I would have backed down there, and I couldn't understand why the heroes did. Now I do, they lack conviction. I have conviction. Of something else, I believe in more than Stain.
It's true I don't know how I would be if my life was truly in danger, but I would attribute that to cowardice, not that I had no alternative perspective. I hope I would be brave.
MHA is truly interesting more for what it dares to acknowledge than anything else, at times. Like Bakugo's trauma after being kidnapped.
If stronger feelings determine who wins, might still makes right, it's just a different kind of might. All Might has all the strong feelings, do you see where this is going?
It's the same on every shonen, and every shoujo. The persistent, strongly emotional person wins, or the highly intelligent one (Dr. Stone, among other examples).
I don't take issue with strength, just if that's the only reason. If the villains were stronger than the heroes, they would win, and there would be no moral reason to resist if everyone else was too weak to do so.
It should be first and foremost about what is right.
The idea can be worked in that right is what makes the MC powerful, but it is not focused on enough to ever be certain that that's the real point, and the answer to all failures is to try harder, work harder, and do better.
Never just that your outlook and approach is wrong.
I am sure I ticked off several weeaboos if they read this, but I don't really care…
I think I'll wrap up this post here for now, do you have any other thoughts about this subject? Feel free to comment and discuss, I always read comments.
Until next time, stay honest–Natasha.
I need an outlet, so I guess blogging works.
Since my last post I found out my step-grandmother, who's had Covid, is unable to eat and they think she will be gone soon. So my family and I are planning to say goodbye later today.
When I first heard she was sick, I wasn't very upset, things happen, she's been on the verge of dying anytime for ears now in Hospice care with Alzheimer's.
This will be the first person close to me who's died of COVID, I guess I am lucky it has been so long, and no one else in my family has died of it.
I didn't feel much before, but now I think I was suppressing it, as I tend to suppress sadness, I was never taught how to handle it well, in my house sadness =depressed/suicidal, so I became very afraid of that feeling.
But just plain sadness is good, it shows you care about stuff that happens around you. I am working on that.
I guess I can commemorate this post to my step-grandmother, or Grammy, as we always called her.
Though we aren't blood related, I was closest to her out of all my grandparents. before her disease got so bad we couldn't really talk anymore, and I grew into an awkward teen who wasn't sure of who I could trust anymore.
Before I had other friends though, she was my outlet to talk about my home problems. She'd listen to my complain about my dad and my other toxic acquaintances for 30 minutes, almost every day for a while. Looking back, I don't know how she put up with it, but it helped me not become discouraged.
I got embarrassed about it after a while an stopped calling, though she still affectionately referred to me as her "phone buddy" and asked why I wouldn't call anymore. I didn't know what to say. I think the abuse and adolescence combined were getting to me. I felt stupid for complaining, and felt like I should handle it through church.
I don't know, and I will never be able to ask, if she saw it as abusive, but she would at least agree m dad shouldn't treat me that way. house she got annoyed at me from time to time if I pushed to talk longer, or called at a bad time, overall she was a great sport about it.
I know a bit about her background. She used to model, she was really gorgeous as a young woman. We look nothing alike, though I've been told I could model too, but we both liked make up and clothes and she gave me some of my first make up and beauty tips.
I guess in a way she was a maternal figure in my life. And when it went away, I didn't know what to feel.
For several years her memory has been too bad to really have long conversations, and she's been in hospice so I only see her once or twice a year, and it stresses her out to talk for longer than 10 minutes.
So i have focused on the thought that she is a Christian, and I will have to wait till heaven to really talk to her again.
I suspect my coping mechanism is not a very healthy one. It's okay to still be upset about all this, even if I have hope.
I don't know why I was so confused as to how to act, but I always felt guilty about not talking anymore, and I pushed it away. The whole thing made me uncomfortable, and then I felt guilty for being uncomfortable with the dementia and other stuff.
I know now that's a normal thing to struggle with, but no one told me that, and no one really asked me if I was okay. I didn't expect them to, I grow up with my emotional needs being ignored all the time unless I absolutely begged for attention, or even argued for it… and even then, I still didn't get it, or I got it very grudgingly.
M grandparents were an exception tot hat, at least this one and her husband, though things still got awkward if my dad was around, as he liked to start fights. Still, about the only unconditional love I experienced as a kid came from that source.
When my grandma, her husband, died nearly 2 years ago, I wasn't sure how I felt then either. We were never close, but he at least invested time and money into us, paying for my braces, and giving us gifts to help us with our interests. And listening to us sing and recite and stuff. I think my dad got jealous, honestly, and tried to make it awkward by telling us lots of terrible stories about how he grew up.
Knowing my dad lies and exaggerates now, I question if it was all true, or as true, as he told us, I'll probably never know that either in this life.
I'm not sure it really matters, all us girls wished we'd just been left to pass our own judgment on our grandparents without feeling like we couldn't like them because of our dad's past. Maybe they were different people then, but who they are now is trying to be better, right?
At my grandpa's funeral, my dad was upset, but also torn because he never liked his father or got along with him, or felt loved by him.
I wonder if I will feel the same when he dies, I hope not.
But it confused me, and I got confused about my step-grandmother also. She was a really nice lady as long as I knew her, but used to be into bad stuff, and an enabler for the other toxic people, she always had a very forgiving attitude towards people, for better or worse.
That made her by far the least toxic person in that part of the family, but my dad made sure we knew about the past, even at an age it was hardly appropriate for us to know about it at.
So, now what?
I've come to realize that I don't need to hold my dad's grudges. I value knowing the truth about people, but if it is in the past, I don't think I always need to know, unless it still affects them now.
And I could know they were dysfunctional without needing the gritty details. Some things you should not hear about your family, especially if they became Christians.
I can say this much, Grammy would never take sides or bad mouth people like the others. I felt safer talking to her because of that. I didn't feel safe with my dad or mom, they'd repeat stuff I said, sometimes to the whole family. Sometimes to strangers.
But I don't want to go on about my abuse right now, I think it's just a distraction.
Still, it does color a lot of my memories, making them more difficult to understand, and sort through.
I remember Grammy took us to museums, some really fun places, as part of our homeschooling, you could say. We loved one where there was a stage you could dress up and perform on, with working lights.
And before she got too sick to go out, she'd take us Christmas shopping, we'd get $50 each, to get whatever we wanted.
And we got to play all these cool computer games (back when they still had those, and not just apps and video games) on her computer, and play with old toys she had. The she gave us later some of her more prized possessions, these old china dolls, really expensive stuff now.
And I got some of her clothes later, I wanted something to remember her by, and a few pieces of jewelry.
Yeah, I guess we did do the most together. I've spent more time over all with my maternal grandmother, but our personalities and beliefs clash too much for intimacy. She's a real nice lady, but it's never going to be ideal, unless something changes.
Which, is okay, though I wish it were different, I can accept that.
But Grammy having dementia, as well as lupus, was just another sad thing on my list of sad things, and I never knew how to process them.
I don't think I will stay sad for very long, I am at peace about her soul, at least, and I want her suffering to be over. After all, she will be far happier in heaven than she ever was here, and it's not separation for forever. I believe that.
The Bible says we are not like those who mourn without hope, we have hope, though we still mourn. Knowing our latter glory will be greater than our former.
I don't know if heaven is a place where we walk around like the classic idea of the afterlife, whether it is somewhere we rest until God recreates heaven and earth, or whether it is both.
I do believe, whatever it is, it is like Lewis's idea of "further up and further in" that God is eternal, and we will always be drawing closer to Him, but never far from Him again.
From the stories I hear, people experience being taken to heaven much like going through a door, or transporting to a different dimension, but until I go myself, I won't really know, and it wouldn't surprise if it's different for everyone, what in life is ever the same for us all?
Some people think pets go to heaven, others don't.
My thought is, if we love it, truly, it will be there, in some form or another. That we humans give life to whatever we love, as the Bible seems to teach it was meant to be.
But, that's a theory, and what can I really know?
Some people feel God's presence strongly in grief, others don't. For me, I tend to feel alone when I am pushing away my sadness, but when I welcome it, I find God is there, waiting.
I can't write anything like "A Grief Observed" to due credit to the beauty of human life and love, I still need to learn so much more about both.
And while I like to forget about death, I know I can't escape it anymore than the next person.
I don't buy the "live forever in our hearts" line, because it seems too small to me.
I am glad at least that Grammy is a Christian, my only other deceased relatives were not, and that's it's own pain, knowing that.
I guess it still hurts, and I can feel it, when I let myself, but it doesn't have to crush me.
I remember when my great uncle died, I kept thinking "The old has gone, the new has come" as my cousins had recently been born.
I don't know why I had that line stuck in my head.
But I've thought of loss in that was since, old things pass away, all things become new. For Christians, growing old and dying means we become new.
Our final reenactment of what Jesus said about going into the ground and dying, in order to be reborn and bear fruit.
Why do Christians still die if we have eternal life?
I guess because Jesus physically died, and we are supposed to imitate him, and he who loses his life for Christ will find it. Our lives symbolically reenact Jesus, even to death. At least, we do not have to die alone, like him.
There may be some people alive now who will never die, who knows? But most of us will. That has been one of the main reasons people come to God over. Funny that now that fewer people believe in God, more people kill each other and themselves, as if the fear of oblivion isn't enough to keep us from doing evil.
In the end, love is the only thing that really shows us how to be good.
And the loss of love is the worst loss.
And for that, I am still sad, but, I think, The Notebook has it right, love never dies, not really.
Interstellar pointed out that love transcends space and time, we love people who are dead, who are far away, who we haven't met yet, like our babies, or even our lovers, sometimes (Like in Your Name).
I rather think that Love must be eternal also, that we love people before we know them, and after we've forgotten them, and only our mortal limits keep us from realizing it. You've met people you just clicked with, right? Why?
Something just happens with love.
We can love people we met once for one minute.
Anyway, perhaps my grandmother will pull through, I can't know for sure, but whether she does not not, I wanted to honor her life a little bit today.
Until next time, stay honest–Natasha.
A slightly late post for Valentine's Day that's not about being single or family love or self care!
Yay!
There was something in my post Why not just reconcile?, there was one part my sister told me she really liked.
"You shouldn't aim to be better than someone else, you should aim to be as good as you can be. As loving, as pure, as brave, as wise, and then you have no real limit, you can always grow."
We talking about that, and I said "Love is exponential."
What I meant by that, is that we tend to weigh and balance love by certain standards.
It's kind of what Valentine's day has become hasn't it. You got to do the flowers, candy, stuffed animals, and if you have an SO, you got to have holiday sex (I might be a sheltered homeschooler, but I know how it goes, I read books. Yes, I'm aware that flex just makes me sound more sheltered, but it is like that for real.)
Great day for me, right, single since birth?
Well, like many people, I chose to look at the day as a day to remember to think of anyone I love. I get my family chocolates or cards, usually candy, since my card making skills suck and buying that stuff is pricey.
So, I don't get depressed on Valentine's Day, but it does remind me how we have commercialized everything now, how we put pressure on ourselves to love on just certain days of the ear.
I am all for holidays, St. Valentine is someone I look up to, anyone who stands up for love and marriage tot he point of death is going to be important to a romantic such as myself. I love the idea of having a day just to remember love.
What I don't love is that holidays are often not just the public day of love, but the only private day of it for many people.
I read in a book once about one couple who's kids were all born in November because Valentine's Day was one of their only sex days, that's just not right.
Not that sex has to be present if both partners are not physically able to have it, but if they are, then that's just sad.
And that's the problem. What's the use of paying lip service to Love, literally (sorry that joke was horrible) on one day if you ignore our family the other days.
I also don't like the Single's Awareness Day jokes, because to me it disrespects the whole thing, very selfishly. You don't have to be married or dating to value marriage or dating, in fact, if you only value those thins when you have them, you don't value them truly for unselfish reasons.
Spending a day getting jealous of all your not-single friends is hardly encouraging you to think of Love on better terms.
And Love goes beyond that romantic kind. That stuff is really good, but it's not the only thing.
Though, I will say, we are undervaluing even the erotic side of love these days.
If you read Song of Solomon, you'll see that even our ideas of sex are far short of the Bibles in terms of the adoration between lovers and the purity of sex when it's done right, ad the sheer joy of loving each other so deeply. I don't see that too much anymore.
I think there are times, as C. S. Lewis even said, that you have to encourage your desire for sex with your spouse. That may be the most important thing to do at that time.
But any one with half a heart ought to see that's really something you do because you have a deeper love that goes beyond your own conveniences or wishes.
And that's what I wanted to talk about.
As a culture, as humans, we are just bad at love. There's two songs, and at least one Webtoon titled that that i know of, and far more people who'd admit they suck at relationships.
Common reasons?:
Jealously
Fear of Commitment
Fear of Intimacy
Baggage (usually the reason for all of the above)
Do you know anyone who's GREAT at Love?
If I do, it's not many people. I know far more people who wish the were better at it, and even more who probably don't even think about it being the most important thing in life.
This was brought to my mind even more by a conversation with my 10 year old cousin last week.
Ever since I started tutoring/mentoring her this kid has been giving me crap, throwing tantrums, trying to guilt me and blame me for all her stress and insecurities being triggered, and saying she'll talk to her parent about it.
Of course she has no idea who she's dealing with, I've heard all this before, multiple times.
Last week, she admitted to ling to me the whole week because she doesn't like me being there, watching her. I told her I was disappointed to hear this since we had talked about trust. I asked her how I was supposed to believe her when she told me stuff, if she had lied to me for 3 days straight just to get around me.
She didn't honestly have an answer to that, and I didn't expect one.
But she got very emotional and finally she said "I'm just bad at love" or "being loved." Like how she doesn't always want hugs when she's emotional, and how she used to be good at making friends, and now she's not (thanks to some mean kids beginning to bully her).
Unfortunately, her home environment can be toxic too, her parents aren't so bad, but their relatives and friends constantly expose the kids to ridicule over very minor mistakes that has caused both of my cousins to shut down in different ways. They are more open around us, but sometimes do the same thing if we ever show displeasure or disagree with them. To them, that means mockery is coming, though we never mock them ourselves.
I know how they feel, my dad subjected me to many humiliating experiences, and so do my relatives on their side of the family. I have never been comfortable around them, now that I am an adult, I've grown stronger and I usually am left alone by the relatives, but it took years to get to that point, and when you live in it, what do you expect?
That sad thing is, this is hardly abnormal now. In fact, my aunt and uncle are still above average parents, but they don't have a clue how to do positive reinforcement. I support discipline, but not exclusively, it's too discouraging. Giving people digs is just normal in our day and age in America, and I can't change that myself singlehandedly.
But I am left to deal with the effects of it, because my cousin is to scared to confront her actual parents, so she projects it all onto me because I am nicer to her, and more considerate. When she got fed up and said she's "bad at love" I was remind of myself.
I didn't talk to anyone about it, but when I was even younger than her, I had trouble feeling love, and I thought there was something wrong with me. Looking bad, I did feel love when I was 4 or 5, but my anxiety and other fears took over sometime after that, though I remained affectionate for a while, til my dad's treatment squelched it mostly. Then in my teens and pre-teens, it got really bad, with my dad actively trying to give me a complex. I only got through it because I came to Christ at 13 and began to mature in Love.
Love has always bee my primary focus as a Christian, when I came to Christ, I had been seeking out the truth about love, without even knowing it, reading certain books, watching things, and trying to understand. Once that change happened, the world became alive for me. I remember one of the first things was I began to enjoy Nature, I never cared much about it before, but I did after that, I read in "Hind's Feet on High Places" of the same thing happening to Hannah Hurnard. I've known my sisters to have the same experience too.
Without love and life in us, it's no wonder we turn to the over stimulus of electronics. It's hard to be in Nature when you can't love problem, it tends to remind you how empty you are.
Maybe it's because real things cost us so much.
A fake bouquet can be bought for a dollar, a real one is going to cost you. Fake gold is cheap, real gold isn't. Fake jewels, fake cards, everything digital and plastic is less expensive.
And somehow, less satisfying. Even the chocolate that's cheap just doesn't' taste as good and we savor it less.
My cousin is a kid growing up in a culture obsessed with fake love. To the point where it's semi-normal to have imaginary waifus and husbandos, and ou can get a certificate of marriage to an anime character, and be in a dating sims with one too.
I saw this dumb pick up line on Webtoon yesterday as part of some weird Valentine's Day special "I'll be your body pillow"
Do NOT look that up if you didn't get it, it's not worth it. I only know because I watch other fans talk about shows.
Hey, I am not knocking fictional romance, it's actually therapy for me. At least seeing better examples of love than I saw growing up gives me hope. I know it's not all like a story, but if it could even be partially like that, that's way better than what I saw.
But, at some point, you have to get up and go put this into practice. You have to try to be the kind of supportive friend you read about, or boyfriend, or girlfriend.
The main thing that stops us is FEAR.
Fear and Love just do not go togheter.
Why don't I confess to my crush? I am afraid of losing a friend, and humiliating myself.
1 John 4:18 says "There is no fear in love, but perfect love casts out fear, for fear has torment."
I was tormented by love growing up in a toxic house, and it's gets complicated.
I believe in the sacredness of Love so much that few things seem worse to me than twisting it into a tool. That's why my favorite books is "Till We Have Faces" which contrasts holy and profane love with each other.
Profane Love, as the MC of the book says "Can grow to be nine tenths hatred and still call itself Love."
No one likes to be loved like this, but all of us can fall into the trap of loving this way if we don't watch ourselves.
I read a Webtoon that also illustrated this well, called "Freaking Romance."
In this story, a girl and guy from different dimension find each other and fall in love, but the girl resists it because she hates love. "Love" was what her abusive father called it when he controlled her and stole form her and tried to force things on her. Reading that part was difficult for me, some of it was almost word for word what my own dad would say. Down to the fake apologies and gifts.
The guy i this story had an abusive mom, and in one of the best episodes of the comic, he tells another girl with a toxic past, that broken people tend to be drawn to each other, wanting to fix each other's pain and thereby fix their own, and that can be good, with two people who truly want to be better, such as him and the MC, but in other cases, it can feed into it and recreate the cycle, which is far more common, sadly.
But he wants to be the kind of guy who heals. And the MC ends up falling for that despite her misgivings.
The story rather maturely acknowledges that her mistrust is more becaue of her own past than anthin the guy ever does. Wehn they finally decise to give it a shot, she learns to try to giv emore.
Spoiler alert if you want to read it:
At the climax, Zylith is given the change to be with Zelen forever, if she will get everything she ever wanted, ad then give it up just to be with him. it's important, because she's constantly chosen her career over love, and hesitated to to change her mind, even in a crisis. Zylith agrees, gets all that, ad finally gets to return to Zelen. He tells her he'd never ask her to give all that up for him,and she shouldn't have to.
she replies that though it was great to get allt hat, it wasn't satifuing, becuase she didn't ahve him. And she makes an efoort after that to be a giver, not just a tkaer.
Notably, the cosmic forces at work in the story were firm but fair. IF you can't give our all at love, why be in a relationshp?
That does not mean everone needs to be able to love like that gong into a rleationship, I don't think any human being starts off that way, myself.
IT means that no matter where ou start from, ou give it all you can there.
That could mean taking our steps to get off an addiction, going to therapy for your mental health, and getting rid of your toxic influences. All that is love, if you do it to become a better person. And don't ask your SO to fix you.
On the other hand, for some of us, it's letting our SO help us, and support us, being honest with them, and working not to take out our issues on them when they tr to help. That is also love.
Love is not really about whether you give or you take from an outward standpoint. In true Love, giving and taking become indistinguishable.
Giving a service to someone is a gift, but receiving it is also a gift, I've learned that form personal experience, real love is never selfish, whether it gives or takes, because in a way, it is always giving, and always taking, since you get pleasure form loving.
Love then, is just a way of life. It is life. No one without love is really living.
The Bible doesn't say that in so many words, because the Bible assumes the truth of that. God requires us to Love each other in order to be holy, and to love Him in order to please Him, but he doesn't demand it. It is simply what we're told will actually make us right again.
All God does is Love, and if the Bible reiterated that, it'd be every time God is mentioned. Though it does not always look like love to us, that doesn't matter.
And truly good people do all they do out of love of some sort. That's just the truth.
I'd tell you all what I told my cousin, for me, there is not way to stop being Bad at Love except through God. That is all that changed me, and all that does now, and all that kept me from becoming toxic.
With that, I think I'll wrap this up. Happy Love Celebration Day, stay honest–Natasha.
Make a one-time donation
Make a monthly donation
Make a yearly donation
Choose an amount
Or enter a custom amount
$
---
Your contribution is appreciated.
Your contribution is appreciated.
Your contribution is appreciated.
Donate
Donate monthly
Donate yearly
I have had this idea in my queue for almost  a year, and I never got around to finishing it, figured it was time to remedy that.
Story Time:
I had a conversation recently too that seemed to go along with the topic (of course I'll simplify it in the recounting.)
We were having "philosophy class" (as I jokingly call it) with mes cousines  (French plural form of "cousin" if you don't know), and we began plying my 13 year old relative with some questions about moral compasses, and worldview.
I introduced the Kohberg 6 levels of Moral Development to him. You can Google that, I got the idea from Teach Like Your Hair's on Fire" and have found them very useful for examining people's character, real and fictional.
I don't want to get in trouble

I want a reward

I want to please someone

I follow the rules

I am considerate of other people

I have a personal moral code and I stick to it
Well, finding his level to be from 1-3, in his opinion, maybe also 4, we asked him why. Upon more delving into worldview, we pointed out that though level 6 is the goal, according to the author of said book (Rafe Esquith), level 6 is only good if you know your moral code is good. Suppose you were Hitler, or Stalin, people with their own code… and it was of the devil. 
Well, that's a difficult question for a 13 year old, though, I will say, one I would have definitively been tackling at that age, I'm special. But he considered it and said that "We can't really know we're right. Anyone could be right or wrong."
My sisters and I exchanged looks.
"So, pluralism," I said. "Or, Post-Modernism, moral relativity. You believe that there is no right or wrong answer." 
"Yes, " he said "anyone could be right, and it's just the majority's opinion that they are wrong."
"What about Hitler, don't most people feel that Hitler was wrong?" We pointed out.
After some discussion, he declare "Hitler could have been right. If that majority went with him at that time." The rest of his argument basically constituted that society determines our moral compass because we don't go against it, but since he admits that majority rule is really no guideline, he refuses to pick a single world view that is right.
The news that he, in fact, already has a worldview, Pluralism, seemed to come as a bit of surprise to him. Especially when I asked "Where did you hear that?"
"Nowhere" he said.
I said "But you must have got the idea of pluralism form somewhere, someone must have said it." 
(Naturally, I was thinking of a previous debate I had with his mother while he was in the room that included the flaws of pluralism among other things, the kid had to remember that, I asked him later what he thought, his answer back then was "I don't know.")
Finally, he seemed to leave it at "I don't know. I just thought of it." 
I informed him that his view was held by quite a lot of people nowadays, though it didn't used to be popular. Then I explained at some point that I wouldn't have his same difficulty with answering our questions about how he knew right from wrong, because I didn't believe in majority rule, or that people decide that answer. I'm not sure what he thought of all that in the end.
But when I looked at this old post idea, I saw a similarity:
About a year ago now, my history class was covering Ghandi for about a- week.
No denying he was a great man.  I studied him back in my homeschool co-OP days. But even back then I wondered why we were studying this philosophy as well as Christianity, theism, communism, etc. Without a real point, it seemed, except to compare them.
In this history class we do the same thing, with far less direction than before, not really discussing what was right or wrong.
I didn't know this before, but apparently Ghandi saw it as fine for Hindus and Muslims to share their faith as both being seeking the same God.
So… yeah…
I remember years ago now, I mentioned that creepy movie "Life of Pi" in a post (I could not find the post for the life of me…) Anyway, the guy in the movie is Muslim, Christian, and Hindu, and claims he gets different things from each religion.
It's been said that to be completely open minded is to also be empty headed.
"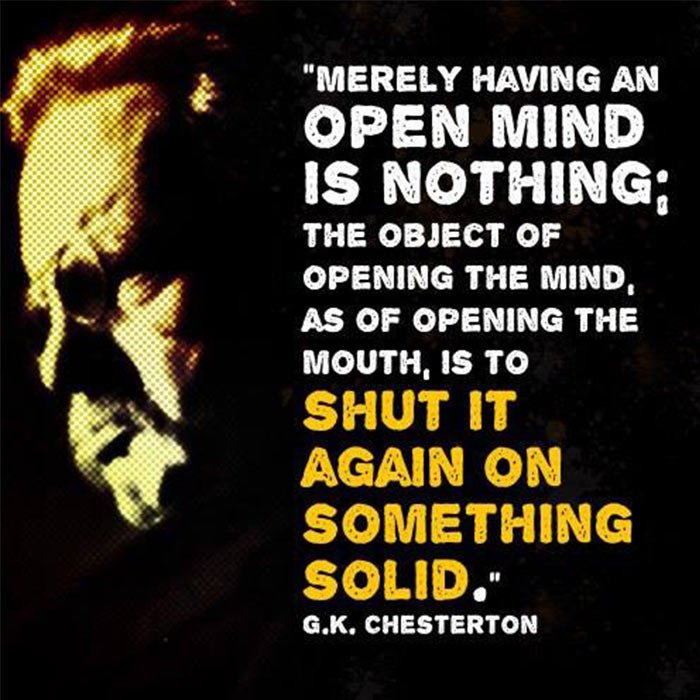 I hear more and more this idea, people who don't wish to condemn religion entirely decide to just say that you can get something good out of all of them. This is the wisdom of the world.
.
To me, among other objections, this has always been a statement of gross ignorance of what religion is, and what some of them teach. If you;re going down that road, you can call a cult a religion, and justify some of their thinking. This is the wisdom of the world.
If anything, diving deep into other cultures for studying purposes has convinced me that if there is an obvious problem on the surface, if you go deep down it only gets worse. It does affect the whole attitude of the culture and people.
Why are some cultures so passive in the face of oppression, and others so violent about enforcing their beliefs?…Is it not because that is what those beliefs lead to?
Of course, someone could say "Well, Christianity does not always lead to peace, so how are you any different?"
Fair enough, but I'm not saying that violence is wrong, or that passivity is wrong. The Bible allows for both approaches in their proper time, Ecclesiastes 3 says "a time for war, and a time for peace."
It's a mistake to rule out any one approach completely, history will always provide you with counter examples, even if you don't care about religion. If I learned anything from my philosophy class, it's that someone can always find counter evidence, though we may not always decide it's valid.
But, I find this fad of accepting all religions disgusting for another reason:
It can sound good at first, it would create peace between people if we all stopped arguing about our beliefs right? It's our own truth, and if we respected that, no one would die over it.
Yes, Religious Exclusivity is the problem, if Muslims and Christians would just stop insisting that one of us had to be right, they'd stop killing us off…
(This is meant to be ironic, I'm not making light of either faith, but the implications that come with saying it could be solved that way)
Look, let me say it like this. I am a Christian, and I would never tell a Muslim to just be more open-minded. I would not blame them in the least for getting offended if I said that, I don't agree with terrorism, but I agree with their sentiment that you must do whatever God requires of you, in that way, they are far more similar to us than Hinduism is with it's nonviolent, detached way of looking at worldly things.
Of course, any extremist would be insulted if I compared us at all, but let's just say we are both willing to die for what we believe, they are just also willing to kill for it, and not in war, where it is an understood thing, but innocent people (I know not all Muslims are extremists, just like not all Christians are radicals, but we get compared to that, so it's the best example of what I'm talking about).
Like many Americans, I don't consider War, or Self Defense killing to be murder, or evil, but anything beyond that is not justifiable except as legal punishment.
This is what I mean by whatever God requires of you, it should be unpleasant to have to do these things, but it can be necessary.
If we take issue with the Muslim, or Christian, because we say they are too exclusive, we fail to understand what they really believe.
Some Christians, influenced by the culture, are now trying to be inclusive. They are welcoming the LGBTQ practice into their churches, they justify abortion, they teach things that contradict the Bible, not because they have decided that those things have just been misinterpreted, but because they think the Bible can be ignored, completely, since it's more important to just believe in Jesus and love other people.
That is an effort to make peace. But at what cost?
Jesus said "Do not think that I came to bring peace on earth. I have not come to bring peace but a sword." (Matthew 10:34)
Yet, Jesus brings "peace on Earth, and goodwill to men?"
It can be confusing, but certainly, Jesus brought anything but peace with his ministry, always stirring up trouble with the Pharisees.
 The biggest problem in the Christian Church, at least in the Western part, is the compromise with worldly ideas.
I run into it all the time. Other people my age who just can't understand why I'd bother arguing over beliefs. Often I find out people even at Youth Group have this idea.
The point is not that I like to argue (though I do) but that even when I'd rather not make more work for myself, I still feel I need to, not because I feel I will lose my faith, but because people need to hear.
And the question I finally want to get to, is why is it so important to have a Single Belief?
Isn't that old fashioned? Isn't it more progressive to try to include everyone? Wouldn't Jesus want us to do that?
Actually, no.
In fact, Jesus might have called it blasphemy to even suggest God had part in more than one religion. Paul says in 2 Corinthians 6: 15-16 "And what accord does Christ have with Belial? [a false god mentioned often in the old testament] Or what part has a believer with an unbeliever? And what agreement has the temple of God with idols. For you are the temple of the living God."
Jesus said "No one can serve two masters."
It could not be much clearer that it's against biblical doctrine to be inclusive about religion.
Now, the intellectual might ask me "Why? Why does your God have to be the Only God?"
The Bible tells us (and any christian with a living relationship with God would confirm it) that God is a jealous God, a consuming fire, and that we should not serve any other Gods but him.
Or before Him, as it's put in the older translation.
That's an important difference. If we serve any other god before God, eventually we will not serve God at all. Why? Because the Nature of God makes it impossible to serve Him the way He requires of us, and serve another god, if you stop serving God, you'll serve something else. You cannot do both.
Which is why I decry anyone who claims to believe Christianity as well as two or three other religions as a hypocrite who understand nothing about it.
It's, in fact, pleasing lie to the skeptics. It gives them such a smug feeling of rubbing it in the Christians faces, I see it on YouTube all the time.
"Just let us enjoy this…"
"It doesn't matter whether it's religious or not…"
"Let's all just get along…"
Newsflash: Human beings are not meant to "just get along"
And we never will, till Jesus comes back. Even then there will be rebels (see Revelation and Isaiah)
I am not sure why even we in the church are so obsessed with getting along. Jesus said we never would get along with the world. That it would hate us, as it hated Him.
It does make me mad, too, this compromise. It's not because I don't like to have my beliefs challenged, its because it's fraud.
I care about truth (hence the blog name) too much to want to see it water down and mixed with other stuff like some juice concentrate. Till it's of  no use to anyone.
And I would not consider myself a Real Believer, if I did not feel this was the only Way, Truth, and Life.
I would be more furious with someone trying to blend two incompatible religions, than one sticking to one I don't agree with it, but doing it with integrity.
The person who knows what devotion is, can change the object of it and not lose their character, the person who never understood devotion will be useless to anyone as anything, because they cannot really believe any more than they can commit.
The problem with how little the church is confronting this belief, at least in the mainstream, is that it knocks the spine out of new believers and old alike.
They are passive, they accept the world's way because they are never presented with an alternative.
And me, as someone who has always been fiery and passionate, have been told by my pastors and leaders that students just aren't ready for that.
It's a lot of poppycock, no one ever is ready. Can you be ready for God's power? It is something only He can give to people. Do I feel ready now to do anything He might tell me to do? No, but that has nothing to do with doing it.
We are told to be ready in season and out of season, but the church is often not teaching us that we have A Single Religion, that we must not be afraid to tell people that, that if we accept multiple faiths, we dishonor all of them.
It's like people think Christianity will somehow override the other beliefs and make the person okay, but nothing in the Bible or in history implies that is true. Everything tells us that once you let in a conflicting world view, it takes over until it's rooted out.
I think this old song by Green Day gets more of what we're going for here:
At risk of sounding nuts,  I could almost picture this song being from Christ to the church, I mean, the biblical allusions are there:
"She's a rebel, she's a saint, she's the salt of the earth and she's dangerous.
She's a rebel, vigilante, missing link on the brink of destruction.
… She's the symbol of resistance, and she's holding on my heart like a hand grenade.
Is she dreaming, what I'm thinking? Is she the mother of all bombs, about to detonate?
Is she trouble, like I'm trouble, make it a double twist of fate, or a melody that
She sings, the revolution, the dawning of our lives. She brings this liberation, that I just can't deny."
My pastor was preaching on just this subject this week, and I would encourage any Christain reading this to see it as a call to action. I don't know what all you can do, in your situation and life, but I know that my cousin is not the only kid who desperately needs to be taught about this, the whole world does. 
I think that's where I'll leave it.
 Although I literally added a bunch to this old post, it's still like 500 words shorter than my recent ones, go figure, until next time, stay honest–Natasha.
I now have options to donate if you wish to support my work so I can keep writing 👍👌
Make a one-time donation
Make a monthly donation
Make a yearly donation
Choose an amount
Or enter a custom amount
$
---
Your contribution is appreciated.
Your contribution is appreciated.
Your contribution is appreciated.
Donate
Donate monthly
Donate yearly
Stay tooned to the end for big news!
Well, I was happy to receive so much positve feedback on my lat post, after feling it was a bit ranty. I'll put a link here if you want to check it out before continuing:
Yeah, I can only link all three together, still haven't mastered this new editor
I'm back! Sorry for the absence. I do have a lot of subjects to write about right now. I tend to avoid politics on this blog unless something catches my attention, but I'm always thinking about culture. Something I've been thinking about it lately is how in Church, we often go with the flow. We … Continue reading A Narcissistic Culture
Hey fahm. You know, I never talked like that before I liked Camie's character in mha, it's funny how you can change how you talk based on things like that. Well, I think it's fun to have more of an accent anyway. How's everyone doing? I know I haven't updated this blog a whole lot … Continue reading Does Christianity work on me?
Time for a confession: I'm bad at love. I'm the blogger who's always like "love, love, love" "The secret to life" "the truth about love…" etc. But I suck at it. I don't know if anyone is actually good at love, though. Is there a single person out there who prioritizes love as their goal … Continue reading "I'm bad at love!"
Right, so my dad went back to the hospital literally the day after I posted and I have not heard yet how he is doing.
My sisters and I are waiting to have a heart to heart chat with him till he's out of danger, as that seems the kindest thing to do.
But there's something I keep thinking about, lately, in regards to him. It's not really about what he did, more like one of those signs of trauma everyone is embarrassed about.
Victims commonly get triggered by seemingly random or harmless things, to the casual observer. Glass breaking can be one thing. Certain words, phrasing, things you will say or a tone you will use that doesn't bother your other friends, but this one will lose their crap if you say that to them, or curl up into a ball, or shut down on you completely, or a combination of the three.
So, one of the harder to guess ones is being triggered by sights or colors.
One thing my sisters and I have all been triggered by is a yellow pick-up truck.
Yellow's not a too common color for a vehicle like that, yet somehow, I see them everywhere now (I think one must belong to someone not that far from my neighborhood.)
I developed this trigger about 18 months ago in the terrible week that proceeded my father moving out.
I haven't talked too much about that that was like, since it was extremely unpleasant, but perhaps it's time to tell more of that part of the story.
After my family got back from a disastrous vacation, and my dad began flipping out over my sister questioning his bad behaviors, and she and I started laughing about it, angering him further, we began to finally put it together: This is abuse.
It was shocking, for me, it was like it took seeing him turn on her, the Golden Child, to realize "oh crap, he'll do the same to my other sister (who was currently a minor) and probably to my mom also." He'd hit me once, and threatened my several times, he'd flung my younger sister out of rooms and chairs just like me, but I somehow thought he was just delusional, and that he really believed our middle sister was just different than us…yeah, no.
He did say I turned her against him. That was bull. He turned her against him by his childish tantrums on said vacation, and then cruelty towards me that I did nothing to deserve.
Well, that's no surprise to any of you who've been following this story, but it sure was to us.
Until you've had that "Eureka!" moment where the blinders come up, you honestly believe it's not all that bad. Sure, you're miserable, but that's just how family is, right?
Cue sitcom humor laughtrack.
When it hits you like a ton of bricks "THIS IS WRONG!" It's like seeing the light, and having the rug yanked out form under your feet at the same time.
What followed that was a series of secret meetings with our friends first, and church leaders where they told us they'd help us get away from him, and encouraged us to try to talk our mom into it also. They also gave us much needed guidance on what we could legally do and what would qualify as abuse in legal terms. Our dad qualified.
We had a back up plan if our mom didn't agree with us, we intended to get out of that house one way or another. When we told her what was on our mind, she was shocked at how serious we were taking it, but we represented to her how his behavior had not changed.
My mom, I have to give credit, is not the strongest person, but she was tough enough to seriously pray about it and realize we were right. She told my dad when he came back to the house that he had abused her, and couldn't come in, and he needed to go.
My dad came back with "You abused me by refusing to sleep in the same room.."
My dad had previously threatened to divorce her just because she wanted to sleep in the office and get some space to think over stuff, and refused to comfort him after he got sad because we girls were ignoring him.
That was part of our ten point keikaku (Japanese for plan). We all decided that instead of talking to him about the blow ups we had had, or listening to his fake apologies, we would just stay together. We all decided not to leave our room alone, because with the anger he was radiating, we felt he'd try to hurt one of us at the slightest provocation.
I remember one dreadful point during that few days that he did catch my sister and I in the kitchen before we could scurry away, he told us he loved us and he was sorry. he said to me "I don't hate you…" I looked at his eyes and his smile, and thought it looked totally fake. He asked if we could talk before that and I said "No." but he still spoke anyway. We made as little eye contact as possible and got the heck away.
A few days of the silent treatment, and my dad, who hates being ignored above all else, was losing his mind. Literally. He blew up at my mom, cried bitterly in his room out of self pity (and to manipulate her by showing her how miserable he was), and weirdest of all, at one point he shoved something under our door just to scare us, I know because he walked off laughing after we jumped, which he always did after playing one of his mean spirited pranks.
I thought "This is funny to him? To terrify us?" But it always was. My therapist later pointed out to me how cruel it was, I never thought so at the time, it was just how my dad was.
He kept walking up and down the hall outside our room too, using really heavy footfalls, as if to say "I'm here! Pay attention to ME!"
If it was new, I might have thought it was an accident, but I knew he always stomped and slammed stuff when he was angry and wanted everyone to know it.
Well, he started buying chocolate and cards for us after that, he left a weird psychotic note on the table about how terrible he felt, later a "loving" note for all of us, I tore mine up and tossed it. It felt so good to be able to disregard this manipulation finally.
What does all this have to do with a Yellow Truck?
Well, I'll tell you.
Obviously we girls didn't want to stay in our room watching Fruits Basket all day (though that was fun, and also strangely mirrored our situation) so after he left for work, (thank goodness he still did) we would come out and go about our regular activities. I played a lot of Skillet, I remember. keeping myself in the belligerent mood so Fear wouldn't conquer me.
Our dad's work truck was bright yellow. Easy to spot form the living room. I spend the most time in the living room, so I was essentially the lookout, I'd yell that he was home, and we'd grab all our stuff and rush for our room.
Our dad at first pretended to be compliant by saying he'd write out a schedule of when he came and went so we could avoid him. That didn't last more than a day or so.
I forget how long all that took till it got to the blow up and my mom kicking him out. I stood by ready to call the police if he got violent and tried to force hi way in. It wasn't unprecedented, besides threatening me, my dad once said he'd break down his own door before he'd wait a few hours for my mom to get home and unlock it.
(I'm realizing all this sounds like a weird drama on TV, well, it's just my life. I'm not exaggerating a dang thing here, I'm actually leaving stuff out.)
Luckily, we didn't have to do that far. I think my dad thought he'd guilt us into changing our mind by compliance. That still hasn't panned our for him.😑
Honestly, when I read over my last post after getting comments on it, I realized that if it was someone else's story, I'd think my dad was a psycho based on what they described… I'm still not sure whether to just think that, or to allow for his good points, small as they seem to be.
When I talked to him, it was like talking to a persona, not a person. I wonder if I've ever seen him be real, free of manipulation and deception. Maybe, in a few unguarded moments, I've actually wept over the loss of the good person my dad could have been had he become that part of himself, instead of running from it as hard as he could.
But here's the skinny on the Yellow Truck, to conclude my anecdote.
For months after he left, I would feel a twinge of panic whenever I saw a yellow pick up. Even if I knew it wasn't his, I'd always wonder. Especially if it had a ladder, as he carries one.
All the way to the end of last year, I still worried. He kept coming back to the house to get stuff, mail, items, etc. My mom didn't stop him till we told her it was too stressful for us. But I always worried he'd come in the back, or in the house, if no one was around but us. I'd have my phone ready to call 911 if that happened. I had no idea what he'd do to me if he got the change, he blamed me for the whole thing, naturally. I accepted that unrepentantly, but I didn't want to get smacked again.
Every time I saw that dang yellow truck, my heart would ounce, my stomach would twist. I'd warn my sisters to hide.
My dad threw tantrums so often, our fear was not irrational, that was the worst of it. If we'd been able to tel ourselves it was ridiculous, it would have been easier.
But, something I've been pondering for a few months is what I found out happened after my dad lost his house in the fire.
He had purchased a new truck since moving out, he has a lot more money only supporting himself, and he has to replace his truck every so many years because it carries so much stuff. I don't know what his new one looks like.
But when I watched the news byte with him in it, they panned around showing his property, and there was a frame that prominently displayed the charred remain of his Yellow Truck.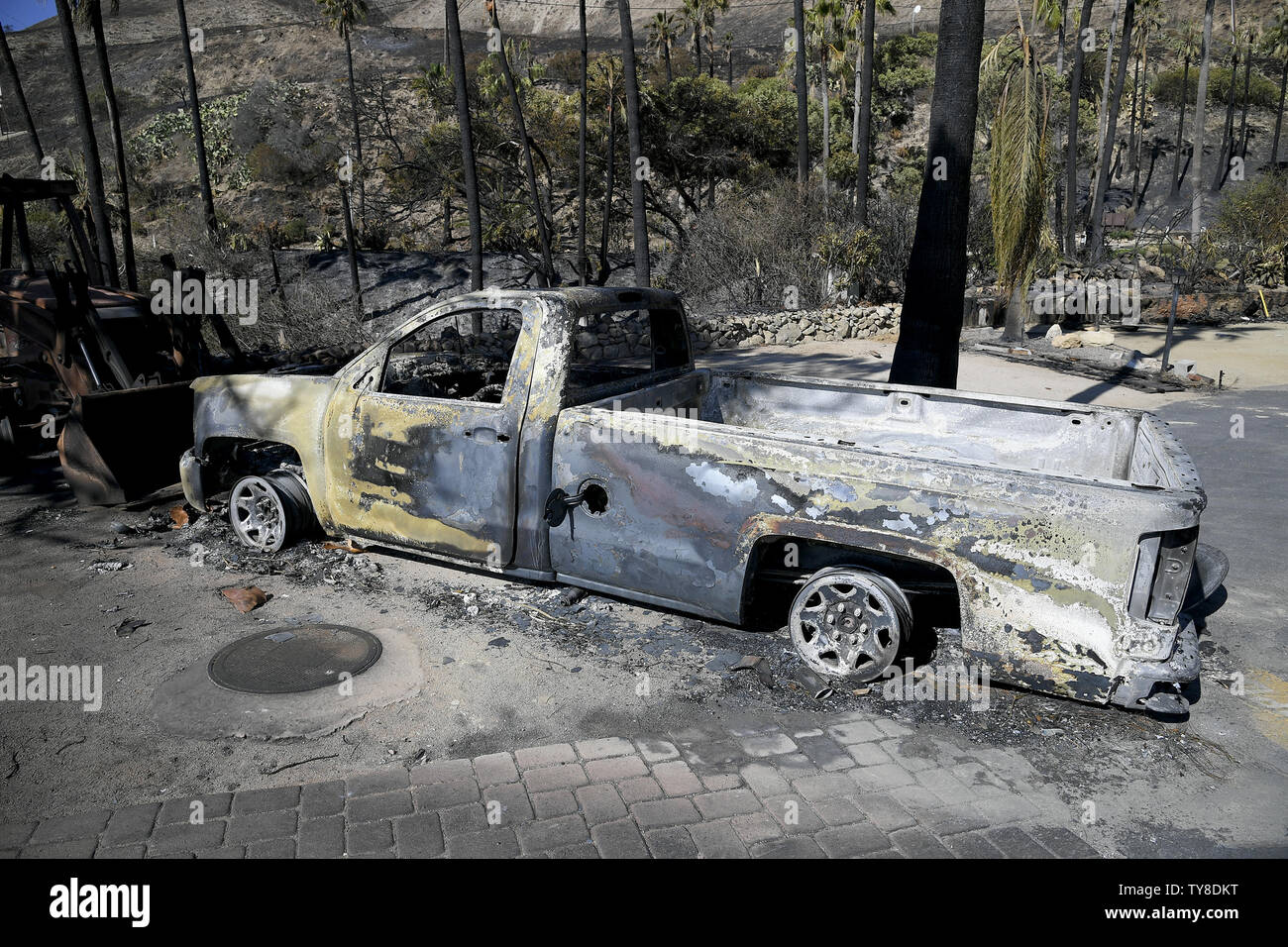 The truck wasn't in use anymore, I don't know how much it had in it. probably some tools. But he idd't need it, so I felt it wasn't unchristian of me to be glad it was destroyed.
In fact, to me, there was some kind of Diving Justice in it. Liek a sign from God that our onld life and fears turly had been burned up and destroyed.
A way to demonstate how God felt about our abuse. A warning, perhaps, but also a reassurance.
IT seemed very like a biblical sign.
It sounds incredile, doens't it? I don't know if I'd believe this story if someone else told it to me, but I assure you, all this is bare fact.
I saw my dad picking around what was left of his house too, and can say, I didn't feel happy that he lost it all. I had hoped he'd find some peace on his own and finally let us go. I don't enhoy his unhappiness.
But, I can't say felt overwhelig remoarse either. Honeslty, after all he's done, I thought, it was getting off easy to only lose one of his houses he rented and the vehicle he was't even suing, true, most of his bleongs were alos gone, but, that's still not as bad as losing the only house and car you have would be.
I wondered if God let me see all that, as I was the nly one besides my grandma who even eatched most of the news coverae on time, as a way to help me be reasured. I don't have to worry abut that truck anymore.
I still get bothered when I see Yellow Trucks, because it reminds me of unplasant things, but I no longer feel panicked. I immeiatley rememver "God burned that thing up."
You can see that as vindictive on God's part, or as karma, I see it as love. love can be fierce.
Plus, some of you may feel my dad got off entirely too easy. After all, he ruined our lives as much as he possibly could, and only God prevented him from succeeding.
To that, I say, vengeance is God's and I don't really care about taking it myself. I don't write about this in order to incite people against my dad. I want them to understand so that they can recognize the same thing somewhere else, we never know when someone might tell us something, and be ready to hear"Hey, that's not right."
It's because of my own ignorance of what abuse looked like that I was fooled for so long, and while I am not really sorry because we acted at just the right time, I think not everyone should wait.
Plus, it's unusual for a Christian to tell the story of how God got them out of a situation from the inside out like this, think that story is worth telling, and might give people hope.
To quote Things we lost in the fire (Bastille)
"I was the match and you were the rock, maybe we started this fire… do you understand that we will never be the same again? The future's in our hands, and we will never be the same again!"
We played that a bunch after my dad moved out, I felt it described what we'd done by setting fire to all the foundations my dad had laid for us, and cutting ties. It felt destructive, but in a good way. The Word says "our God is a consuming fire." (Hebrews 12:29)
But when I heard that my dad had lost it all in a fire, that happened much like the song, I felt strange.
I didn't literally mean for his stuff to burn when I prayed that the sin and torment would be burnt away by God's fire, but God seemed to want to do something dramatic to make a point.
You might wonder if my dad ever saw this as some kind of karma. The truth is, no.
He questioned God, I know, and I am sure he blames us for kicking him out because it wouldn't have happened to him otherwise. Though he never said as much to us, because we never gave him the chance. It is what he would think though.
But I never told him I prayed that, so it is doubtful he'd ever connect the dots.
That doesn't matter. To me, I think it's imporatnt that I know, and dont' assume too much.
Though I mayt hink twice about what analogies I use when I pray in the future 🙂
Okay, now for the announcement:
I have upgraded, yet again, since I had a discount, and now connected accounts so that I can receive donations, if you check under the comment section, you'll see a Donate tab.
I have never been super cofortoable with chargine people for servise I would galdly do for free, but I've gown out of that as I realized part of it was my lack of self worth, I didn't feel anythin I did was worth compensation.
Part of it was I had no confidence anyone would support me. My family has not been the most help in this area, and I have had friends flake on me too.
But, I am trying to trust God, and put myself out there a little now. Sometimes people can be surprisingly kind, and even if they aren't I need to treat myself like I deserve credit for things. I've put years into this blog and developing my writing skills to a professional level, what's wrong with thinking I should get some reward.
Though, helping people and getting feedback would also be enough reward for me, I never want this to be about money.
My test is: If I would do it for free anyway, than I am safe asking for payment, because my priorities are still on quality service.
(Which, btw, is why some employers wisely take volunteer work into consideration. Someone who will work for free values what they do for it's own sake and does it better than someone only motivated by money, so put it on your resume if you have one.)
Anyway, if any of you amazing people are interested, PayPal donations are now available at the bottom of the page. I will be trying to start things like memberships and premium content soon so I can give people even more bang for their buck if they do support. I have some ideas for making this site even cooler than it is.
But for now, that's all I got, until next time, stay honest–Natasha.
Subscribe to get access
Read more of this content when you subscribe today.