Stay tooned to the end for big news!
Well, I was happy to receive so much positve feedback on my lat post, after feling it was a bit ranty. I'll put a link here if you want to check it out before continuing:
Yeah, I can only link all three together, still haven't mastered this new editor
See, if you like dogs, you're either an optimist or a pessimist about people, but if you like cats, you're a realist. The good and the bad. each of our cats reflects something different about human nature if you ask me, maybe I read into it too much but pet lovers out there can relate.…
I know it's been a really long time. Sorry, I had the busiest semester I've ever had, so blogging kind of got pushed to the back burner. I'm not sure I'll have a whole lot to say today, but I wanted to write about relationships again. Mainly because I finally started dating. Yay!!!! Yeah in…
"For it is in passing that we achieve immortality. Through this, we become a paragon of virtue and glory to rise above all. Infinite in distance and unbound by death, I release your soul, and by my shoulder, protect thee."Pyrrha Nkos It's no secret if you've followed me for a while that I was originally…
Right, so my dad went back to the hospital literally the day after I posted and I have not heard yet how he is doing.
My sisters and I are waiting to have a heart to heart chat with him till he's out of danger, as that seems the kindest thing to do.
But there's something I keep thinking about, lately, in regards to him. It's not really about what he did, more like one of those signs of trauma everyone is embarrassed about.
Victims commonly get triggered by seemingly random or harmless things, to the casual observer. Glass breaking can be one thing. Certain words, phrasing, things you will say or a tone you will use that doesn't bother your other friends, but this one will lose their crap if you say that to them, or curl up into a ball, or shut down on you completely, or a combination of the three.
So, one of the harder to guess ones is being triggered by sights or colors.
One thing my sisters and I have all been triggered by is a yellow pick-up truck.
Yellow's not a too common color for a vehicle like that, yet somehow, I see them everywhere now (I think one must belong to someone not that far from my neighborhood.)
I developed this trigger about 18 months ago in the terrible week that proceeded my father moving out.
I haven't talked too much about that that was like, since it was extremely unpleasant, but perhaps it's time to tell more of that part of the story.
After my family got back from a disastrous vacation, and my dad began flipping out over my sister questioning his bad behaviors, and she and I started laughing about it, angering him further, we began to finally put it together: This is abuse.
It was shocking, for me, it was like it took seeing him turn on her, the Golden Child, to realize "oh crap, he'll do the same to my other sister (who was currently a minor) and probably to my mom also." He'd hit me once, and threatened my several times, he'd flung my younger sister out of rooms and chairs just like me, but I somehow thought he was just delusional, and that he really believed our middle sister was just different than us…yeah, no.
He did say I turned her against him. That was bull. He turned her against him by his childish tantrums on said vacation, and then cruelty towards me that I did nothing to deserve.
Well, that's no surprise to any of you who've been following this story, but it sure was to us.
Until you've had that "Eureka!" moment where the blinders come up, you honestly believe it's not all that bad. Sure, you're miserable, but that's just how family is, right?
Cue sitcom humor laughtrack.
When it hits you like a ton of bricks "THIS IS WRONG!" It's like seeing the light, and having the rug yanked out form under your feet at the same time.
What followed that was a series of secret meetings with our friends first, and church leaders where they told us they'd help us get away from him, and encouraged us to try to talk our mom into it also. They also gave us much needed guidance on what we could legally do and what would qualify as abuse in legal terms. Our dad qualified.
We had a back up plan if our mom didn't agree with us, we intended to get out of that house one way or another. When we told her what was on our mind, she was shocked at how serious we were taking it, but we represented to her how his behavior had not changed.
My mom, I have to give credit, is not the strongest person, but she was tough enough to seriously pray about it and realize we were right. She told my dad when he came back to the house that he had abused her, and couldn't come in, and he needed to go.
My dad came back with "You abused me by refusing to sleep in the same room.."
My dad had previously threatened to divorce her just because she wanted to sleep in the office and get some space to think over stuff, and refused to comfort him after he got sad because we girls were ignoring him.
That was part of our ten point keikaku (Japanese for plan). We all decided that instead of talking to him about the blow ups we had had, or listening to his fake apologies, we would just stay together. We all decided not to leave our room alone, because with the anger he was radiating, we felt he'd try to hurt one of us at the slightest provocation.
I remember one dreadful point during that few days that he did catch my sister and I in the kitchen before we could scurry away, he told us he loved us and he was sorry. he said to me "I don't hate you…" I looked at his eyes and his smile, and thought it looked totally fake. He asked if we could talk before that and I said "No." but he still spoke anyway. We made as little eye contact as possible and got the heck away.
A few days of the silent treatment, and my dad, who hates being ignored above all else, was losing his mind. Literally. He blew up at my mom, cried bitterly in his room out of self pity (and to manipulate her by showing her how miserable he was), and weirdest of all, at one point he shoved something under our door just to scare us, I know because he walked off laughing after we jumped, which he always did after playing one of his mean spirited pranks.
I thought "This is funny to him? To terrify us?" But it always was. My therapist later pointed out to me how cruel it was, I never thought so at the time, it was just how my dad was.
He kept walking up and down the hall outside our room too, using really heavy footfalls, as if to say "I'm here! Pay attention to ME!"
If it was new, I might have thought it was an accident, but I knew he always stomped and slammed stuff when he was angry and wanted everyone to know it.
Well, he started buying chocolate and cards for us after that, he left a weird psychotic note on the table about how terrible he felt, later a "loving" note for all of us, I tore mine up and tossed it. It felt so good to be able to disregard this manipulation finally.
What does all this have to do with a Yellow Truck?
Well, I'll tell you.
Obviously we girls didn't want to stay in our room watching Fruits Basket all day (though that was fun, and also strangely mirrored our situation) so after he left for work, (thank goodness he still did) we would come out and go about our regular activities. I played a lot of Skillet, I remember. keeping myself in the belligerent mood so Fear wouldn't conquer me.
Our dad's work truck was bright yellow. Easy to spot form the living room. I spend the most time in the living room, so I was essentially the lookout, I'd yell that he was home, and we'd grab all our stuff and rush for our room.
Our dad at first pretended to be compliant by saying he'd write out a schedule of when he came and went so we could avoid him. That didn't last more than a day or so.
I forget how long all that took till it got to the blow up and my mom kicking him out. I stood by ready to call the police if he got violent and tried to force hi way in. It wasn't unprecedented, besides threatening me, my dad once said he'd break down his own door before he'd wait a few hours for my mom to get home and unlock it.
(I'm realizing all this sounds like a weird drama on TV, well, it's just my life. I'm not exaggerating a dang thing here, I'm actually leaving stuff out.)
Luckily, we didn't have to do that far. I think my dad thought he'd guilt us into changing our mind by compliance. That still hasn't panned our for him.😑
Honestly, when I read over my last post after getting comments on it, I realized that if it was someone else's story, I'd think my dad was a psycho based on what they described… I'm still not sure whether to just think that, or to allow for his good points, small as they seem to be.
When I talked to him, it was like talking to a persona, not a person. I wonder if I've ever seen him be real, free of manipulation and deception. Maybe, in a few unguarded moments, I've actually wept over the loss of the good person my dad could have been had he become that part of himself, instead of running from it as hard as he could.
But here's the skinny on the Yellow Truck, to conclude my anecdote.
For months after he left, I would feel a twinge of panic whenever I saw a yellow pick up. Even if I knew it wasn't his, I'd always wonder. Especially if it had a ladder, as he carries one.
All the way to the end of last year, I still worried. He kept coming back to the house to get stuff, mail, items, etc. My mom didn't stop him till we told her it was too stressful for us. But I always worried he'd come in the back, or in the house, if no one was around but us. I'd have my phone ready to call 911 if that happened. I had no idea what he'd do to me if he got the change, he blamed me for the whole thing, naturally. I accepted that unrepentantly, but I didn't want to get smacked again.
Every time I saw that dang yellow truck, my heart would ounce, my stomach would twist. I'd warn my sisters to hide.
My dad threw tantrums so often, our fear was not irrational, that was the worst of it. If we'd been able to tel ourselves it was ridiculous, it would have been easier.
But, something I've been pondering for a few months is what I found out happened after my dad lost his house in the fire.
He had purchased a new truck since moving out, he has a lot more money only supporting himself, and he has to replace his truck every so many years because it carries so much stuff. I don't know what his new one looks like.
But when I watched the news byte with him in it, they panned around showing his property, and there was a frame that prominently displayed the charred remain of his Yellow Truck.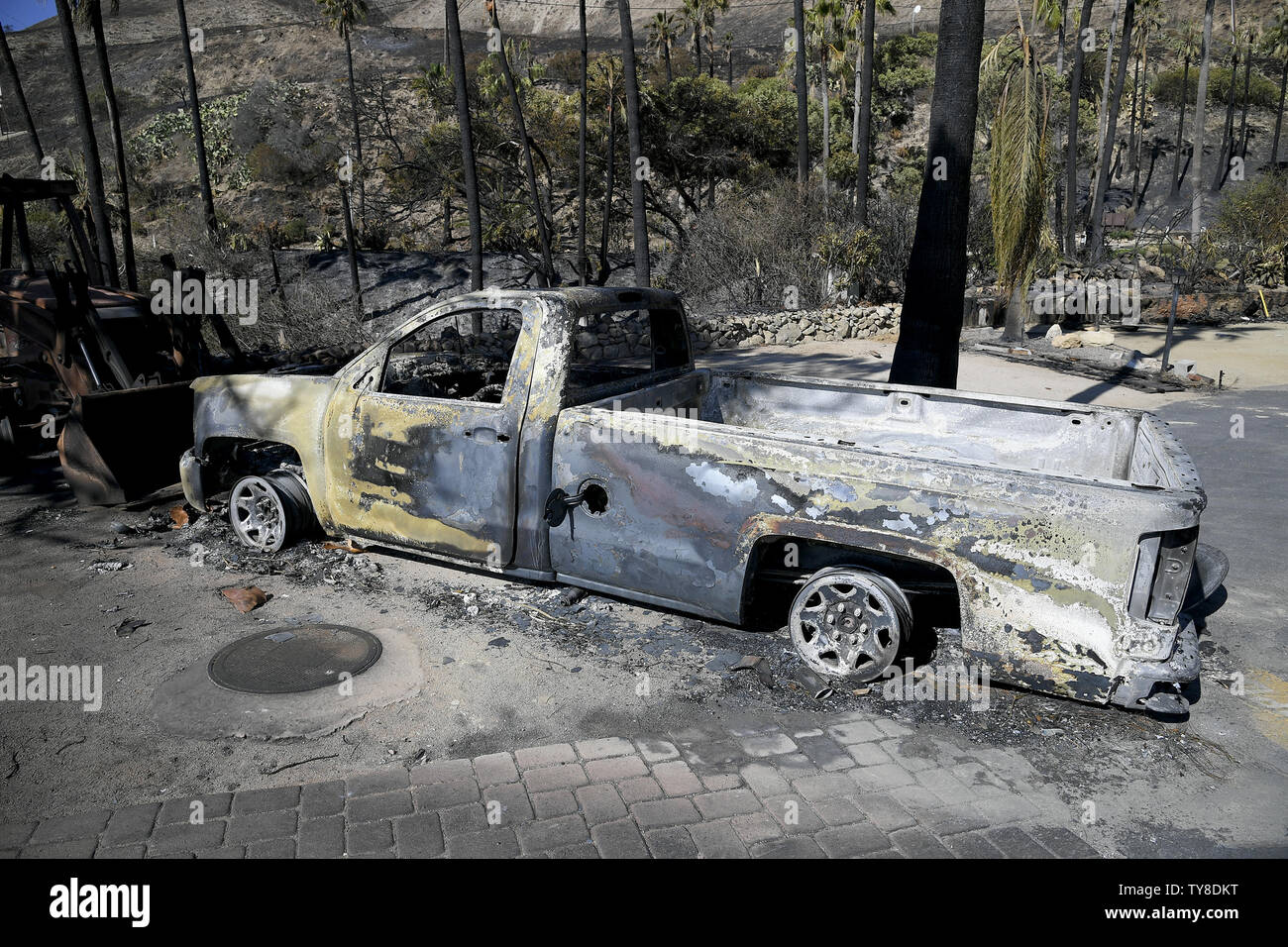 The truck wasn't in use anymore, I don't know how much it had in it. probably some tools. But he idd't need it, so I felt it wasn't unchristian of me to be glad it was destroyed.
In fact, to me, there was some kind of Diving Justice in it. Liek a sign from God that our onld life and fears turly had been burned up and destroyed.
A way to demonstate how God felt about our abuse. A warning, perhaps, but also a reassurance.
IT seemed very like a biblical sign.
It sounds incredile, doens't it? I don't know if I'd believe this story if someone else told it to me, but I assure you, all this is bare fact.
I saw my dad picking around what was left of his house too, and can say, I didn't feel happy that he lost it all. I had hoped he'd find some peace on his own and finally let us go. I don't enhoy his unhappiness.
But, I can't say felt overwhelig remoarse either. Honeslty, after all he's done, I thought, it was getting off easy to only lose one of his houses he rented and the vehicle he was't even suing, true, most of his bleongs were alos gone, but, that's still not as bad as losing the only house and car you have would be.
I wondered if God let me see all that, as I was the nly one besides my grandma who even eatched most of the news coverae on time, as a way to help me be reasured. I don't have to worry abut that truck anymore.
I still get bothered when I see Yellow Trucks, because it reminds me of unplasant things, but I no longer feel panicked. I immeiatley rememver "God burned that thing up."
You can see that as vindictive on God's part, or as karma, I see it as love. love can be fierce.
Plus, some of you may feel my dad got off entirely too easy. After all, he ruined our lives as much as he possibly could, and only God prevented him from succeeding.
To that, I say, vengeance is God's and I don't really care about taking it myself. I don't write about this in order to incite people against my dad. I want them to understand so that they can recognize the same thing somewhere else, we never know when someone might tell us something, and be ready to hear"Hey, that's not right."
It's because of my own ignorance of what abuse looked like that I was fooled for so long, and while I am not really sorry because we acted at just the right time, I think not everyone should wait.
Plus, it's unusual for a Christian to tell the story of how God got them out of a situation from the inside out like this, think that story is worth telling, and might give people hope.
To quote Things we lost in the fire (Bastille)
"I was the match and you were the rock, maybe we started this fire… do you understand that we will never be the same again? The future's in our hands, and we will never be the same again!"
We played that a bunch after my dad moved out, I felt it described what we'd done by setting fire to all the foundations my dad had laid for us, and cutting ties. It felt destructive, but in a good way. The Word says "our God is a consuming fire." (Hebrews 12:29)
But when I heard that my dad had lost it all in a fire, that happened much like the song, I felt strange.
I didn't literally mean for his stuff to burn when I prayed that the sin and torment would be burnt away by God's fire, but God seemed to want to do something dramatic to make a point.
You might wonder if my dad ever saw this as some kind of karma. The truth is, no.
He questioned God, I know, and I am sure he blames us for kicking him out because it wouldn't have happened to him otherwise. Though he never said as much to us, because we never gave him the chance. It is what he would think though.
But I never told him I prayed that, so it is doubtful he'd ever connect the dots.
That doesn't matter. To me, I think it's imporatnt that I know, and dont' assume too much.
Though I mayt hink twice about what analogies I use when I pray in the future 🙂
Okay, now for the announcement:
I have upgraded, yet again, since I had a discount, and now connected accounts so that I can receive donations, if you check under the comment section, you'll see a Donate tab.
I have never been super cofortoable with chargine people for servise I would galdly do for free, but I've gown out of that as I realized part of it was my lack of self worth, I didn't feel anythin I did was worth compensation.
Part of it was I had no confidence anyone would support me. My family has not been the most help in this area, and I have had friends flake on me too.
But, I am trying to trust God, and put myself out there a little now. Sometimes people can be surprisingly kind, and even if they aren't I need to treat myself like I deserve credit for things. I've put years into this blog and developing my writing skills to a professional level, what's wrong with thinking I should get some reward.
Though, helping people and getting feedback would also be enough reward for me, I never want this to be about money.
My test is: If I would do it for free anyway, than I am safe asking for payment, because my priorities are still on quality service.
(Which, btw, is why some employers wisely take volunteer work into consideration. Someone who will work for free values what they do for it's own sake and does it better than someone only motivated by money, so put it on your resume if you have one.)
Anyway, if any of you amazing people are interested, PayPal donations are now available at the bottom of the page. I will be trying to start things like memberships and premium content soon so I can give people even more bang for their buck if they do support. I have some ideas for making this site even cooler than it is.
But for now, that's all I got, until next time, stay honest–Natasha.
Subscribe to get access
Read more of this content when you subscribe today.