Whew! I have been looking forward to writing this one!
Let's talk about this anime: Darling in the Franxx.
I heard about this from an AMV of all things, and someone in the comments gave me the title, so I looked it up, liked the reviews, and decided to check it out. Then my sister, who I convinced to join me, told me "Oh, I heard this whole show is one big metaphor for sex." I was surprised since the review I watched never mentioned this (nor most of the plot) just the ending. But I said the reviews were so positive, I was sure it couldn't be just sex jokes, people said it was deep and moving. So, both my sisters agreed to try out one episode.
Spoiler Warning now, I will be talking about the end and all major plot points:
So, episode one did confirm all my sisters thought, and I was kind of grossed out. They refused to watch any more, but I was still convinced it had to get better if so many people who weren't even anime fans liked it. So, weeks later, I finally picked it back up, and within about a week, I both finished it and convinced them to watch the end with me, my younger sister actually got more interested because I watched a back story episode and she paid attention and decided it was interesting.
By the end, we all liked it, and actually had no complaint about the ending, which was a rare opinion among the fans, I already knew.
I tend to run long with reviews, so I decided not to bother giving a full synopsis of the show's plot here, trust me, the plot is the weakest element, and the end was all over the place.
But what is worth talking about is the themes, pacing, and characters themselves.
Fun fact, this show is not based on a manga like most anime, it's actually original.
One of the best epidsoes is the backstory of MC Hiro and 2nd MC Zero 2, it's the first anime epsidose I've seen with a split narrative throughout the whole thing and it was very skillfully done even by my American standards (as it's far more common here).
The characters
So, the characters of this show, who I will not be able to spell all the names of, sadly, are a cast of kids who pilot special mechs that are designed after weird bug monsters, typical anime stuff. The mechs need a male and female pairing to operate, and the teens are basically organized into different types of ships. We have
Goro and Ichigo– the competent pairing (you've seen it plenty of times in anime)
Miku and Zorome–the old married couple, who bicker constantly and are often immature but would rather do that with each other than get along with anyone else.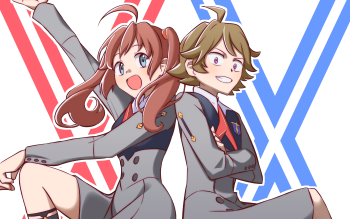 Eventually after some partner swapping, we also have Kokoro and Mitsuru
And we have Ikuno and Futoshi, who are the only non-ship partners (she's supposed to be gay, he gets married to someone else later.)
Lastly, of course, we have Hiro and Zero 2, who I think the show believes are the pervy couple, but they really aren't.
The whole confusion kicks off after Hiro fails to be able to pair with his old partner, Naomi, and she's taken away from their home, she comes back later though.
So, these are the pairings we have to work with and analyze, like most multi-ship animes, the show uses the different personalities and dynamics to show different ideas of romantic or friendship love. Over time as they develop emotions and affection for each other, the friendships get stronger, though feelings get more complicated, and they become more of a family than a plantoon (squad? What's a ten person soldier group called?)
We see the kids mature, and resolve conflicts that arise form having emotions. They start to realize people aren't perfect if they have feelings, which is why the Adults on the show have chosen to shut down all their feelings, but by the end the kids understand that to not have feelings is really not to be living at all, it's not to be human at all.
This anime offends me less in the "not having answers to its own problems" complaint I usually have, because the kids are starting from the ground up, and have no resources to teach them morals or philosophy, you wouldn't expect Socratic answers from them, just gong off feelings and their own logic is all they can do, and their logic isn't so bad considering.
What makes Hiro different, we are told, is that he asks questions, what attracts him to 02 is that she also fights the system of cruelty and apathy that he hates so much but doesn't understand how to leave. He's just a kid when they meet, but they promise to be together forever. Which the show appropriately acknowledges as marriage.
02 is embittered by eyars of mistreatment as a living experiment from a very sick doctor (who is still somehow not the villain) and being told she's a monster. She starts off as a very uncaring, sometimes psychotic seeming character. While she clearly is drawn to Hiro, she doesn't realize who he is, and tries to use him to get her goal.
She had the most complex character, I would say. While we don't approve her behavior, we see how ears of being told you're a monster, and forced to act like one by being sued a s a weapon, and given men to literally drain the life out of, without anyone seeming to care about it, would twist someone pretty bad. She shows signs of guilt, but is unable to change just because the team calls her a monster. It takes Hiro thinking that for her to realize what she's done, but she still doesn't stop because she thinks she's lost it all already.
Hiro then realizes he has to be with 02, even if she's done some bad things, because she is still a person who he loves, and he wants. So, he forgives her, and she finally accepts his love. Then the 2nd half of the story begins.
Along the way, we deal with Ichigo having feelings for Hiro, and having to accept he won't be hers, which is hard when she's never had love before, and doesn't see other options, though Goro loves her. And Mitsuru and Kokoro begin to develop a relationship also. Culminating in them getting married, torn apart by the Adults, and then eventually getting back together and having a baby.
The characters are not extrmeely intersting in of themselves, but they are human and likable. I didn't expect a whole lot since there was so many, but they all did what they needed to for the plot, and it's not a long enough show to spend as much time as MHA or Naruto on developing personality ad backstory for everyone, the pint it the expereinces they share, and what they do with them. Sci-fi anime tends to focus more on that then on individusla, form what I've seen.
Themes
Okay, this is the strongest aspect of the show, and I want to try to stay on track here, there's a lot I could talk about.
First, the elephant in the room: Sex, is the show really about sex?
Yes, and no.
I would not show any kids this show, the innuendo isn't really the problem because it's mostly non visual, but there are scary, gory elements I didn't have an easy time with myself.
That said, if you're a parent looking this review up to see if it's okay for kids, just watch it yourself first and decide if your kids can handle it.
I'd say young teenagers are more at risk of missing the deeper themes and just watching it for the sexual innuendo, and probably young adults too, to be honest.
I mostly don't get turned on by animation, it's just not real enough for me to be effected, it bothers me more in live action movies, I try to avoid highly sexual ones. But a 2D character? They don't look like a real person. So, I can watch most anime and only be grossed out by the idea of it, not tempted to actually look. But this is a specific trait of mine and I am cautious recommending anime to other people who may have more of an issue, as clearly plenty of otakus don't have any difficult sexualizing 2D characters (ew).
So, if you do have a problem with it, this may not be the show for you, at least int eh first 3 episodes, it gets better after that.
The show is about sex. It's like one long Sex Ed class, there's metaphors for infertility, deep intimacy, compatibility, DNA, and possibly STDs, though it was unclear. A lot of the language has double meanings.
However, on the other hand, none of what it says about Sex is really wrong. The show is not promoting immorality, or promiscuity, or perverseness. The topics are broached lightly, but the mature route is taken by the kids. They talk honestly about how they should treat each other with respect, and forgive each other for having a little trouble occasionally with ogling, as it is hard to never do that if you like someone (and if you are married, wouldn't even be natural.)
Kissing is talked about, and Hiro decides it is something you should only do with the one person you love, you should kiss around, basically. Partner swaps are taken seriously.
Though riding in the Franxx mechs is a metaphor for sex, the show remembers it is just a metaphor, and doesn't treat changing partners as cheating, more like realizing you're not right for your bf or gf and not forcing yourself to stay with them. Though Kokorp does break a promise, it's not literally marriage, since the show later has actual marriage, so you don't have to feel it's the icky affair divorce and infidelity would be.
Also the Franxx are a metaphor for emotional intimacy, the kids literally connect their minds and feelings inside them, and while sex is one way to do that, it's not the only purpose of the metaphor. People who are not sexually attracted to each other can still pilot together, if they have mutual trust and are willing to try, because it is also about relational intimacy. The lesbian and the reaming guy can still work together because they are friends, not as effective as the others maybe, but it's not a sexual thing for them.
Some fans probably saw this as inconsistent, but I saw it as wisdom on the writer's part not to take their own metaphor too far, that always cause major plot issues in a story, you need to remember no metaphor is perfect.
The idea that you should find the right person and stick with them forever is actually stressed constantly by the show. And you could say it leaves room for arranged marriage, at least two of the couples are put together by the Adults without getting a say in it, but they eventually grow close and make it work, while the other get to choose their own partners eventually, and they make that work. The point is if you are willing to try and you have a decent person, you can learn to get along.
Then there's 02, she, I eventually realized, is sort of in the role of a slut/prostitute, if you follow the metaphor. She lets herself be used, and devours other people, which of course is a sexual term, one found in the Bible also. Used specifically for harlots and cheaters. like most lusts, 02 does this because she has no self respect and feels it is all she is good for, and she hates the men she is given the same way most sinners hate the ones they sin against, she calls them "fodder" because that is what the system is giving them to her to be, and she hates it but feels stuck.
As with many whores, though, 02 secretly dreams of love and trust just like ordinary people can have. She met Hiro years ago and wants to find him again and be with him, no matter who she has to kill and what she has to do. As her conscience grows, she gets more desperate and unhinged, then feels ashamed once she finds out the truth.
I thought it was one of the most powerful thematic moments when it hit her that her lifestyle of debauchery in order to find love was exactly what made her unable to have it once she did find it. A major reality check you could say.
Then, in a Hosea like move, Hiro forgives her and accepts her anyway, and she confesses "I am a monster" but he's already told her he doesn't care.
Let's unpack that.
Should you actually be with someone like that? People like 02 have very deep issues, and often will do what she did, try to suck your life out in order to fill their own void, like with her, it may not even be something she always does on purpose, it just happens. Then they may start doing it on purpose as a way to cope.
The show stresses that 02 is a monster in some ways. That her actions made her that way, even if her DNA didn't. But believing she was a monster is what caused her to do that. Hiro was the first person who made her feel human and she wanted to be human so she could be with him.
I believe the "monster" metaphor is meant to represent how people do have ugly parts to them, and you have to accept that.
I was reminded of Fruits Basket, which I am also currently re-watching, in episode 23, I believe, when Kyo laments his mother covering up his ugly form. he says he knew it was monstrous, and he wish she would just face that with him together, instead of pretending he was not what he was.
People are not literally bests or monsters, but it's a metaphor, so we can't take it too literally. The point is that we all have ugly sides to us.
I don't hold with calling that a good thing, it's not. But neither of these shows seems to be falling into that error. 02 is clearly not a monster for her horns and pink hair, bur for her actions. Kyo had damage and a curse that makes him have an ugly side, but it is not who he is truly, he transforms back to a human when Tohru accepts that about him.
I was reminded of myself. I spent many years worried about being a monster, I used to think it was just me, I later learned it's almost everyone, at some level, whether we all use that word or not. I struggle even today with wondering if anyone will ever love me enough to get past that.
Most people would not describe me as someone with confidence issues, or as a bad person. I have gotten much better at loving myself than I use to be, but it doesn't rear its' ugly head at times.
I know that I will always, in this life, have moments of insecurity. Maybe not about this, but about some things, to be human is to sometimes have fear. But you don't have to live in torment of it.
My family does accept me, much more than ever before, and I have healed, but an abusive past is a detriment to many people when they consider who they want to spend their life with. Though I do not believe I will repeat my dad's mistakes, some people don't think that way. And I know that the trust issues I have are likely to flare up in a romantic relationship, all the therapy in the world will not take it away, it just gives you a way to work it out. Something many people don't understand.
Hiro chooses to see 02 as beautiful despite her differences, and at first she rejects that as much as any broken person would, but when she realizes he loved her from the beginning, she melts.
The relationship is not one side though. Hiro teaches 02 how to accept love, but she teaches him what passion and emotion are, she brings him to life.
It's very much how I've read the male-female relationship is meant to work. Man gives strength and care to woman, she gives it back to him in life and beauty and enriching his existence, you need both.
Goro and Ichigo have a more typical anime type relationship where Goro had to be in it for the long game, and Ichigo doesn't love him at first, but eventually he does win her over, though we don't get to see it own screen. The point is he never becomes bitter because she likes someone else, and she learns to be mature about it, and let Hiro go. I was surprised at the illogical hate fans had for her, when I didn't really see any other way she would have handled it, knowing nothing and with 02 being a anything but healthy at first.
It's a tough call too, some broken people should not be in a romantic relationship, and if your friends are warning you about that, you should take it seriously. Other times, a broken person can be healed through a romantic relationships.
I am no expert in this field, but the best clues I can guess at are look very carefully at what kind of broken they are, the reason behind it, and if they seem at all willing to change. 02 wants to become human so much that once she realizes what that means, she changes very quickly, not without road-bumps along the way, but still, Hiro's trust in her proves justified. If she didn't want that, it would be an entirely different thing, and some anime do go there, some of Western shows go there (actually way too many now) and that is very toxic.
Final Themes
All right, the final themes I want to talk about are the idea of what makes us human, what it means to bring life into the world, and the surprising take on what sex is really about.
Some feelings make us human. But pure lust doesn't. The doctor character lusts after a creature on the show, but that makes him a monster, very Claude Frollo like. 02 understand lust in a weird, twisted, way, but not love. Hatred doesn't make us human.
But the alternative the show's villains offer, that of only purely spiritual feelings, is also not human. They don't quite go so far as killing god, thanks goodness, but the idea of becoming gods is actually voiced, to my surprise. The Doctor says repeatedly "I'm an atheist."
He might be, but is the show? Not really. Prayer is actually part of the solution to the final battle. Not prayer to any specific god, but still. Spirituality is not actually discouraged, but the idea of disassociating it with being human, and leaving behind humanity to be "spiritual" is what is denounced.
C. S. Lewis warned that Spiritual pride and Spiritual sins are the worst kind. The most dehumanizing. In the end, a witch becomes little better than a pure beast, because their value for anything good will be eaten away by their darkness, this is quite literally in "The Silver Chair" where the witch is literally a serpent. not human at all.
Now, the Bible teaches us that our mortal bodies do house sin, and we will be rid of them. But we will be given new bodies, not be disembodied spirits. Jesus is described as having a body.
The point is not to think of it as choosing between a body and a soul, but it becoming a new kind of being, never before seen, that is someone both at the same time. That is what the Bible says Jesus is, and that is is till now unheard of.
And, to my astonsihment, DITF actaully went to that conclusion.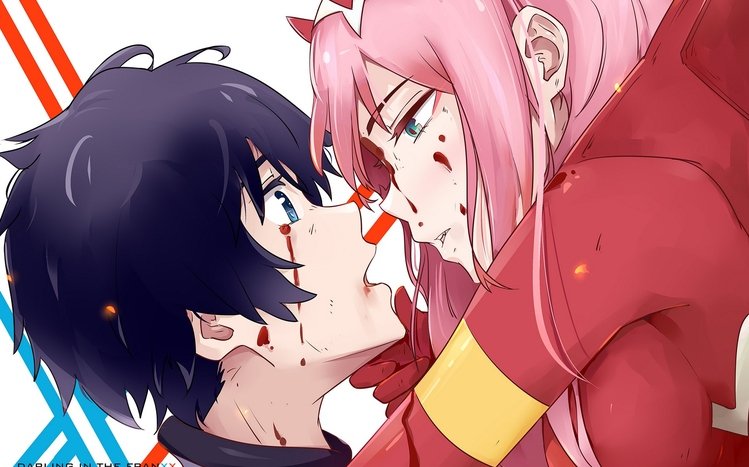 At the very end, 02 and Hiro combine their bodies, minds, and spirit, to become something that is both a physical and spiritual entity. Hard to explain with any scientific logic, but if you are following the metaphor, it makes perfect sense. True perfection is the melding of those two or three things.
Not many people even in church know this, but the sexual act is supposed to represent in a very small way, the connection between Christ and the Church.
In the best sex, between a man and wife, you experience the other person. You become one with them, while remaining yourself.
The show describes this as "I can't tell where you begin and I end" and going deeper inside that person.
While you could see that as crass, it only happens when the show is putting empathsis on the spiritual connection, not just the physical act of sex. Yes, the physical components do mirror the emotional ones in that way, I'm a virgin and I can understand that. The whole sexual design is a living metaphor for connection between people.
Which is why it's been degraded so much by the culture. We sexualize everything, because we have no ability to understand spiritual intimacy anymore. Sex is the closest experience to that the average person has, so many people bring it into everything.
But, it is about so much more than that.
The show is far from being vulgar. It keeps it within the context of a husband and wife, and explores what it really means.
It deviates a little from just sex, as they share memories too, but the point is it's a deep connection. When it goes from 02 using him to her doing it out of love, they become a whole new person, in a very literal sense.
The show ends with them saying they are ONE. Not like that weird alien creeps are all one, uni-formally, but ONE because they joined together two very different creatures, but embrace that fully.
I realize I can't write this without it sounding like innuendo, darn it show!
But there is a reason we use those terms about sex too, it is true. When it's between people who have that real relationship out of the bedroom it will be expressed in the bedroom too.
I don't feel embarrassed talking about it, though I've never experienced it, because I see it as beautiful. God-ordained, and I see no reason to treat it like a shameful thing.
I was surprised that the show used the terminology is did. It sounded like the Bible. Saying the two became One. Hiro literally leaves his Papa to become joined to 02 (though in this case, he wasn't leaving anything worth having, as PAPA was just the villain.)
The Bible has the unique idea, among religions, that becoming one doesn't take away your individuality. That God is 3 in 1, all 3 being different, but being 1. That husband and wife show this to us on a smaller scale.
It's like if you fit puzzle pieces together, the only way they can fit is if they are different, yet made to fit together. Men and women quite literally are made to fit together. If we were more alike, we couldn't do that.
In the most poignant part of the metaphor, Hiro and 02 even look alike, and have exchanged DNA (not like that), they have fully merged, yet remain separate in a way.
Not everyone knows this, but your DNA in sex does get imprinted ont eh toher person, in a strange way. Even if it's just one time and a one night stand. I've heard that it's harmful in every ocntext but marriage.
Married people start to look and act alike after awhile, and sound alike. My mom's sense of humor a=changed after marrying my dad.
Actually, if that's not happening, it's a sign of dysfunction.
Finally, the theme of life, and legacy. Not much to say on, but I really liked that the show depicted having a baby as something to value, and the beauty of new life. When Mitsuru cried at his daughter being born, I got emotional, something is very precious about seeing babies valued in media.
In Conclusion
There are more themes in the show, micro themes like what to do with unplanned pregnancy, and if you don't remember something are you still responsible, and I liked the show's way of handling them all, but I can't go into them here, I covered the most important stuff.
So, I hope this was enough to convince you to check this show out, but even if you don't, I hope you got something out of this post.
I have to admit, I better be careful who I admit having watched this too, since I think its reputation is skewed by the people who only watched it for the sex thrills. They were probably disappointed ultimately in its mature take on all that. I loved it though.
It's not the anime I enjoyed the most, and it may not be on my top 5 list of ones I'll re-watch, it's not really that kind of story. But it is beautiful, and poignant, and worth seeing at least once. It's also one of the first ones I've seen that I honestly can't disagree with the conclusion of, and that is remarkable.
Until next time, stay honest–Natasha
Make a one-time donation
Make a monthly donation
Make a yearly donation
Choose an amount
Or enter a custom amount
$
---
Your contribution is appreciated.
Your contribution is appreciated.
Your contribution is appreciated.
Donate
Donate monthly
Donate yearly