I have had this idea in my queue for almost  a year, and I never got around to finishing it, figured it was time to remedy that.
Story Time:
I had a conversation recently too that seemed to go along with the topic (of course I'll simplify it in the recounting.)
We were having "philosophy class" (as I jokingly call it) with mes cousines  (French plural form of "cousin" if you don't know), and we began plying my 13 year old relative with some questions about moral compasses, and worldview.
I introduced the Kohberg 6 levels of Moral Development to him. You can Google that, I got the idea from Teach Like Your Hair's on Fire" and have found them very useful for examining people's character, real and fictional.
I don't want to get in trouble

I want a reward

I want to please someone

I follow the rules

I am considerate of other people

I have a personal moral code and I stick to it
Well, finding his level to be from 1-3, in his opinion, maybe also 4, we asked him why. Upon more delving into worldview, we pointed out that though level 6 is the goal, according to the author of said book (Rafe Esquith), level 6 is only good if you know your moral code is good. Suppose you were Hitler, or Stalin, people with their own code… and it was of the devil. 
Well, that's a difficult question for a 13 year old, though, I will say, one I would have definitively been tackling at that age, I'm special. But he considered it and said that "We can't really know we're right. Anyone could be right or wrong."
My sisters and I exchanged looks.
"So, pluralism," I said. "Or, Post-Modernism, moral relativity. You believe that there is no right or wrong answer." 
"Yes, " he said "anyone could be right, and it's just the majority's opinion that they are wrong."
"What about Hitler, don't most people feel that Hitler was wrong?" We pointed out.
After some discussion, he declare "Hitler could have been right. If that majority went with him at that time." The rest of his argument basically constituted that society determines our moral compass because we don't go against it, but since he admits that majority rule is really no guideline, he refuses to pick a single world view that is right.
The news that he, in fact, already has a worldview, Pluralism, seemed to come as a bit of surprise to him. Especially when I asked "Where did you hear that?"
"Nowhere" he said.
I said "But you must have got the idea of pluralism form somewhere, someone must have said it." 
(Naturally, I was thinking of a previous debate I had with his mother while he was in the room that included the flaws of pluralism among other things, the kid had to remember that, I asked him later what he thought, his answer back then was "I don't know.")
Finally, he seemed to leave it at "I don't know. I just thought of it." 
I informed him that his view was held by quite a lot of people nowadays, though it didn't used to be popular. Then I explained at some point that I wouldn't have his same difficulty with answering our questions about how he knew right from wrong, because I didn't believe in majority rule, or that people decide that answer. I'm not sure what he thought of all that in the end.
But when I looked at this old post idea, I saw a similarity:
About a year ago now, my history class was covering Ghandi for about a- week.
No denying he was a great man.  I studied him back in my homeschool co-OP days. But even back then I wondered why we were studying this philosophy as well as Christianity, theism, communism, etc. Without a real point, it seemed, except to compare them.
In this history class we do the same thing, with far less direction than before, not really discussing what was right or wrong.
I didn't know this before, but apparently Ghandi saw it as fine for Hindus and Muslims to share their faith as both being seeking the same God.
So… yeah…
I remember years ago now, I mentioned that creepy movie "Life of Pi" in a post (I could not find the post for the life of me…) Anyway, the guy in the movie is Muslim, Christian, and Hindu, and claims he gets different things from each religion.
It's been said that to be completely open minded is to also be empty headed.
"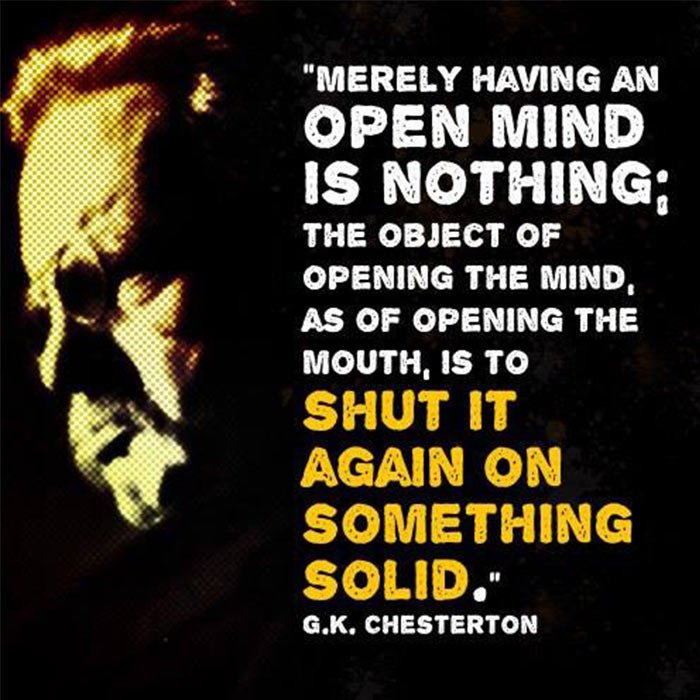 I hear more and more this idea, people who don't wish to condemn religion entirely decide to just say that you can get something good out of all of them. This is the wisdom of the world.
.
To me, among other objections, this has always been a statement of gross ignorance of what religion is, and what some of them teach. If you;re going down that road, you can call a cult a religion, and justify some of their thinking. This is the wisdom of the world.
If anything, diving deep into other cultures for studying purposes has convinced me that if there is an obvious problem on the surface, if you go deep down it only gets worse. It does affect the whole attitude of the culture and people.
Why are some cultures so passive in the face of oppression, and others so violent about enforcing their beliefs?…Is it not because that is what those beliefs lead to?
Of course, someone could say "Well, Christianity does not always lead to peace, so how are you any different?"
Fair enough, but I'm not saying that violence is wrong, or that passivity is wrong. The Bible allows for both approaches in their proper time, Ecclesiastes 3 says "a time for war, and a time for peace."
It's a mistake to rule out any one approach completely, history will always provide you with counter examples, even if you don't care about religion. If I learned anything from my philosophy class, it's that someone can always find counter evidence, though we may not always decide it's valid.
But, I find this fad of accepting all religions disgusting for another reason:
It can sound good at first, it would create peace between people if we all stopped arguing about our beliefs right? It's our own truth, and if we respected that, no one would die over it.
Yes, Religious Exclusivity is the problem, if Muslims and Christians would just stop insisting that one of us had to be right, they'd stop killing us off…
(This is meant to be ironic, I'm not making light of either faith, but the implications that come with saying it could be solved that way)
Look, let me say it like this. I am a Christian, and I would never tell a Muslim to just be more open-minded. I would not blame them in the least for getting offended if I said that, I don't agree with terrorism, but I agree with their sentiment that you must do whatever God requires of you, in that way, they are far more similar to us than Hinduism is with it's nonviolent, detached way of looking at worldly things.
Of course, any extremist would be insulted if I compared us at all, but let's just say we are both willing to die for what we believe, they are just also willing to kill for it, and not in war, where it is an understood thing, but innocent people (I know not all Muslims are extremists, just like not all Christians are radicals, but we get compared to that, so it's the best example of what I'm talking about).
Like many Americans, I don't consider War, or Self Defense killing to be murder, or evil, but anything beyond that is not justifiable except as legal punishment.
This is what I mean by whatever God requires of you, it should be unpleasant to have to do these things, but it can be necessary.
If we take issue with the Muslim, or Christian, because we say they are too exclusive, we fail to understand what they really believe.
Some Christians, influenced by the culture, are now trying to be inclusive. They are welcoming the LGBTQ practice into their churches, they justify abortion, they teach things that contradict the Bible, not because they have decided that those things have just been misinterpreted, but because they think the Bible can be ignored, completely, since it's more important to just believe in Jesus and love other people.
That is an effort to make peace. But at what cost?
Jesus said "Do not think that I came to bring peace on earth. I have not come to bring peace but a sword." (Matthew 10:34)
Yet, Jesus brings "peace on Earth, and goodwill to men?"
It can be confusing, but certainly, Jesus brought anything but peace with his ministry, always stirring up trouble with the Pharisees.
 The biggest problem in the Christian Church, at least in the Western part, is the compromise with worldly ideas.
I run into it all the time. Other people my age who just can't understand why I'd bother arguing over beliefs. Often I find out people even at Youth Group have this idea.
The point is not that I like to argue (though I do) but that even when I'd rather not make more work for myself, I still feel I need to, not because I feel I will lose my faith, but because people need to hear.
And the question I finally want to get to, is why is it so important to have a Single Belief?
Isn't that old fashioned? Isn't it more progressive to try to include everyone? Wouldn't Jesus want us to do that?
Actually, no.
In fact, Jesus might have called it blasphemy to even suggest God had part in more than one religion. Paul says in 2 Corinthians 6: 15-16 "And what accord does Christ have with Belial? [a false god mentioned often in the old testament] Or what part has a believer with an unbeliever? And what agreement has the temple of God with idols. For you are the temple of the living God."
Jesus said "No one can serve two masters."
It could not be much clearer that it's against biblical doctrine to be inclusive about religion.
Now, the intellectual might ask me "Why? Why does your God have to be the Only God?"
The Bible tells us (and any christian with a living relationship with God would confirm it) that God is a jealous God, a consuming fire, and that we should not serve any other Gods but him.
Or before Him, as it's put in the older translation.
That's an important difference. If we serve any other god before God, eventually we will not serve God at all. Why? Because the Nature of God makes it impossible to serve Him the way He requires of us, and serve another god, if you stop serving God, you'll serve something else. You cannot do both.
Which is why I decry anyone who claims to believe Christianity as well as two or three other religions as a hypocrite who understand nothing about it.
It's, in fact, pleasing lie to the skeptics. It gives them such a smug feeling of rubbing it in the Christians faces, I see it on YouTube all the time.
"Just let us enjoy this…"
"It doesn't matter whether it's religious or not…"
"Let's all just get along…"
Newsflash: Human beings are not meant to "just get along"
And we never will, till Jesus comes back. Even then there will be rebels (see Revelation and Isaiah)
I am not sure why even we in the church are so obsessed with getting along. Jesus said we never would get along with the world. That it would hate us, as it hated Him.
It does make me mad, too, this compromise. It's not because I don't like to have my beliefs challenged, its because it's fraud.
I care about truth (hence the blog name) too much to want to see it water down and mixed with other stuff like some juice concentrate. Till it's of  no use to anyone.
And I would not consider myself a Real Believer, if I did not feel this was the only Way, Truth, and Life.
I would be more furious with someone trying to blend two incompatible religions, than one sticking to one I don't agree with it, but doing it with integrity.
The person who knows what devotion is, can change the object of it and not lose their character, the person who never understood devotion will be useless to anyone as anything, because they cannot really believe any more than they can commit.
The problem with how little the church is confronting this belief, at least in the mainstream, is that it knocks the spine out of new believers and old alike.
They are passive, they accept the world's way because they are never presented with an alternative.
And me, as someone who has always been fiery and passionate, have been told by my pastors and leaders that students just aren't ready for that.
It's a lot of poppycock, no one ever is ready. Can you be ready for God's power? It is something only He can give to people. Do I feel ready now to do anything He might tell me to do? No, but that has nothing to do with doing it.
We are told to be ready in season and out of season, but the church is often not teaching us that we have A Single Religion, that we must not be afraid to tell people that, that if we accept multiple faiths, we dishonor all of them.
It's like people think Christianity will somehow override the other beliefs and make the person okay, but nothing in the Bible or in history implies that is true. Everything tells us that once you let in a conflicting world view, it takes over until it's rooted out.
I think this old song by Green Day gets more of what we're going for here:
At risk of sounding nuts,  I could almost picture this song being from Christ to the church, I mean, the biblical allusions are there:
"She's a rebel, she's a saint, she's the salt of the earth and she's dangerous.
She's a rebel, vigilante, missing link on the brink of destruction.
… She's the symbol of resistance, and she's holding on my heart like a hand grenade.
Is she dreaming, what I'm thinking? Is she the mother of all bombs, about to detonate?
Is she trouble, like I'm trouble, make it a double twist of fate, or a melody that
She sings, the revolution, the dawning of our lives. She brings this liberation, that I just can't deny."
My pastor was preaching on just this subject this week, and I would encourage any Christain reading this to see it as a call to action. I don't know what all you can do, in your situation and life, but I know that my cousin is not the only kid who desperately needs to be taught about this, the whole world does. 
I think that's where I'll leave it.
 Although I literally added a bunch to this old post, it's still like 500 words shorter than my recent ones, go figure, until next time, stay honest–Natasha.
I now have options to donate if you wish to support my work so I can keep writing 👍👌
Make a one-time donation
Make a monthly donation
Make a yearly donation
Choose an amount
Or enter a custom amount
$
---
Your contribution is appreciated.
Your contribution is appreciated.
Your contribution is appreciated.
Donate
Donate monthly
Donate yearly
Before you read any further, I recommend watching this video, it just popped up on YouTube and I was curious.
I do try to avoid politics due to not wanting to make this blog all about that, but given the current situation, of course I'm thinking about it, like most people are.
I was not too surprised with this video, just with the quick turnaround of all but one of the students.
If you must criticize someone, keep to the moral side of the issue and explain why you think they are wrong, don't just spout off terms everyone uses and no one really understands.
Take the term "racist" no one even knows what that means anymore, it's used so much.
Wearing back face paint in kids movie has been called racist, even though no connections to Africans were actually made.
Racist means to see someone as lesser because of their color or ethnicity. Less smart, honest, capable, etc.
The term has been expanded to mean any generalizations about a race, even if it might be considered a good thing, like black people can rap, or dance.
(Saying White people can't rap or dance is perfectly okay, however.)
Not everyone takes it that seriously, but as far as politics are concerned, if you so much as reference what life is like in a bad neighborhood, it can be construed as racist.
Or you seeing things through your "white privilege".
Anyway, the point is these students are clearly not thinking for themselves, and that can't be denied, but they think they are.
The thing is, while I am disgusted, I can no longer judge them quite as harshly as I used to, because I've started to experience why they turn out the way they do.
A lot of them it's their parents, but assuming not every single one of these students has liberal parents (or just ones who hate Trump) then why do they end up like this?
And some of you may even think they are right, though I don't think a whole lot of liberals read my blog just because the nature of what I write about, but hey, it's possible.
Or you may not be american and may not care that much.
Well, whoever you are, I think you'll still find my story interesting.
So, before this year I had not taken any completely leftist themed classes at my college. Of course I noticed a bias in all the textbook for any of my humanities courses, but it wasn't a huge focus, and at least one of my professors was far more fair.
Then I took a Philosophy class, and so it began.
That class was far more fun though, the real trouble was that dang history class I've taken this last semester.
I really began to see why college students are so dumb.
It's a real strain on your mind to be fed propaganda constantly and tested on it, but the problem is even worse when its hidden in what are true historical events and facts, the propaganda gets slipped in with a lot of interesting and useful things.
The average college student at a public college like mine will already be primed for Leftist philosophy by their high-school experience and the News media–and Twitter.
So they enter college, and the textbook are ready for them.
All of us have been taught to be triggered by a few key words.
Black
Racism
Trump
American Supremacy,
White Supremacy,
Entitlement,
Colonialism…
Textbooks throw these terms in whenever they need the student to start coming to a certain conclusion.
To demonstrate:
When we are looking at the past hundred years and how America, England, France, Belgium, and Portugal  (to name a few, and to ignore the Asian countries doing similar things) interfered in other countries, to "improve" them, we will call it Western ideals of "Manifest Destiny." White Supremacy, you know. Cultural Appropriation.
When we look at the past 30 years, such as the horrible holocaust in Rwanda, we will drop the political terms and start saying America should have gotten involved in another country's business, because it was clearly our moral duty to stop them from killing each other off.
Now, when the Portuguese stopped Aztecs from sacrificing each other to gods, that was intruding into their culture
but when we didn't interfere in Rwanda, after its own government told us not to, (for 3 months, we did help eventually) we were to blame for it.
I don't disagree with us helping, of course. I am pointing out how doing very similar things can be spun two different ways by using the right words, and the right pictures.
There are differences between now and then, naturally. But the point of the history course is to make it clear to students that getting involved in other countries moral problems is arrogant on our part, the nuances about how and why it was done are inconsequential.
That said, how does it tie in to the present situation?
In every way.
The students even referenced some of the ideas I've been hearing. It's arrogant, it's not right…it's America's Superiority idea.
The college student who goes to my class is not likely to realize exactly how all this is presented to them in such a way to make sure they get to one conclusion. Because it's sneaky.
Out of one side of their mouth, curriculum makers say they want everyone to be equal, but they make sure you know that anyone who disagrees with them is ignorant.
I got called ignorant and narrow minded, in so many words, in the class discussions, just for daring to disagree or to suggest we were being too hard on one people group. Imagine that.
It's hard to explain unless you live through it, but even as strong willed as I am about what I think, I found it tempting to give in.
I am sure my professor would tell me if I opened up to it, I might learn a new perspective.
But I neither want to, nor see the wisdom in allowing my thinking to be influenced by these books and people. They often don't know all that much about what they are talking about.
In fact, I read more of the curriculum, and faster, than a lot of them did.
This book covered slavery in America but neglected to mention there were Black Slave owners, a lot of them.
My professor also strove to justify the slavery in Africa as of a different nature than slaver in America… because somehow, that makes it better.
Hey, I think maybe it was, but if your argument is that slavery is inherently evil because it's removes equal rights (the argument in every college class) then it doesn't exactly matter how good or bad it was, the slaves were still not equal to their masters.
Digressing, College Students are not just inherently stupid.
It's very artfully planned.
But no one can control your mind without your permission.
You make a choice at some point to look no further than school and Twitter for the worldviews you support.
Despite having conservative parents, I read liberal philosophy plenty growing up, before I even knew what it was, and later because I either had to for school, or because it was part of the book and I just had to take the meat with the bones.
It's easy enough to get that without even trying, it's all over TV and movies too.
But it's far harder to get a Conservative perspective without trying to.
In fact, since we're on the subject, I'll open up the floor.
I am not ultra Conservative, but I've been raised around it and I have a pretty good grasp of the general philosophy, if anyone is curious about it, comment a question, and I'll try to answer it.
I mean just a genuine question, like "how can you support this?" "Doesn't it bother you when..?" "Why do you believe in so and so?"
Since I'm preaching that we should get informed, what better way to follow up than to offer to answer myself.
But you don't have to take me up on it, just thought I'd put it out there.
The thing is, the actual students I've talked to don't even know what people like me believe, and are surprised when I can explain anything to them in a way that makes sense.
All they hear from TV is prejudice, prejudice, prejudice.
And to be fair, I know the few Conservative news Networks are prejudiced against the Left, and I've taken some of what they said with a grain of salt.
(Though this last week, I think I've never agreed with them more, I really can't believe some of the crap that's going down.)
But I cringe sometimes, people like to say controversial stuff when they talk politics, and the drama is mostly why people enjoy it anyway, and I am not a huge fan of that way of discussing stuff, but I recognize that doesn't make all of it untrue, just uncomfortable.
Anyway, I think I'll have to end it there, look forward to your responses if you have some, and until next time–stay honest–Natasha.