Sorry for the wait, I got majorly busy last week. I got a job though! Yay!
And it's high paying too, at least for a non professional worker. Though at this point, I really am a profession, they just don't give certificates in nanny and babysitter–well, I think they do, but how many people really bother to get them? (Maybe I should though…)
And some of you who read my recent posts may be wondering how my Grandmother's memorial went.
Well the answer is, actually, very well, all things considered.
It was odd hearing stories from her sons and step kids, and granddaughter, and realizing I'd heard most of them from her personally. I've seldom had that experience at a memorial, I usually hardly know the person in question…which is less sad for me, but can feel like a waste too.
The weird highlight of the day was my Dad's speech.
Yeah, brace yourself. This is just my crazy family.
My dad was glaring at me most of the time leading up to the actual service. My friend came with me, and he didn't seem to dare to approach, and I walked away any time he got close. I think mostly, he just did it to reject me, and tried to make a sad face. The result was more of a sullen one, but he never knows how it looks.
I ignored him, and no one else took much notice of it. I'm sure he talked crap about me to whoever would waste time listening to it, but I didn't hear any of it. I only know because I know him too well.
Anyway, so when he got up to speak, I thought "Why…oh." and I knew exactly what was coming. I thought "He's going to put some message directed at me in his speech." And then I thought "But, at a funeral? And when it's about Grammy?" Deep down, I knew though.
And I swear to you all, I am not making this up for dramatic affect, my friend has never met my dad before, and she told me he was looking right at me a lot of the time. And she could tell it was directed at me. My mom could too.
My dad chose 1 Corinthians 13 as his text for the speech, not that it was necessary, we weren't preaching sermons. As soon as she said that, I knew what I was in for. I grabbed my phone and kept my eyes on that.
"I'm not given him the satisfaction of seeing me make eye constantly," I thought. When I looked up, I made sure to look at the wall or my mom or friend I did steal a few glances at the others but I couldn't' tell if anyone else know what was up, but my aunt probably did. He maybe even talked the idea over with her!
Anyway, this was what he said, in a paraphrased nutshell:
Reference himself, he said there was a time when he didn't speak to his parents for 2 years because he thought he hated them, or they hated him (or both, I don't remember, it doesn't matter).
Then he said a lot of stuff about love (1 Cor 13 is about love, if you don't read the Bible). Dwelling on where it says love suffers long, is kind, keeps no record of wrongs, and all the other stuff about love and forgiveness.
He said my grandmother was a very forgiving person (which is true)
And that she was very loving (also true)
But the way he said it all, I had heard those phrases directed at me many times, always to wound. And I knew the tone he used was the one where he tries to sound holy and profound… but it's really just begging for sympathy.
My chiropractor, who know my dad, told me he'd come in months ago, after I started coming, and had displayed behavior that indicated he'd had no change of heart. If I go into specifics, it would be too disturbing for many readers.
I wasn't surprised.
But this speech sealed the deal. I already knew nothing has changed, but I really thought, my aunt will have nothing to say to me after this. If she even tries to tell me he's different, I can point to this incident.
At a memorial!!!
My friend was disgusted, and she's a much less judgmental person than I am. I warned her though.
Yeah… really, I was just glad he didn't say it to my face… then again, if it was too my face, I could have told him off. Doing it this way was sure to guarantee I couldn't' call him out on it, he can deny it. No one would believe that who knows him well, but he could still claim it.
While it was less uncomfortable for me, since I knew, at least not everyone there would know it was aimed at me, it was underhanded and petty on his part.
It's also impressively conniving. I mean, once you renounce any sense of decency about respecting the dead, it's genius isn't it? Perfect security plan.
Ugh….
Well, I endured.
It's okay, when I Write my book about all this, everyone will know the truth. My friends say I should write a book, I'm sure I will… I just haven't decided quite what I want to say yet. I mean, I can tell my story, but I want to know how God is going to get me out of it, even more than now, before I try to tell people about it. a blog is one thing, you can update it, but a book is just out there, unchanging, unless you re-release it…so it would be wise to be sure I was saying the right thing before I write one.
But maybe I will soon. I'm sure some people would be interested in the story.
I'm not about revenge, but it would be a real relief to set the record straight… and can you imagine the look on my dad's face if he read it? Ha! Priceless.
I would definitely not name any names, just to avoid humiliating him… though that would, of course, not be something he would do for me. But I'm not that low, you know.
Well, that's a subject for another time.
I guess the profudn tpoi o fhtis post could just be: What do you do when your toxic family just refuses to stop being toxic?
Well, you can two things (that aren't unhelaty)
You can ignore it, learn to not mind it, by growing more and more apart from them, and forming bonds with healthy people who really love you. And not being around said family anymore than you absolutely have to be. In my case, they were all civil except for my dad. Who is probably just pissed that I didn't care about his temper tantrum.
The other thing, which is what I had any writer and artist do, is use it all as fuel for the fire.
Difficult experiences are what turn your writing, (or art) from good to great. If it's possible for you to achieve greatness, it is usually through pain or toil. My writing got exponentially better during the period of darkness following my dad's exeunt form my life. It was hard, but I faced more gloom and doom than ever before, and coming out on top, I learned from it.
Even this blog changed. I never used to lie to share my personal business, I was ashamed of the situation, I knew it wasn't right, but I though I could never complain. My blog had pretty doubled in size since I started sharing personal stuff. More of you comment, more of you like and share. And not that I do it for that, but I think it shows people connect to what I say more.
My blog has more of a theme than it used to.
And I have become a kinder person through all this. And more stable, as odd as that sounds.
I also have become a little craftier. I know how to get around a difficult situation. My dad may be petty, and childish, and psychotic at times…but I know how to prevent him from doing much real damage.
Folks, you have to get crafty sometimes.
Jesus told us to be "wise as serpents, and harmless as doves." That should be a Bible Study series, I've yet to hear it preached on though, we don't like being told to be wise and shrewd do we?
But we must be. If we wish to navigate this dangerous world we live in. Some risks cannot be avoided, but they shold be the smart risks, the ones done for the right reason.
My dad is smart, unfortunately, it would be easier for us if he wasn't. But I am smarter. And God is on my side in all this, so, there's always a away.
And if you're in the same boat as me, turst me, God will be on your side too.
I don't know why everyone does not get delivered the way we did… I do think, very few people would have done what we did. I've met no one so far who has, I've read no account of it.
All the prayer and healing I did for years alone was what enabled me to have the courage to go through with it. And it's worked out amazingly, I must say.
All of us are happier now.
The hardest thing to convince our family of is that we could really be okay. The drama in the family (melodrama at times) has killed a lot of their joy and happiness in life. How can we be any different?
Jesus, that's how.
I've stopped asking why it happened, mostly.
Everyone has bad stuff happen to them. I was lucky that through the bad stuff, I had good stuff too. I was lucky that I never got permanently hurt by it. I was lucky people helped me get out of it.
Others may get more or less than me.
But here's what I know:
Jesus said that God will pay everyone the same wage, whether they worked all day or only for a few hours.
In the same way, God will heal everyone to the same degree.
We are not all given the same amount of bad things in life, or of good things. Anymore than we can compare the bad and good of humanity as a while from place to place, without having a hard time deciding where it's the worst and best.
I was given more bad than some, and more good than others.
I do know, that once you give all that to God, the good, the bad, the ulgy, the beuatiful, He makes it all a par to fhte samething.
To God, compairng our evil is pointelss. He knows he can reedem it all the same, no matter how bad it is, just like luangdy sopa wil clearn both a shirt that's been dragegd thorugh the mud, and one that looks fine, but has been worn for too many days straight. Both get clean in the end.
Sometimes it's harder to clean something that looks fine to begin with, until you get closer and see it's not so fine.
At least I can point to were a lot of my issues came from. That's useful.
Some of you who feel you've had it way too rough my actually be better off than someone who thinks they are fine, bcaue they aren't fine. And you aren't hopeless.
Really, after all I went through, I circled right back to where I began. Like Chesterton said, we go looking for a new thing, and find that the old thing was right the whole time. We just didn't understand it.
All right, I think I will wrap this up for now, homework is calling me, until next time, stay honest–Natasha.
Make a one-time donation
Make a monthly donation
Make a yearly donation
Choose an amount
Or enter a custom amount
$
---
Your contribution is appreciated.
Your contribution is appreciated.
Your contribution is appreciated.
Donate
Donate monthly
Donate yearly
I suppose it's unchristian not to do a post about Easter… have I ever done one before?
This may not be the most conventional subject for an Easter post, but I was thinking today about some of my old posts. Back from 2015 and 2016.
I wrote one post about how much I didn't like being wrong. This was not long after I started my blog, probably just a couple months. Nothing has changed, I still hate being wrong.
And I wrote another post about forgiveness, at this time I was about 16 or 17, I'd say. I know it was before I moved.
At the time, my dad was still at home of course, and would be for a few more years, and he was as awful as usual, though at that time we interacted less, he was addicted to video games and unless I interfered with that, or was working with him to earn money, we hardly spoke.
By then I was already reading books about healing and coming to realize just how much pain I had from him and my mom. This is an except from a post I wrote at the time.
Then
Letting it go-from another angle.
"Forgiving is hard. Yet, I wonder why? We all make mistakes and so why are we so hard on each other for making them? Maybe we want to see a fairness in others that we don't possess in ourselves.
Let me be clear; by forgiving I don't mean letting people get away with serious wrong doing. Nor do I mean living in a sort of denial that the damage other people's words do to you, is not that bad. It is actually much worse than most of us know. Forgiveness is actually acknowledging they did wrong and letting it go. In the words of Stasi Eldredge "It was wrong, very wrong, and I release you."
Forgiveness is actually more for us than the offenders… Emotionally most of us have probably heard about the necessity of forgiveness. When you hold on to the actions of another, you build them into your brain. I don't mean in a mind control sense. But when you hate someone you obsess over them, you think of them and the things they've said and done to you; if it's someone close to you then you struggle with not having their approval on your life even as you despise their opinion. You feel indifferent to their pain and even glad when they suffer. You say you'll forget them but you can't, because you can't let what they've done go. If you don't remember who will? It won't matter to anyone. And that is what scares us, that our pain won't make a difference in anything. That we ourselves don't matter. These people who hurt us were right about us then. The emotional and mental damage this does to us couldn't be fully disclosed if we took hours and hours to talk about it. To not forgive is to agree with the people who hurt us and to sink to their level at the same time.
That is why the first step toward forgiving is admitting it was wrong and you were damaged. A lot of people don't get this far. They won't admit their weakness. Or in some cases they will only admit their weakness but never that they can overcome it. They wallow in their pain all their lives…
So, if you are willing to take step one and admit you have been hurt–bad (And someone may be thinking "I can so do that." Well hold on.) What is step two? It varies. It may involve crying your heart out. Grieving the wound the Eldredges call it. (I highly recommend their books Wild at Heart or Captivating for more detail on this very important part.) In my own journey of forgiving, I cried several times; I shared my pain with trusted people–but don't do it with the person who hurt you, that was always a disaster–I prayed about it. To which I attribute all progress I made. Pain can be scary because it is so deep. Sometimes we wish we'd left it alone in apathy and numbness. But really that's even more frightening.
After sadness, or sometimes before it, will come anger. More anger. And fear. Here we face yet another choice, we can press on, releasing the anger and fear, or we can let it drive us back. At this point you will not feel like forgiving, nor will you feel like the person deserves it, it will be purely a choice. I suggest writing it down. Saying it. "I choose to forgive (insert their name).'"
Now
Now that I know so much more than I did then about the situation, this level of grace on my part astounds me. Yet, I know it wasn't me, I wan't that wise, I was simply following what my teachers taught me, I always did have that childlike faith.
Actually for some context, (sorry for burdening you with my dark past), at the time I was attending a very toxic church– not by choice, my father forced us all to go. I hated it. "
Well they hounded us from the pulpit about forgiveness and how unforgiveness would land us in hell.
I don't disagree, the Bible is pretty clear about that… but this church took it to an extreme that ignored that real damage other people's sins did to you. No talk of therapy, no talk of long term healing.. I 'm not sure the idea of emotional healing was ever introduced. I know plenty of the parishioners had family issues.
My dad would repeat all this at home, expressing fears over himself not making it, and praying that we all would. His fear scared me, I would not have felt dubious about my own salvation, but he constantly introduced doubt. Small wonder I still struggle with it.
I'm not naturally much of a doubter, not anymore, but it seems sown into me. Popping up when I least want it to.
My dad also found testimonies on the internet about people who'd been to hell and back, or saw visions, and warned about unforgiveness.
I cannot say how much of it was true, all I know is the Bible has no stories of any Christian visiting hell and coming back, and no precedent for it, though heaven is permitted we know from Paul and John. Perhaps hell is not impossible, though no one would like it, but at the very least, many of the testimonies were too much like Dante's Inferno, a human's explanation of what hell would be like, and I am skeptical hell could make any more sense to us than Heaven, and no human would come up with what the Bible says about Heaven (read Ezekiel sometime)
That's not really the point. I have to thank my dad in a way, that is what pushed me to salvation, finally. One has to learned to be thankful for what good did come of anything in our crappy past, though once I felt offended at the very idea. And I wouldn't take kindly to anyone else telling me that, since they'd be dismissing what I went through.
No, my dad did a few things for me, though not really out of kindness in this case, it stands more to God's power that the fear and doubt of those years actually led to something good for me, God truly can make goodness out of anything.
My dad also read the post I quoted above. Which I wrote with him in mind. I heard him talk to my mom about it while he was reading it. I remember what he said, I may never forget it:
"I was reading (my name)'s post… I can't imagine who (she) could know that would have hurt her so badly."
In said post, I wrote how talking to the person who hurt you did no good… thanks Dad, for proving me right.
I really didn't want him to read my post, and wished my mom would have stopped him, but turns out I had nothing to worry about. I think that was one of the last times he read my blog at all. I know he doesn't now, he'd not like what I write about him, I'd be sure to hear about it.
Now, I no longer think that telling someone they hurt you does no good, if they are a mature person who truly loves you. Or even immature, but not toxic (it's not the same thing, after all), but I was right not to tell him.
Years later, probably a year before he moved out, my dad also said in one family meeting that he got a sense that I had very low self worth, and he prayed for me about it.
I was aware enough by then to be thinking "Thanks Dad, who do you think gave me low self worth"
Wasn't you treating my like dirt my whole life, neglecting me, abusing my emotions, telling me I was responsible for all your problems.
Now, this is not a post just for me to whine about my life.
But, we're talking about rebirth today.
I'm starting to, like Paul, boast in my weakness. If I can take pride in nothing else, I can take pride that I have this terrible story (though it wasn't all terrible), and I still held onto my faith.
There are man things I am still waintg for, the fullr edmeption of my past, the full meaning of why it happened t o me. A chance to tell more peopel my story. I aprpeciate ou 220 or so followers, but IW ant to reach even more peopel, more and more.
I haven't to dlit all here, some things I did not even realzie were significant until later. soem thing sId id not feel comfortable sharing yet.
What can I say about this trial that other, wiser, better peopel have not alread siad? All I jave if my own story.
I can tell you that I've never heard of anyone else doing what I did, reading the books, pupmping thmselves full of self-help, roads to healing, seeking and seeking and seeking.
It was terrible to go through that dark time last year when I feared all that was for nothing, I invented years of my life in healing, and I though I ended up just as screwed up anyway.
While no amount of reading could have prepared m for the shock of getting out of abuse, it did give me something to fall back on. I took the leadership role in my family in my dad's absence. Not fully, perhaps, but as the other dominant personality, it just happened naturally.
I felt I had to protect them, that since I hatched the plan to get rid of him, I had to make sure they were okay.
It's been a blow to crumble as much as I did, and not be able to work steadily either, but I had to let go of the idea that everything is my responsibility.
When my dad left, I got my life back.
Really, I was getting it back every time I wrote those posts like the ones above, that I was basing off my real efforts in prayer and self reflection. My dad put all that venom into my brain, and I spat it all out through prayer, tears, songs, and resolutions.
5 years later or so, I still do that. Thouh I make less resolutions, I've learned to be suspisonv of those.
While I was still deeply damaged by my dad, the way I handled it back then, by God's leading, has gotten the poison out of the wound, so it could heal, and I've haled faster than I thought I would.
I still have bad days, today even, doubt assaulted me again, even in Church, but I didn't give way to it like I sued to, I do not know when I will stop being tempted, but I am a lot stronger now.
I gained back the weight I lost too. I'm walking straighter than I ever have, and I have less stiffness and back pain.
My chiropractor tells me I will be a new person when the treatment is finally completed. It's taken 3 times as long as I wanted to see results, but God never promised it would be done when I wanted, just that it would happen.
I eat more now too. I think I eat more now than before all this happened since I've learned when I feel bad, I'm usulaly hungry and low on calroies, not sick.
My gaggin epidose have been over for proably 5 months or more now.
New year, new me, is what I said when 2021 started.
But when I look back at those old posts, and remember how I was then, and see that my heart was more pure than I thought, and that I was trying my best to obey God, as I always have… I think, I'm also just ht old me.
Somehow, my dad never dseprtryon who I am. Though he treid. Somehow, I kept waht I wanted in mind. I've never waved for long on what I want.
I want to have a great ministry.
I want to write great books
I want a great marriage
I want many children.
Whether all that comes in the form of adoption, or whatever I end up dong, and travel, or staying home, I don't care as much as I used to, I know that all this must be part of me for a reason. I was born wanting those things. Except writing, that came once I knew I could do it, but I was always a storyteller even before that.
For ears I eceived little t ono enocuagemanet form anyone about these deams, but I didn't lose them. That's a mircale, from what I hear form others, pretty much everyone loses their fdreams as they grow up. To raitne then till you'e 22 is rare. Bt hte ime I'm 30, it'll be a minoritiy.
I have a feeling I will still wan the same thing at 30 as I do now, only hopefully, I'll have some of it by then.
I'm a girl from a toxic, abusive family, I'm not supposed to be the statistic that gets a good marriage, and becomes a good parent.
I'm the one who got told she was wrong, and criticized for everything, I'm not supposed to succeed at my talents.
I'm the one who had someone sow doubt into me a lot, I'm not supposed to have a good ministry.
Well, flip all that, God is the God of the unexpected.
Sure, right now, I have small blog, smaller YouTube Channel, and only a couple short published books on kindle that no one reads. I'm not in a lot of ministry, and I'm at a point in life where it feels no one sees all that much in me.
Perfect time to be suddenly launched into something unexpected, God has a pattern, but He's not predictable.
I don't know what will happen in the next 5 years, but I haven't waited all this time for nothing, I'm sure of that.
New Life means Old things getting a new vitality, and new things springing up. Jesus coming back to life didn't just give us His old life back, it gave us an entirely new kind of man, as C. S. Lewis wrote in Mere Christianity.
An odd hybrid between the Divine and the mortal, that is what we are. One that you won't find anywhere else in heaven or on earth, and how can I say what the purpose of it is?
John said "It is not yet revealed what we will be, but we know that when He is revealed, we will be like Him." (1 John 3:2)
As I've come out of my depression and anxiety, they've begun to make less and less sense to me, I no longer understand the logic behind them. I am sure, that is God.
To be sure, I'm still tempted at times, and I won't say I have the cure all for either of those two problems, since the path I walked had to be for me personally, and my fears, but some stuff overlaps in our lives.
I can't even be certain I'll never have another time of my life where I feel this way, though I can't picture it fooling me ever again. Feelings are not the same as mindsets.
I do think some changes will last.
Someday, I hope, God will give me the words to describe what happened to other people. Just now, I am still too much in the process to explain it, and I've noted others don't really understand me if I try.
But someday, surely, I will be able to look back and see it clearly. Hindsight is 20-20. (That'd be a good blog post title)
I get it, some of you are still in the darkness. I hope some of you have begun to see light.
If you wait long enough for something, with God, it will happen. Or something better will.
God showed me that, actually, one time I was talking to Him, and He brought it to my attention that if I just waited long enough something was bound to change, no state of being is permanent for a human.
We hate being told it's just a phase, but everything is a phase. The Bible calls it a "Season"
I don't know if any angry teen or young adult will read this, but if you've heard those words "it's just a phase" I know, it's annoying, but, take it from me, you'll want to believe that. All pain can pass. Even the worst and deepest kinds.
And while I was not assaulted with what humanity considers the worse crimes, I'd venture to say I knew that deep pain as much as the next person. I take things very seriously.
At least I could not lie to myself that way. God made me this way for a reason. If I could be blind, like others, I might still be in that situation.
One thing I kept saying to my sister was this "No pit is so deep that He is not Deeper Still" (Betsie Ten Boom).
Well, I tink that is enough for today. Thank you for reading, and have a great day
Until next time–Natasha.
Make a one-time donation
Make a monthly donation
Make a yearly donation
Choose an amount
Or enter a custom amount
$
---
Your contribution is appreciated.
Your contribution is appreciated.
Your contribution is appreciated.
Donate
Donate monthly
Donate yearly
Y'all might be wondering how my recovery process is going… okay, you probably don't actually wonder that, but you might not be adverse to hearing about it right?
Well, actually, these last couple months, I've been doing really well. My life coach has been very helpful, mostly she helps me realize I already know the answer, I just need to believe that I do, and that God has given me the key.
I actually had a brief bout with nausea that was the worst I've had in a while, but it lasted probably just 20 minutes or so, and I was able to stay much calmer than I used to and help it get lighter instead of stressing myself into feeling sicker than before. Mostly, I catch it before it gets bad now, but even so, now that I know it usually passes quickly, I'm less scared of it.
I feel fine most days. Though with the Summer heat coming, I may have to take more steps to stay cool if I want to avoid that heat exhaustion.
My mental problems are also at a new low for the last year. I really can't believe how bad it was not that long ago, it seems foreign to me now. I've always come out of these periods, since becoming a Christian, after a year or less. Usually less.
I never came out of it when I wasn't a Christian fully, I had better and worse times, but fear plagued me constantly back then, whether there was a trigger or not. Christianity works for me because that fact that I've known freedom at all is something I didn't really have before. Something important to remind yourself of if you go through hard times again as a believer.
I've realized too that the person I a has never really changed, she just went into hiding for a while, only occasionally showing herself, now, I see her a lot more often. I needed to believe she was real in order to be her.
You have to believe in your own healing, in the healing that has already taken place, in order to keep healing.
If you live your life as if you are still hurt, even once you've healed, then you might as well still be hurt. That applies to physical and emotional injuries too.
I suppose it's about time I mentioned that my step-grandmother's memorial is this month.
I plan to go, but would you believe that my aunt has already been trying to get in some emotional manipulation on my sister over it. It's so nuts.
I now my dad will be there, likely as not, and I am trying to prepare for it. I don't know that'll I'll share my strategies here until after the fact, if they don't work, I don't want to take the chance anyone will emulate me, but I think they will.
However, someone in my position might wonder what the prospect of facing my abuser in person again feels like.
I'm not looking forward to it, but I am not utterly terrified.
It's because my circumstances are a little different than one would normally have with a violent person.
My dad is aggressive, but he's not generally the type to lash out in public at someone without provocation, and he would not be able to seriously injure me at a gathering like this without someone stepping in, because too many people would be there. He would not like to lose face, he's never hurt me that badly, physically. My feelings were always more bruised than my actual body.
Some might not even call it abuse, but I call it that because of he power struggle and attitude involved, and the roughness of how he did it.
I don't use the word abuse lightly, however. I see it all the time, people call stuff abuse that I don't think should be called that. Abuse has a particular feel of powerlessness on the victim's part, and sick satisfaction mixed with excuses on the abuser's part. It's more than temper, thought hat is part of it, it's to break you, make you submit, feel like trash.
I mean, what's abuse to one person isn't to another, sometimes, but that's a very vague line.
I guess what I mean is, sarcastic comments are abuse to some people, but to others it's normal banter, and I don' think victims should impose their standard on people who see it as a way to bond, the tone and timing will tell you whether it's destructive or not. Someone should always back off if you make it clear you are seriously uncomfortable, but if you know yourself, and know you feel weird only because of past experience, and that this person in particular is not actually trying to hurt you, it's also good to try to grow thicker skin. We have to heal from both directions, insider and out.
For me, a little light shoving isn't abuse. I knew when my dad was being rough, I know when my siblings are being playful. I can compartmentalize.
I realize I am lucky to be able to do this so easily, at least in some areas, though not all. I am far more sensitive to verbal stuff.
I got into another work situation where I feel disrespected and criticized unfairly, and blamed for what is not my fault. I wonder why I keep doing this… and then my sisters stores of working at a sandwich shop tell me I actually ain't even seen it all.
Seriously, I get people telling me I should work on my babysitting skills, she gets people telling her she's got no idea what she's doing. Whose job is worse? Well, it's income.
We both like what we do anyone, but nothing is ever a positive experience 100% of the time, that's not realistic.
Notably, this time, I am handling it differently. I've always been bolder that my sisters anyway, I stand up for myself. But I used to do it immaturely by getting really defensive and rude. Now I choose my words more carefully.
My dad responds to criticism by getting defensive and losing his temper, that's not how I wanted to be, but I couldn't go the route of my mom and just never stand up for myself at all. I literally can't, I think I'm incapable… trying was excruciating, and I failed.
So, with no role model here, I've had to learn by trial and error, but I'm starting to get better. I try to acknowledge people may have a slight point, or grievance, but I refuse to let myself be belittled.
I had a mom tell me today that at my age (22) I may just lack the experience to understand how to take care of a 5 month old, and how a mother feels.
I asked her "How many kids do you have?"
This is her first. She's 30..
I've been in childcare for 15 years. Paid and unpaid, private and in groups, doing int alone, and doing it helping adults. I have two younger siblings I've had to be basically a surrogate mom to for several years, at least in some areas. I have two cousins I provide love, attention, and mentoring too. I have taught Sunday school for over 6 years.
I looked at her and I said "I understand you are his mom, but I will not let my years of experience be disrespected just because I am a little younger than you and your other nanny."
Where does this lady get off? Sure, she's his mom, but this is her first kid, having a kid doesn't automatically mean you understand child reading, as I think the loads of messed up kids form broken homes is proof of. I'm 8 years younger than her, so what? She didn't give me any prior experience she had with children.
The amount of disrespect nannies get is unreal. We take care of children, the most precious things anyone has, and we get treated like barely above slaves with no rights to opinion, no better qualifications, and no right to complain if someone is literally filming us why we are doing our job, without our consent.
Isn't that illegal in other circumstances? Sheesh.
And yeas, the nanny cam is real. Some people think it's myth, nope, I've worked for two or more families at least with one. And one family just straight up spied on me with their friends. They told me this to my face.
Well, it would take a whole other post to list all my negative experience babysitting, but it has been a great trial by fire for seeing how well I can get past my issues.
If you have low self worth and want to get over it, there's really nothing like having someone treat you like an appliance in their house and getting frustrated over it to push you to stand up for yourself. Seriously, if you aren't annoyed, it's probably just reinforcing your problems, not helping you grow, get out of that job.
But for learning self control, self assurance, and what you actually want, nannying has it's benefits.
Back to the prospect of seeing my dad again…
I am nervous about it, but I've learned that if I acknowledge that, and decide before hand what to do, it doesn't often turn into panic… actually, it never turns into panic.
That may not work for everyone, but I am a more confident person in areas that aren't related to abuse, so channeling that towards he areas that are is mostly a matter of self control and prayer for me.
I also have learned not to overestimate myself. I should try to face my dad alone. I need other people around. I shouldn't treat myself like I'm expendable and can carry the weight of everyone else's problems by taking his crap.
While it would be theoretically cathartic to tell my dad off in person, I don't expect it to happen.
At most, I think, I could tell him to leave me alone, that I won't be engaging with him, and this day is about Grammy, not him.
Now, my aunt once tried this when her son died, my cousin, and my dad completely ignored her, so I don't expect that to work.
But I have a few back up plans. It'd be really satisfying to just say: "Look, I already know what you're going to say, and you're going to be abusive, and manipulative, and there's nothing you can say that will alter my opinion of you, and no apology you make will convince me you are sincere, and nothing you can say will make me feel guilty or bad for you. You abused me, end of story. Deal with that reality, or stay out of mine."
I'd never get to finish that speech, even if it'd work. But it's fun to fantasize about it.
The reality is, it's best to just avoid talking to him. He will probably try to talk to me, unless he gets some idea of proving he doesn't need me by refusing to talk, e might say "I didn't want to make her uncomfortable" Which is a lie. He would only do it to show how innocent he is to the family, if we were alone, he wouldn't hesitate, so I will have to take great care never to be alone where he can see me.
It'd be best to have another man around I can trust, as my dad will be more bold with women watching than men, I think, he can be a bit sexist.
Anyway, those are my basic ideas. But the rest will have to wait till after the fact to see if it worked.
Many victims remain oblivious to what their abuser will do to them, as long as they are locked i the cycle. There is strong deception associated with abuse, the perps lie, the victim believe them because otherwise they would despair.
Once you get out, mentally, not just physically, you start to see through it all, and you can predict their tricks. Then you can prepare for it.
I have picked up this stuff quickly due to be observant by nature, and I had to manage my dad for years before I finally got away from him. I know that I cannot win with him expect by not playing his game, he cannot stand that.
I also now that truth is powerful, but it must be worded carefully.
Pro tips for anyone consider in confronting their abuser:
Don't try to be nice. Don't try to be subtle, don't be vague.
Don't do it at all if you think they still have power over you, and don't do it alone. Don't do it in private either, they can hurt you if you do. Others should be able to see you, even if they can't hear you. I'm not at therapist, this to me is just common sense.
Don't confront them expecting to change them. It should be either to establish a boundary, or for closure. They aren't going to change.
Don't expect them to take it with any degree of dignigity.
You can expect immature jabs, passive aggressive digs, angry outbursts, accusations, or self righteous "I was only trying to…" statements.
I would say not to dignify any of that with even acknowledging it, say what you must, don't change it no matter what they say. They won't listen, but you need to know you were able to say it.
This is all assuming it's the right time and right kind of situation for this to be appropriate. Some people should never confront their abuser, or go near them again.
I will have to do it sooner or alter, or else act like a pariah in my own family, and not all of them are bad people, so I prefer to make realistic plans for how to deal with it.
But some will not have the luxury of any family they can risk seeing again, and there's no shame in admitting that and deciding not to see them again.
If it helps anyone else, these two passages have really helped allay any guilt I feel over not seeing my toxic relatives:
"He that loveth father or mother more than me is not worthy of me: and he that loveth son or daughter more than me is not worthy of me" (Matthew 10:37).
"Listen, O daughter,
Consider and incline your ear;
Forget your own people also, and your father's house;
 So the King will greatly desire your beauty;
Because He is your Lord, worship Him." (Psalm 45:10-11)
The Bible is so kind to people who have toxic relatives. Jacob is told to flee his brother who is plotting to kill him. Joseph is put in a position of power over his brothers who sold him into slavery. Tamar is given justice for Judah holding out on her. The list goes on.
Contrary to what may Christians think, it is not Christian to stay with an abusive person. Especially if that hinders your walk with God. Plenty of Christians left their families and went on their own to serve God. It is Christian to be single, it is Christian to marry and have children. Paul says we should turn people who refuse to live in a godly manner in the church out.
He also says church member should be kind to their family, and if they are not, they should not be in authority, maybe they are even false, if we follow his logic.
When my life coach pointed out this simple fact, that my dad was deceiving us into thinking he was devout when he was really not acting at all like a believer, it was a game changer for me.
Suddenly I felt hte fiel of not haivng to call what my dad did "trying to be a good chritian " anymore, he was not trying, he was whining. There's a huge difference.
Who knew, I was lcoser to God when I stopped playing alon eiwht his chruch, his prayers, his devotions, becaue the fakeness isckened me too much. AS a churhc girl, It hought It hsould like all those things mroe, but the duplicity was too much.
I now hate hypocrisy more than almost any other vice. I can't claim I am never hypocritical, but I try not to be.
One other big change: I am starting to really believe that I am Allowed to have a happy life.
Whooo! Somebody get excited with me right now!
Maybe it's okay to like myself. Maybe I don't need to punish myself anymore. Maybe my anxiety isn't permanent.
Some of you are afraid to believe that.
There are a few rare cases where someone has something their whole life in order to learn patience.
But I don't think God would command us to be anxious for nothing, if most of us were not supposed to be completely free from anxiety.
In fact, that verse makes me think anxiety is not one of those life long struggles we are supposed to have.
We cannot force ourselves not to be anxious, but we can learn to stop ourselves from becoming anxious. The Bible said that thousands of years ago.
Perfect Love casts out fear.
I don't feel full of love all the time, but I Know God loves me, I believe, it, I remind myself of it, and I don't need to feel it for it to cast out my fear, I just need to now it.
You see, God's love is so powerful, even the knowledge of it crushes fear, and the feeling of it makes you forget suffering period. I don't feel it as often as I'd like, but I also don't need to, knowing it's there, behind everything, gives me hope.
"And now abide, faith, hope, and love, but the greatest of these is love." (1 Corinthians 13:13)
I hope this post encouraged you, until next time, stay honest–Natasha
There's a tik tok series that I've become obsessed with lately because it's kind of living my fantasy: The Cece Counselor tik toks, (I will link one of the videos at the bottom if you want to check out the creator.)
After watching all the videos, I decided that only thing it was missing was more time to talk about the issues, since in a 2 minutes segment, you really can't get that far. And thus this idea was born.
I'm getting into the Therapy session of one of my faves, Bakugo Katsuki.
So, the way I thought I'd structure this is to lay out the issues CeCe came up with, then the events of the show that back up and explain the issues, and then the answers that I or a therapist might be able to give Bakugo to help.
9Ideally, since these are real life issues people have, a person would be able to insert themselves into the place of the character and see it their way.)
Let's get started:
List of issues Cece provides
Massive emotional and mental trauma
Inferiority complex/superiority complex
Villainous and violent
Hating yourself/Feeling that you'll not be good enough to be a hero
Lasting Trauma from villain attacks
Lack of Emotional Availability for Friendship
If I'm going to do this right, I better define a few terms, it often surprises me how outside the circle of my church which focus a lot on emotional health) not a whole lot of people know these terms.
an experience that produces psychological injury or pain.
the psychological injury so caused.
"An inferiority complex is an intense personal feeling of inadequacy, often resulting in the belief that one is in some way deficient, or inferior, to others.
An inferiority complex may cause an individual to overcompensate in a number of ways…
It may also cause an individual to be prone to flashy outward displays, with behaviors ranging from attention-seeking to excessive competitiveness and aggression, in an attempt to compensate for their either real or imagined deficiencies." (Wikipedia)
A superiority complex is a defense mechanism that develops over time to help a person cope with painful feelings of inferiority. Individuals with this complex typically come across as supercilious, haughty, and disdainful toward others. They may treat others in an imperious, overbearing, and even aggressive manner.
In everyday usage, the term "superiority complex" is used to refer to an overly high opinion of oneself." (Wikipedia)
Guess CeCe called it (I'd love to know if she just Googled this stuff before making the tik tok like I just did for my post).
I love psychology and the study of emotions, whatever the name for that is (I looked it up, its called Affective Science, interesting term isn't it?)
I agree with CeCe's assessment, when she says he is neither villainous or violent, but has "massive emotional and mental trauma."
So le't get into that.
Disasters
Bakugo, you certainly have some trauma from getting attacked by villains, most notably from getting kidnapped. What bothers him the most is not what happens to him (though he is clearly scared) but that his hero, All Might, loses his power during the rescue mission. You are not strictly the reason he lost it, but you thinks you are.
It breaks you to think that your hero lost his power trying to save you, when he spent so much time trying to be strong enough to never need help.
Family
Your mom, though not all bad, has no real sense of your emotional weaknesses, and blamed you for getting kidnapped, saying if you hadn't been so weak, it wouldn't have happened.
(I believe this is her way of trying to humble him, as she is aware of his pride and jerkish behavior, and says he is fearless. Can't imagine where he got the aggressive behavior and inability to have a normal conversation from…)
I could relate to that, I've had people try to humble me in exactly the same way, if I had ten bucks for every time I heard "You're brilliant, but too touchy, and unteachable and narcissistic" from my father, and his friends…
My mom's way of helping this was to tell me "I don't think you're brilliant/highly intelligent, special, etc."
So, yeah, I get your complex a little.
Environment
(I will have to drop the 2nd person approach for this part since it's more about society)
I Bakugo's been "Crushed by expectation", hero society glorifies quirks so much, we're shown that when everyone praises his quirk, he gets the idea that there will be no one more amazing than him. That idea gets fed by his spineless followers all throughout school and middle school. However, clearly not without some knowledge on is part that it could be shattered. His fear of that upon coming to UA becomes apparent.
Bakugo may be a bit stubborn (okay, a lot stubborn) but he's not stupid. He knows that more powerful people exist than him, that if he's not trying his hardest, he could fall behind. He trained for years before entering UA to get good enough to be a hero. His desperation to stay on top fuels his bragging through the sports festival and all subsequent conflicts we see. To the point where he doesn't want to accept the medal because Todoroki was not trying his "hardest".
They say don't hate the player, hate the game.
Like it or not, Bakugo's whacked out ways get him results, and if Endeavor is any indication, that is all the majority of people really care about. Not how good you are as a person underneath that power.
To add to the pile of things that contribute to his complex, he also gets victim-blamed by the media and some of the hero students for being targeted, they say it was his personality.
All Might points out later that the villains grossly underestimated Bakugo's heart and spirit. I'm sure Bakugo feels all the insult of the villains thinking he would ever agree to join them.
All Might is the only one, other than Aizawa, who seems to see that Bakugo has a lot more to him than anger and violence, and through their help, Bakugo has started to believe that about himself too.
Now that we have the reasons for his issues laid out, let's talk solutions:
If there's one thing I've learned in a year of therapy, inner healing, and frustration, it's that there is not a single one moment where you realize the truth and your issues shatter.
You have several small moments or larger moments of something breaking, some new understanding, and new freedom, like climbing a stair, always a little higher, sometimes you take two steps up instead of one… but you are far from the top still.
I am neither qualified to answer all Bakugo's problems fully, nor can they be, in my opinion, all answered by a human.
Many times, I've had the biggest breakthroughs when I was talking to God, one on one, and listening closely.
But sometimes, a little perspective can help open that door, so I wanted to start there:
How to begin change
When I've written about Bakugo's character in a story setting, I've found the show's method to be the most effective. Building relationships with people who he can see as equals is the healthiest, fastest way to help him change.
What is perhaps missed by the fans is the key to why some people can get close to Bakugo, and others can't.
When Kirishima starts to be friends with him, it kicks off because Kirishima says that Bakugo is really saying he has faith in their classmates, and that is "thinking like a man." Which is of course, his highest form of praise.
I don't ship them, but I do Bro-ship, it's just too wholesome. It takes quite a while for Bakugo to be able to return any positive feedback to Kiri, but eventually, in season 4, he succeeds. He also acknowledges their friendship at other times.
Bakugo has pretty big trust issues. He doesn't like having blind fans even if he tolerated it in school. And it's imperative for him to feel people are not afraid of him before he softens up at all.
I've been told I'm intimidating because of my intelligence and my confidence. I hate it. To me, it seems like an excuse. I don't find people intimidating who are smart or confident, I actually am drawn to them.
Being friends with other confident people has done wonders for my self image. I don't think I really began to have self esteem until that happened and people encouraged me. All I heard at home was I was ugly, annoying, difficult, or just average at best. What I heard from outside was just the opposite, people said I was sweet, funny, brave, and beautiful.
Sort of Bakugo's situation, but I see why he has a hard time accepting it. It's easy to think people might just find you scary. I also have a history of somewhat aggressive behavior, though nothing like what you get in trouble for at school. I learned to be more considerate, but developing that fear that people were just scared of me became a problem.
The best help for isolation, if you're the type who people find scary, is to seek out circle of people who are not unhealthy, but not easily intimidated. Drama and Sports were good venues for me, being loud and energetic there was not really an issue. I got more used to it.
But it can really be anywhere, it may seem hard at first, changes are anyone with this problem has been surround by timid/insecure people most of their lives.
So, more you could say to Bakugo:
The truth is, a lot of it isn't even about you, the person, being scary.
I've realized over time that people who are insecure already will blame you for stepping on their issues just by not having them. I once got bullied for doing something right after someone else made a mistake.
(This happens to Bakugo also, when one student form Shiketsu high, who clearly has a massive complex of his own, blames him for being a "Beast" as he says.
I find Bakugo is often blamed. I mean, would what he says really bother people if they didn't take it a certain way? Some of it is intentionally mean, but other times he's just saying something that's true, in the least delicate way possible. If it wasn't true, would they be offended?)
It's always tricky to get offended by the truth and then blame the offender. No matter how much you criticize their approach, they were still right, and how do you get away from that?
Positive affirmation is about the only way to help Bakugo's complexes also. But, having had at least one of both of those myself, I think there's more to it.
Personally, I grew up getting affirmed when it was useful for my dad to butter me up. Or to soften the blow of what was otherwise a sickening tear-down fest where I was put in a very unfair position. I've ended up with a real problem receiving praise after that. (Can you relate?)
Real Talk
If we were to be brutally honest about the home situation, and the hero course, then what I'd tell Bakugo and any one else with verbally abusive parents) is this:
You can try and try to be good enough for them, and you believe you never will be, and you are right.
You absolutely will never be good enough for someone who demands more of you than you could ever give them.
Who expects you to never make a mistake, and doesn't really define what mistakes are.
You will never be good enough for someone who disapproves of you more because of their own pain than because of anything you ever did.
And you'll never be good enough for a world that is more interested in glam and glory than they are in being real and authentic.
No one can really be a flawless plastic image, and even perfection, if it were Real, would not satisfy people who want a perfect Fake Image. Real does not interested the world.
We play ourselves, you know. We know it will never be enough, but we can't seem to resist the temptaion to try anyway, in that endless cycle. It hink that's why Jesus warned us not to seek the praise of men, and to not love our family more than Him.
You can never be enough for your family if they are toxic, but you can be enough for God, He knows exactly what to expect of You at all times.
It's funny that, though God only ever asks us to do what is possible for us with His help, while people often ask us to do what is utterly impossible, we prefer to try to meet their standards and shy away from God's.
Helping
So, I actually receive it best when people point out to me upfront that I should just take the compliment. Like that bit or realism helps me understand what they mean. I need it made clear to me why I am being praised, I guess. I have learned to trust people mean well most of the time, but from close family, I still have issues with trust.
I think that's why you (Bakugo), also respond best to praise that is given for a clear reason, [though, if you know or are a Bakugo, be careful about this. Don't ever say "I am praising you because I want you to feel good", phrasing it like that also sounds manipulative.
Giving a reason has to be down carefully, preferably almost so it's not indentifiable as doing that.
This is a lot of work, and you can't spend all your time catering to people's issues, but in my experience, just once or twice with the same person usually gets the message across, and they will start trusting you. ]
Setting people up to fail
Another way you mishandle trauma is by testing people. I do this too, oh boy do I ever!
You are aggressive to see if people will run away. You're not exactly subtle about that fact. Really, it's astounding no one around you has caught on to why you acts this way.
But the very reason the guys are drawn to you is because it challenges them, luckily, they are grateful for that instead of resentful.
Still, it should be addressed.
There are many people out there who will hurt you or will try, and you should learn how to spot that early one, BUT, not everyone wants to hurt you.
Many people don't hurt other intentionally. Many want to be kind, and many even want to help others heal.
While you cannot trust everyone, you should trust someone. People don't all deserve to be treated like the bad guy.
The best friends will understand if you sometimes get triggered, but they cannot be your punching bag either. If they forgive you, take that as motivation to improve toward them because you got a second chance.
You will make more than one mistake while you are growing, but let the mistakes be the kind that happen because you were trying, not because you were running from it. Any real friend will forgive those mistakes. If they don't, they are not really your friend.
Being the best
Improvement is not about being the best just to win, though that's nice. It's about enriching your life and other people's.
We don't try to get better to earn acceptance, no one will ever accept you based on earned merit, people assign value to you if they have the right heart, or they never will. The good opinion of worthless people is just as worthless as their character.
We improve because it's the right thing to do, for the people around us, for ourselves, for God I think. Because being healthy is the natural way to be, what we are designed to be. Not because it's a competition, though think of it that way if it helps you, just doesn't think that mean others should lose.
[Therapy would probably benefit someone like Bakugo because he is so set on self-improvement, it's actually canon in CeCe's series that he comes in like 9 times a week just to get better at it. One of his best traits is his desire to be the best version of himself he can be, people blame him for not dealing with his issues, but I ask, was he ever given the change to?
Looking at the actual mental health care on the show (next to none), while Deku is allowed to break bones to fight, and Kaminari to short circuit his brain, while Iida tried to kill a guy and no one really calls him on it after an initial reproach from Todoroki… yeah, I'm not betting that Bakugo's ever had access to professional help–or even regular help.
Plus his mom basically spells out of us that his home environment only breeds issues for him, rather than being an escape from pressure.
Given the chance to improve, I actually find it easy to believe Bakugo would go to therapy and try hard at it. Though no doubt he would fight with the counselor.]
Truth be told, I have had to restrain myself from snapping at my life coach also since my natural response is to get defensive when my issues are brought up.
In the end, you want to root for the person who has problems but learns and grows form them, than the one who seems fine, and just stays the same. People who seem fine are never actually fine.
But I'd like to add something to all this that I think will be uniquely my perspective.
Therapy is just not the answer.
It would help, undoubtedly, but I don't think it will make you into your best self.
The best therapists know how to encourage you and help you take steps to fix your life outside of the office.
I think therapy would help identify the causes of the issues, but how do you actually fix them?
Letting people in is probably the best human solution there is, good thing you're already doing that.
But I'd go a step farther.
I really think only God can do some things.
The worse of mental issues is that you are always alone with them at some point. You can build up a support system so that in your darkest moments, you have back up to call in, and I found that very helpful.
But there are hundreds of moments in a month, sometimes a week, where I am doing something else, or alone for a period of time, and that is when I get attacked the most with anxiety, intrusive thoughts, and anger, sometimes.
Bakugo admits to Deku that he's had stuff playing on loop in his head, telling him it was his fault, and he should have been stronger.
For me, though it's hard still, at least I never have to be alone with my thoughts.
All the time I've gone through this hell on earth that is trauma, I've had two voices in my head. One always telling me my worst fears will be realized and I am a monster, the other, speaking reassurance, Love, and that I am not what I think.
I have wondered which I will listen to. But in the end, I always choose the Good One. Slowly, the other voice sounds less convincing and weaker.
I can't imagine what I would be like if I had only my own voice to put against the darkness. Some people get by on that somehow, but just barely.
I found Bakugo an inspiring character actually, an encouragement to be as strong as I can be, and not feel ashamed or like I should hold back. I could wish more people thought like him.
In the end, you want to root for the person who has problems but learns and grows form them, thant he one who seems fine, and just stays the same.
True Acceptance
One more warning: When I hear that, I don't take it in, I am often a prisoner of doubt.
And Bakugo is too. He blows off All Might's praise because he just can't believe it… yet, hearing it still changes him, maybe a little part of him holds onto the hope that he can be that person, someday.
I've learned about both already are far more the person you want to be than you think, and yet you think too small at the same time. We set ridiculously low bars for ourselves.
Bakugo's self doubt is only going to be cured by taking many small steps toward believing. I was happy to see him do this in season 4 with the remedial training and encouraging one of the bratty kids.
Me? I am starting to try, I've been thinking of more ways to do it.
We'll work on it together Bakugo.
(Yeah, I know that was cheesy, but sometimes a fictional example can be easier to handle than real one, we tend to question real people's motives far more)
And that's how I'd conclude Bakugo's therapy: Sometimes what you really need to hear is that who you are, flawed as it is, is something people very much need, and you have a very important thing to contribute to the world and your friends, if you would not give up.
And that you are more than talent and strength, you are also compassionate. When you are strong to build others up, you are the strongest there is.
And that was installment one of Anime Therapy, brought to you by Natasha, hope you liked the new style I was trying out for the post, please comment if you had any questions or ideas to add to this discussion, or any other characters you'd like to submit for further consideration.
I will probably do ones from MHA, Naruto, and Fruits Basket mostly, I've found those to have the most realistic characters. But hey, I could throw in Love is War, or Lovely Complex, if I'm in a lighter mood.
So, apparently it was a mile marker on WordPress to receive 1, 337 likes…kind of a random number, but I did! Yay! Thank you all for the continued support.
Make a one-time donation
Make a monthly donation
Make a yearly donation
Choose an amount
Or enter a custom amount
$
---
Your contribution is appreciated.
Your contribution is appreciated.
Your contribution is appreciated.
Donate
Donate monthly
Donate yearly
Stay tooned to the end for big news!
Well, I was happy to receive so much positve feedback on my lat post, after feling it was a bit ranty. I'll put a link here if you want to check it out before continuing:
Yeah, I can only link all three together, still haven't mastered this new editor
Today I want to write about a phenomenon I've been noticing for years, but, somehow, it was just this week I began to draw connections as to why. First, I want to illustrate what I'm thinking of: In simple words, this phenomena is "a loss in the value of human life." I think, in general, … Continue reading Losing the Value of Life
I recently joined the millions of other Christians in my country who have been watching the new series "the Chosen." Some say it's the best show about Jesus to come out. And I've made it through all the available episodes, and I've been enjoying it. This wouldn't be a very interesting post if that was … Continue reading The Chosen
It's funny how telling the truth can open doors for you. My sisters and I spent 4 hours yesterday talking to a girl whit a very similar situation to the one we got out of. Same kind of abuse, mostly, same hiding behind the church, same manipulation. Same fear too. She seemed relieved just to … Continue reading When you want to help…
Right, so my dad went back to the hospital literally the day after I posted and I have not heard yet how he is doing.
My sisters and I are waiting to have a heart to heart chat with him till he's out of danger, as that seems the kindest thing to do.
But there's something I keep thinking about, lately, in regards to him. It's not really about what he did, more like one of those signs of trauma everyone is embarrassed about.
Victims commonly get triggered by seemingly random or harmless things, to the casual observer. Glass breaking can be one thing. Certain words, phrasing, things you will say or a tone you will use that doesn't bother your other friends, but this one will lose their crap if you say that to them, or curl up into a ball, or shut down on you completely, or a combination of the three.
So, one of the harder to guess ones is being triggered by sights or colors.
One thing my sisters and I have all been triggered by is a yellow pick-up truck.
Yellow's not a too common color for a vehicle like that, yet somehow, I see them everywhere now (I think one must belong to someone not that far from my neighborhood.)
I developed this trigger about 18 months ago in the terrible week that proceeded my father moving out.
I haven't talked too much about that that was like, since it was extremely unpleasant, but perhaps it's time to tell more of that part of the story.
After my family got back from a disastrous vacation, and my dad began flipping out over my sister questioning his bad behaviors, and she and I started laughing about it, angering him further, we began to finally put it together: This is abuse.
It was shocking, for me, it was like it took seeing him turn on her, the Golden Child, to realize "oh crap, he'll do the same to my other sister (who was currently a minor) and probably to my mom also." He'd hit me once, and threatened my several times, he'd flung my younger sister out of rooms and chairs just like me, but I somehow thought he was just delusional, and that he really believed our middle sister was just different than us…yeah, no.
He did say I turned her against him. That was bull. He turned her against him by his childish tantrums on said vacation, and then cruelty towards me that I did nothing to deserve.
Well, that's no surprise to any of you who've been following this story, but it sure was to us.
Until you've had that "Eureka!" moment where the blinders come up, you honestly believe it's not all that bad. Sure, you're miserable, but that's just how family is, right?
Cue sitcom humor laughtrack.
When it hits you like a ton of bricks "THIS IS WRONG!" It's like seeing the light, and having the rug yanked out form under your feet at the same time.
What followed that was a series of secret meetings with our friends first, and church leaders where they told us they'd help us get away from him, and encouraged us to try to talk our mom into it also. They also gave us much needed guidance on what we could legally do and what would qualify as abuse in legal terms. Our dad qualified.
We had a back up plan if our mom didn't agree with us, we intended to get out of that house one way or another. When we told her what was on our mind, she was shocked at how serious we were taking it, but we represented to her how his behavior had not changed.
My mom, I have to give credit, is not the strongest person, but she was tough enough to seriously pray about it and realize we were right. She told my dad when he came back to the house that he had abused her, and couldn't come in, and he needed to go.
My dad came back with "You abused me by refusing to sleep in the same room.."
My dad had previously threatened to divorce her just because she wanted to sleep in the office and get some space to think over stuff, and refused to comfort him after he got sad because we girls were ignoring him.
That was part of our ten point keikaku (Japanese for plan). We all decided that instead of talking to him about the blow ups we had had, or listening to his fake apologies, we would just stay together. We all decided not to leave our room alone, because with the anger he was radiating, we felt he'd try to hurt one of us at the slightest provocation.
I remember one dreadful point during that few days that he did catch my sister and I in the kitchen before we could scurry away, he told us he loved us and he was sorry. he said to me "I don't hate you…" I looked at his eyes and his smile, and thought it looked totally fake. He asked if we could talk before that and I said "No." but he still spoke anyway. We made as little eye contact as possible and got the heck away.
A few days of the silent treatment, and my dad, who hates being ignored above all else, was losing his mind. Literally. He blew up at my mom, cried bitterly in his room out of self pity (and to manipulate her by showing her how miserable he was), and weirdest of all, at one point he shoved something under our door just to scare us, I know because he walked off laughing after we jumped, which he always did after playing one of his mean spirited pranks.
I thought "This is funny to him? To terrify us?" But it always was. My therapist later pointed out to me how cruel it was, I never thought so at the time, it was just how my dad was.
He kept walking up and down the hall outside our room too, using really heavy footfalls, as if to say "I'm here! Pay attention to ME!"
If it was new, I might have thought it was an accident, but I knew he always stomped and slammed stuff when he was angry and wanted everyone to know it.
Well, he started buying chocolate and cards for us after that, he left a weird psychotic note on the table about how terrible he felt, later a "loving" note for all of us, I tore mine up and tossed it. It felt so good to be able to disregard this manipulation finally.
What does all this have to do with a Yellow Truck?
Well, I'll tell you.
Obviously we girls didn't want to stay in our room watching Fruits Basket all day (though that was fun, and also strangely mirrored our situation) so after he left for work, (thank goodness he still did) we would come out and go about our regular activities. I played a lot of Skillet, I remember. keeping myself in the belligerent mood so Fear wouldn't conquer me.
Our dad's work truck was bright yellow. Easy to spot form the living room. I spend the most time in the living room, so I was essentially the lookout, I'd yell that he was home, and we'd grab all our stuff and rush for our room.
Our dad at first pretended to be compliant by saying he'd write out a schedule of when he came and went so we could avoid him. That didn't last more than a day or so.
I forget how long all that took till it got to the blow up and my mom kicking him out. I stood by ready to call the police if he got violent and tried to force hi way in. It wasn't unprecedented, besides threatening me, my dad once said he'd break down his own door before he'd wait a few hours for my mom to get home and unlock it.
(I'm realizing all this sounds like a weird drama on TV, well, it's just my life. I'm not exaggerating a dang thing here, I'm actually leaving stuff out.)
Luckily, we didn't have to do that far. I think my dad thought he'd guilt us into changing our mind by compliance. That still hasn't panned our for him.😑
Honestly, when I read over my last post after getting comments on it, I realized that if it was someone else's story, I'd think my dad was a psycho based on what they described… I'm still not sure whether to just think that, or to allow for his good points, small as they seem to be.
When I talked to him, it was like talking to a persona, not a person. I wonder if I've ever seen him be real, free of manipulation and deception. Maybe, in a few unguarded moments, I've actually wept over the loss of the good person my dad could have been had he become that part of himself, instead of running from it as hard as he could.
But here's the skinny on the Yellow Truck, to conclude my anecdote.
For months after he left, I would feel a twinge of panic whenever I saw a yellow pick up. Even if I knew it wasn't his, I'd always wonder. Especially if it had a ladder, as he carries one.
All the way to the end of last year, I still worried. He kept coming back to the house to get stuff, mail, items, etc. My mom didn't stop him till we told her it was too stressful for us. But I always worried he'd come in the back, or in the house, if no one was around but us. I'd have my phone ready to call 911 if that happened. I had no idea what he'd do to me if he got the change, he blamed me for the whole thing, naturally. I accepted that unrepentantly, but I didn't want to get smacked again.
Every time I saw that dang yellow truck, my heart would ounce, my stomach would twist. I'd warn my sisters to hide.
My dad threw tantrums so often, our fear was not irrational, that was the worst of it. If we'd been able to tel ourselves it was ridiculous, it would have been easier.
But, something I've been pondering for a few months is what I found out happened after my dad lost his house in the fire.
He had purchased a new truck since moving out, he has a lot more money only supporting himself, and he has to replace his truck every so many years because it carries so much stuff. I don't know what his new one looks like.
But when I watched the news byte with him in it, they panned around showing his property, and there was a frame that prominently displayed the charred remain of his Yellow Truck.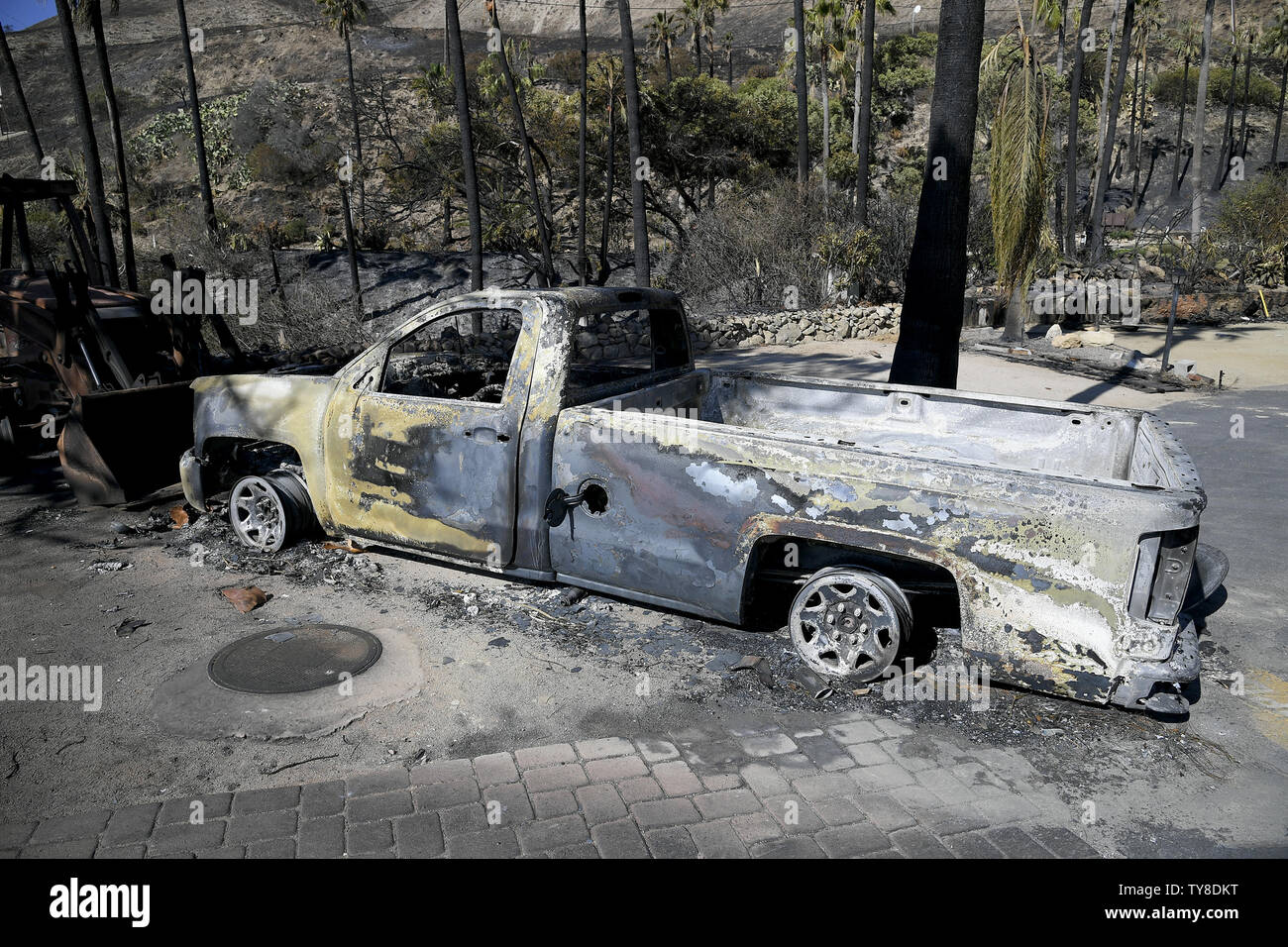 The truck wasn't in use anymore, I don't know how much it had in it. probably some tools. But he idd't need it, so I felt it wasn't unchristian of me to be glad it was destroyed.
In fact, to me, there was some kind of Diving Justice in it. Liek a sign from God that our onld life and fears turly had been burned up and destroyed.
A way to demonstate how God felt about our abuse. A warning, perhaps, but also a reassurance.
IT seemed very like a biblical sign.
It sounds incredile, doens't it? I don't know if I'd believe this story if someone else told it to me, but I assure you, all this is bare fact.
I saw my dad picking around what was left of his house too, and can say, I didn't feel happy that he lost it all. I had hoped he'd find some peace on his own and finally let us go. I don't enhoy his unhappiness.
But, I can't say felt overwhelig remoarse either. Honeslty, after all he's done, I thought, it was getting off easy to only lose one of his houses he rented and the vehicle he was't even suing, true, most of his bleongs were alos gone, but, that's still not as bad as losing the only house and car you have would be.
I wondered if God let me see all that, as I was the nly one besides my grandma who even eatched most of the news coverae on time, as a way to help me be reasured. I don't have to worry abut that truck anymore.
I still get bothered when I see Yellow Trucks, because it reminds me of unplasant things, but I no longer feel panicked. I immeiatley rememver "God burned that thing up."
You can see that as vindictive on God's part, or as karma, I see it as love. love can be fierce.
Plus, some of you may feel my dad got off entirely too easy. After all, he ruined our lives as much as he possibly could, and only God prevented him from succeeding.
To that, I say, vengeance is God's and I don't really care about taking it myself. I don't write about this in order to incite people against my dad. I want them to understand so that they can recognize the same thing somewhere else, we never know when someone might tell us something, and be ready to hear"Hey, that's not right."
It's because of my own ignorance of what abuse looked like that I was fooled for so long, and while I am not really sorry because we acted at just the right time, I think not everyone should wait.
Plus, it's unusual for a Christian to tell the story of how God got them out of a situation from the inside out like this, think that story is worth telling, and might give people hope.
To quote Things we lost in the fire (Bastille)
"I was the match and you were the rock, maybe we started this fire… do you understand that we will never be the same again? The future's in our hands, and we will never be the same again!"
We played that a bunch after my dad moved out, I felt it described what we'd done by setting fire to all the foundations my dad had laid for us, and cutting ties. It felt destructive, but in a good way. The Word says "our God is a consuming fire." (Hebrews 12:29)
But when I heard that my dad had lost it all in a fire, that happened much like the song, I felt strange.
I didn't literally mean for his stuff to burn when I prayed that the sin and torment would be burnt away by God's fire, but God seemed to want to do something dramatic to make a point.
You might wonder if my dad ever saw this as some kind of karma. The truth is, no.
He questioned God, I know, and I am sure he blames us for kicking him out because it wouldn't have happened to him otherwise. Though he never said as much to us, because we never gave him the chance. It is what he would think though.
But I never told him I prayed that, so it is doubtful he'd ever connect the dots.
That doesn't matter. To me, I think it's imporatnt that I know, and dont' assume too much.
Though I mayt hink twice about what analogies I use when I pray in the future 🙂
Okay, now for the announcement:
I have upgraded, yet again, since I had a discount, and now connected accounts so that I can receive donations, if you check under the comment section, you'll see a Donate tab.
I have never been super cofortoable with chargine people for servise I would galdly do for free, but I've gown out of that as I realized part of it was my lack of self worth, I didn't feel anythin I did was worth compensation.
Part of it was I had no confidence anyone would support me. My family has not been the most help in this area, and I have had friends flake on me too.
But, I am trying to trust God, and put myself out there a little now. Sometimes people can be surprisingly kind, and even if they aren't I need to treat myself like I deserve credit for things. I've put years into this blog and developing my writing skills to a professional level, what's wrong with thinking I should get some reward.
Though, helping people and getting feedback would also be enough reward for me, I never want this to be about money.
My test is: If I would do it for free anyway, than I am safe asking for payment, because my priorities are still on quality service.
(Which, btw, is why some employers wisely take volunteer work into consideration. Someone who will work for free values what they do for it's own sake and does it better than someone only motivated by money, so put it on your resume if you have one.)
Anyway, if any of you amazing people are interested, PayPal donations are now available at the bottom of the page. I will be trying to start things like memberships and premium content soon so I can give people even more bang for their buck if they do support. I have some ideas for making this site even cooler than it is.
But for now, that's all I got, until next time, stay honest–Natasha.
Subscribe to get access
Read more of this content when you subscribe today.
I hit 200 followers! *party noises* thanks you guys!
Want to hear a crazy story?
Life happens weirdly doesn't it? Yesterday we were just minding our own business, and we got a message that our dad was having a medical emergency, alone at his house.
My energetic aunt who lives, like, a 1,000 miles away from us, was somehow the one trying to organize all this, and my dad was calling a bunch of people, but didn't think to just call a taxi.
Later we found out, to add insult to injury, he'd actually almost passed out several times earlier in the day, but neglected to go to the doctor then, instead he still drove home. I believe they call this "dumb luck".
After he finally was taken to the hospital probably an hour and a half after he should have just called a taxi or 911, they discovered he had a heart attack and he went in for immediate surgery. The attack was bad and could have killed him.
I haven't talked to my dad in about 18 months, give or take, and this was the first time I spoke to him, but, with an emergency like that, it would have been cruel not to.
Getting on the speaker, we all talked to him. Almost the first words out of his mouth, once he said "I really would like to talk to the girls in case this is the end for me" or some rubbish like that, were "God has really been working on my heart, and I've changed a lot… and I believe with forgiveness should come reconciliation, that the Bible makes it clear they go together." (I paraphrase a little for clarity, but I assure you I am not exaggerating, I don't do that, the truth is bad enough on it's own.)
I suppose it sounds innocent enough, to someone outside the family, but those of you with toxic family members know hot there are certain phrases and words and tones and references that have been built up over the years a s part of an intricate web of manipulation, usually disguised as harmless so that others don't catch on. But the family members know themselves what it means.
You see, my dad will use the bible as a weapon to cover his own bad behavior. He'd yell at us and rage and throw fits, and use "honor your father" as an exude, ignoring "don't provoke your children to wrath." He'd storm about not being respected as "the head of the house" but ignore "love your wives as Christ loved the church." You've probably met people like this too.
Abusive parents tend to use love as a requirement only when they want love, and then deny it to their victims especially children if they are the most insecure about children, or their wife, if they are more insecure about romantic relationships. Depends on their own background usually. Most of the time, it's both.
My dad also swore to us more times than I can count that God was working on his heart, and he was a different person. He treated us exactly the same every time, and treated God the same too. My dad lives in a fantasy world when it comes to spirituality. It's simply a game of rules and appearances to him, not depth.
He also said he'd been healed of a lot of stuff, I don't buy that for an instant.
Later on, he told us that if this was his last request to us, he wanted us not to hold any bitterness or resentment in our heats because God wouldn't like it. And that he loved us so much, and missed us, blah blah blah.
He didn't ask once how we'd been doing, my sister told him, but he barley listened. He talked about how he'd been doing most of the time, and how he might die, (though it wasn't actually that likely), yada yada, and reconciliation, and it was so nice to talk to us again. It was almost worth it for this to happen just to be able o talk to us…
I sympathize with the fear and terror of a medical emergency, I've driven my sister to the ER when no one else was home and she was throwing up and having other signs of a concussion. I've taken care of my other sister after she fainted from sun poisoning. I've had terrible moments myself, especially last year. I am not one to put that down.
But, none of us use medical emergencies as an excuse to be vindictive and manipulative. Amidst all this chaos, my dad still managed to impress me with how petty he can be.
I mean, if it truly could be your last words to your children and wife, would you spend it going on about how terrible you were doing, and how they made you so lonely by not calling, and poor you.
I know I would want to spend it saying things that would leave good memories, if nothing else. It's not he time for final digs.
I concluded he never really believed he was going to die, as indeed, it was past the point where that was likely anymore. It was an attention grab.
It may sound terrible of me to think so, but his mom pulls stuff like this also, and he's done it before, and it's really much sicker to do it at all than to realize someone else is doing it.
I suppose we knew deep down he used his health to manipulate us for pity and attention, I just didn't think of it much with all the other, more violent stuff, but this one was always so blinking unfair because how can you get angry at soemoen who's sick? Even if they are making it worse on purpose?
The man says he intends to go right back to work instead of resting like you are supposed to do, I doubt he'll actually do that, but he wants us to talk him out of it. These tricks are as old as our lives.
I don't intend to try, but it's very frustrating to hear someone be such an idiot, and just to garner sympathy.
My aunt was no help, she just encouraged it, and event old my sister "can't you put aside your feud for a short time?"
Yes, a feud, that's all 20 years of abuse, neglect, and folly was… sure.
Because none of us have proof of physical damage, our family has elected not to take us that seriously, at least, the one who listen to my dad and aunt in the first place.
Based on my studies and comparing to others who've undergone the same treatment, we more than qualify for all three types of abuse, with Emotional being the crowning one.
My dad is something called a "dark empath" if I understand right. He know what you want to hear, and need to hear, but instead of genuinely giving it to you out of compassion, he gives it in a fake twisted way, that always brings the focus back to him. I've almost never heard the guy shut up about himself in the whole time I've known him.
In conversation with me, it has never been about me. Same with all of us, including my mom.
He's not totally without sympathetic feelings, but it's a superficial kind that always ends up becoming about him after about 5 seconds. I don't doubt he feels bad, but empaths can take our feelings into themselves, and then reflect them back. A dark empath can do that, in a bad bay, making the misery all there own and expecting you to feel sorry for them, when you're the one suffering.
In proof of this point, my aunt entered her late son's name in a walk-a-thon for charity that she asked us all to participate in. She asked my dad not to start telling stories about the past and making it about him. That was what he immediately did after she asked, including telling them her embarrassing nickname and encouraging us girls to participate. I declined.
My father is cruel, he was cruel as a kid, he's cruel now.
Yet, he has the audacity to say he loves us so much while crying and acting like he's in the worst pain in the world. Like we ever did anything to him. Sheesh.
Okay, as you can tell, I am blowing off steam and I may regret being so raw after I've had a few days to think about it.
But I bet you've felt the same, and maybe you even understand why it would bother me how he acted.
But is it worse that none of it really surprised me? I didn't call him when he got Covid-19 because I knew he'd say stuff I didn't want to hear, and I wouldn't be comforting him at all, save for the sick satisfaction he gets out of having us pity him and kowtow to him. Perhaps he imagines he is making us feel guilty.
And I called this time only because it might have been my last chance, and however terrible a person he might be, I don't want anyone to die without hearing some last kind words form the people around them.
I didn't expect him to really appreciate that, and I was not disappointed in that, but he went further than I would have believed, it took him less than 5 minutes to say something manipulative.
All the nice things he said just because he's been told to say them. It's nauseating. I felt my throat tighten up.
I wanted to laugh, my sister held me back, she felt the same but didn't want me to visibly show it while he was still on the line, especially since we were on speaker. I held back, but if he hadn't been about to go in for heart surgery, I'd have given him a piece of my mind.
I hope you understand I am not advocating bullying someone who's potentially dying or in a lot of pain. I am saying it was out of basic decency that I didn't do that, but I assure you, had our position been reversed, he would not have afforded me the same courtesy. That's how delusional he is.
I believe we have to show mercy, so I told him I loved him, and we'd forgiven him. That was when he came back with that "reconciliation" crap.
Since he brought it up, and some of you might have similar problems, perhaps I should answer here what the Bible's idea of reconciliation is.
In the Old Testament, there are far more examples of reconciliation than in the New, because it talks more about people's stories. The best examples or Joseph with his brothers, Jacob with his twin, Esau and also his uncle Laban; David with Saul; Hagar with Sarah, and Hosea with Gomer.
In only two of those examples did reconciliation involve establishing close contact, or living in the same house. Joseph, and Hosea both stayed in close touch with their family, though we don't know how often Joseph saw his brothers, or how much Gomer reciprocated Hosea's love (that was a direct assignment from God to give an example of loving an unfaithful woman. But Gomer was not abusive.)
Joseph did not reconcile with his brothers until he was in a position of power and it was entirely safe to do so, and after testing them to see if they really had changed. Once they proved they had truly repented and regretted their wrongs, he revealed himself.
This is where most therapists will leave it, if you have proof they changed, then you can become close again. I don't think Joseph intended to kill his brothers if they didn't change, but I doubt he would have revealed all to them in the same way.
In the other examples I listed, peace was made, and the people went their separate was to live out their own lives. Even Hagar eventually left Sarah's service, and she was a slave who couldn't legally do so on her own, but Sarah chose to send her away, and God made it to be for the best. Later in the New Testament, Hager is used as a metaphor for how the slave to sin must be driven out so the child of the promise (us) can flourish. A powerful symbol for abuse also.
"Nevertheless what does the Scripture say? "Cast out the bondwoman and her son, for the son of the bondwoman shall not be heir with the son of the freewoman."" (Galatians 4:30)
So, my dad has no real basis for using the bible as leverage here, but it's an old trick he clearly thinks we will still fall for.
As for the New Testament, it was actually or inspiration for kicking him out. When we talked to our mom about it, we reminded her of how Paul kicked some people out of the young church till they could learn respect for God and stop teaching false doctrines. Two people who tried to deceive the believers dropped dead on the spot (harsh, I assure you it doesn't happen often, I've near heard of another case, I think it was just to make a point).
Paul also says that while we are not to judge the world for being the way it is, we are not to associate with people in the church who claim to be holy but still act like the world.
"I meant that you are not to associate with anyone who claims to be a believer yet indulges in sexual sin, or is greedy, or worships idols, or is abusive, or is a drunkard, or cheats people. Don't even eat with such people." 1 Corinthians 5:11 (This version includes "abusive" others don't, but the idea is there.)
This gets me to thinking about how people tend to split into two camps about abusers:
There's the people who are so angry about it they stop seeing abusers as human. You should see the death threats against fictional characters that Webtoon and YouTube are littered with, and probably concerning real life stuff also.
Then there's people who recognize abusers are still wounded human beings, but use that as a reason to stay with them and give them a sort of emotional life support that just barely keeps them functionality at status quo, usually worse.
I am not in either camp, but I do lean more toward staying away from them, as I think the Bible teaches to do anyway.
There's an anime coming to mind that depicts this struggle well, called Torodora
(Tiger Dragon for you language buffs) in which the main girl had a toxic father, and the main guy encourages her to "reconcile" and give him a chance when he shows up randomly in her life, her dad says all the right things, and seems really repentant.
Then after things go well for a few weeks, there's a play that Taiga (the girl) is going to have the lead role in, and her dad promises to come see. As you can guess, he doesn't show up, and instead of calling her himself, he calls Ryuuji, (the main guy) to ask him to tell her for him, that something came up.
Ryuuji can't understand how the guy could be such a jerk, after seeming so sincere, then Taiga's best friend drops the final death bomb on him by informing him that the same thing happened a year or so ago, same act, and Taiga went with it, only to be disappointed. Ryuuji feels horrible for not listening when she warned him, and pressure in Taiga based on his preconceived notions of her situation, but he learns from it.
Ryuuji makes the same mistake I've made myself, and have felt other people made with me, and still do. He judges by his own experience and the very few things he sees about someone else.
People who haven't had abusive parents tend to hear how we victim-kids talk about our parents, and think "Wow, they're a brat." Because we'll say things like "My parents don't love me" and "Yeah, that's my dad, what a jerk." "I just can't believe him" "I don't miss him" etc.
And yeah, bratty kids do say it, but we have to remember, everyone who fake whines about stuff that's not actually bad is doing it in imitation of people who have had serious problems.
Like people jokingly say they have depression because depressed people abound so much right now, but it's not a joke to someone who really has it, and it probably feels like overstating it to them, whether they say so or not.
Or people saying they have a problem with binging when they really couldn't, while people suffer with real additions around them and don't think it's funny.
It's the same with having bad parents, people will joke and whine about it who shouldn't precisely because of the attention it gets them to sound like people who do. It's the difference between real and fake ailments.
And anyone with experience with learn to tell the genuine victims from the fakers very quickly. I've gotten fairly good at it myself in a short amount of time.
But I've been treated like a faker. Faking my problems to get attention has always been disgusting to me, I can't say that even as a kid I would do that very often, if at all, and as an adult, I don't pretend to have problems I don't have.
The lasting damage from being emotionally abused is that I assume everyone disapproves of me, constantly, and it's taken a whole year and a half away form my dad to even crack that image enough for me to see some light on the other side. I hope one day I will not feel that way at all, but it's been hard to shake, even after years of trying.
My aunt has been treating us like fakes who are making a mountain out of a molehill, and our dad talked to us the same way. It's like it's nothing to them that we got so miserable we had to kick him out or we'd run off ourselves. They don't get it.
Well, people who refuse to see the obvious cannot be taught, it's the sad truth.
Remember my last post, when I talked about PH, and how the truth sets Lauren free?
See post here:
I had to include the full name because there are so many Momos in anime😄😂 Well, I revamped my Bakugo post again, if you want to check it out– Anime Therapy with Bakugo. I am still finding my level with how to write these posts, this one would be harder to do in second person form. … Continue reading Anime Therapy with Momo Yaoyerozu
Sorry for the wait, I got majorly busy last week. I got a job though! Yay! And it's high paying too, at least for a non professional worker. Though at this point, I really am a profession, they just don't give certificates in nanny and babysitter–well, I think they do, but how many people really … Continue reading The Memorial and the Speech
Well, it does when she accepts it, there's plenty of truth she's still fighting in the story, that's at the basis of her dysfunction.
And to tell the truth about yourself is very, very hard.
For me, it's a question I have a lot. Am I a worse person than I realize? Do I lie to myself. Am I not as kind and compassionate as I think?
But even asking that question, in earnest, shows I am more those things than someone like my dad, who will make excuse possibly to his dying day, if yesterday was any indication. I know his father did, I visited him just a day or two before he died. Still full of dishonesty, though he had made huge strides in forgiveness compared to how he'd been a few years ago.
I will say, trying to be better than your abusive parent is a low bar, my dad aimed for that, and failed because he had a warped perception of what "better" really meant. If better meant not smacking us as hard, and raging at us over every little thing, he only succeeded at one of those things. If better meant being less selfish, he never succeeded at all.
"It's been a long road losing all I own, you don't know what you got until you're gone, and it's a nasty habit, spitting at all you have,
but if you're doing all the leaving, then it's never your love lost, if you leave before the start, than there was never love at all.
Heaven knows I'm prone to leave the only God I should've loved, but you're far too beautiful to leave me." (The Oh Hellos, In Memoriam.)
You shouldn't aim to be better than someone else, you should aim to be as good as you can be. As loving, as pure, as brave, as wise, and then you have no real limit, you can always grow.
My family and I will find some way to deal with the crazy of our relatives, but we don't intend to be a part of it.
My sisters and I laugh about how whacked our situation must sound to people who don't know the intimate details. Our little unit was supposed to be the "normal" one in the dysfunctional family that was the stuff TV shows are made of. My grandmother once attacked some police officer. My step family got into occult stuff. My uncle was in a cult for years. Because my mom is the "sane" one, no one could believe she married my dad, and it's the main reason us girls turned out as normal as we did. No one thought we'd be the ones to kick someone out and actually mean it, not just doing it for a power move like the rest of the family.
I am learning to think about it less often, I've gotten used to it.
I wonder what my dad would think if I told him we've been perfectly fine this whole time without him. In fact, we rejoice in his absence, and all of us have had nightmares about him returning. I've said I'd go through it all again before I'd live in the same house as him ever.
You can't imagine till you've gone through it what an utter relief it is not to feel your life and happiness depend solely on one person.
I'm sure he can't fathom it. He thinks we'll cave. We'll get tired of this. He doesn't know I'm already planning my whole life out without him in it as more than a vague figure. Sometimes, the abuse seems unreal to me, like the difference between then and now is so great, I almost can't believe I was ever in that place.
I am getting used to not being treated like dirt, and I'm determined never to go back to that willingly.
Because I am doing better, it's easy to question if we have overreacted. If I were just going by my awareness of it, I might think my aunt was right.
But, I know what God has directed us to do, and I do have people to confer with to remember what happened. I don't think we should harp on it, but it's important not to forget, because you have to be able to protect yourself by setting boundaries.
All this progress could go away if we let ourselves be deceived again, but we don't have to let ourselves, it's a delicate matter, but it's not impossible.
As far as I'm concerned, reconciliation means we forgive and can be on peaceful terms. We are ready for that, my dad is the one incapable of letting it go. So, it'll be on him, and there's nothing more I can do about it.
And that's okay.
And if you have someone like that, just try to believe, it is not your job to take care of them. You don't owe them anything.
All we owe each other in this life is love, and respect for each other's humanity, anything beyond that is something you have to choose carefully to offer the trustworthy people. No one can demand it, if they try, they won't get it.
I think that's all I got for now. Until next time, stay honest–Natasha.