There's a tik tok series that I've become obsessed with lately because it's kind of living my fantasy: The Cece Counselor tik toks, (I will link one of the videos at the bottom if you want to check out the creator.)
After watching all the videos, I decided that only thing it was missing was more time to talk about the issues, since in a 2 minutes segment, you really can't get that far. And thus this idea was born.
I'm getting into the Therapy session of one of my faves, Bakugo Katsuki.
So, the way I thought I'd structure this is to lay out the issues CeCe came up with, then the events of the show that back up and explain the issues, and then the answers that I or a therapist might be able to give Bakugo to help.
9Ideally, since these are real life issues people have, a person would be able to insert themselves into the place of the character and see it their way.)
Let's get started:
List of issues Cece provides
Massive emotional and mental trauma
Inferiority complex/superiority complex
Villainous and violent
Hating yourself/Feeling that you'll not be good enough to be a hero
Lasting Trauma from villain attacks
Lack of Emotional Availability for Friendship
If I'm going to do this right, I better define a few terms, it often surprises me how outside the circle of my church which focus a lot on emotional health) not a whole lot of people know these terms.
an experience that produces psychological injury or pain.
the psychological injury so caused.
"An inferiority complex is an intense personal feeling of inadequacy, often resulting in the belief that one is in some way deficient, or inferior, to others.
An inferiority complex may cause an individual to overcompensate in a number of ways…
It may also cause an individual to be prone to flashy outward displays, with behaviors ranging from attention-seeking to excessive competitiveness and aggression, in an attempt to compensate for their either real or imagined deficiencies." (Wikipedia)
A superiority complex is a defense mechanism that develops over time to help a person cope with painful feelings of inferiority. Individuals with this complex typically come across as supercilious, haughty, and disdainful toward others. They may treat others in an imperious, overbearing, and even aggressive manner.
In everyday usage, the term "superiority complex" is used to refer to an overly high opinion of oneself." (Wikipedia)
Guess CeCe called it (I'd love to know if she just Googled this stuff before making the tik tok like I just did for my post).
I love psychology and the study of emotions, whatever the name for that is (I looked it up, its called Affective Science, interesting term isn't it?)
I agree with CeCe's assessment, when she says he is neither villainous or violent, but has "massive emotional and mental trauma."
So le't get into that.
Disasters
Bakugo, you certainly have some trauma from getting attacked by villains, most notably from getting kidnapped. What bothers him the most is not what happens to him (though he is clearly scared) but that his hero, All Might, loses his power during the rescue mission. You are not strictly the reason he lost it, but you thinks you are.
It breaks you to think that your hero lost his power trying to save you, when he spent so much time trying to be strong enough to never need help.
Family
Your mom, though not all bad, has no real sense of your emotional weaknesses, and blamed you for getting kidnapped, saying if you hadn't been so weak, it wouldn't have happened.
(I believe this is her way of trying to humble him, as she is aware of his pride and jerkish behavior, and says he is fearless. Can't imagine where he got the aggressive behavior and inability to have a normal conversation from…)
I could relate to that, I've had people try to humble me in exactly the same way, if I had ten bucks for every time I heard "You're brilliant, but too touchy, and unteachable and narcissistic" from my father, and his friends…
My mom's way of helping this was to tell me "I don't think you're brilliant/highly intelligent, special, etc."
So, yeah, I get your complex a little.
Environment
(I will have to drop the 2nd person approach for this part since it's more about society)
I Bakugo's been "Crushed by expectation", hero society glorifies quirks so much, we're shown that when everyone praises his quirk, he gets the idea that there will be no one more amazing than him. That idea gets fed by his spineless followers all throughout school and middle school. However, clearly not without some knowledge on is part that it could be shattered. His fear of that upon coming to UA becomes apparent.
Bakugo may be a bit stubborn (okay, a lot stubborn) but he's not stupid. He knows that more powerful people exist than him, that if he's not trying his hardest, he could fall behind. He trained for years before entering UA to get good enough to be a hero. His desperation to stay on top fuels his bragging through the sports festival and all subsequent conflicts we see. To the point where he doesn't want to accept the medal because Todoroki was not trying his "hardest".
They say don't hate the player, hate the game.
Like it or not, Bakugo's whacked out ways get him results, and if Endeavor is any indication, that is all the majority of people really care about. Not how good you are as a person underneath that power.
To add to the pile of things that contribute to his complex, he also gets victim-blamed by the media and some of the hero students for being targeted, they say it was his personality.
All Might points out later that the villains grossly underestimated Bakugo's heart and spirit. I'm sure Bakugo feels all the insult of the villains thinking he would ever agree to join them.
All Might is the only one, other than Aizawa, who seems to see that Bakugo has a lot more to him than anger and violence, and through their help, Bakugo has started to believe that about himself too.
Now that we have the reasons for his issues laid out, let's talk solutions:
If there's one thing I've learned in a year of therapy, inner healing, and frustration, it's that there is not a single one moment where you realize the truth and your issues shatter.
You have several small moments or larger moments of something breaking, some new understanding, and new freedom, like climbing a stair, always a little higher, sometimes you take two steps up instead of one… but you are far from the top still.
I am neither qualified to answer all Bakugo's problems fully, nor can they be, in my opinion, all answered by a human.
Many times, I've had the biggest breakthroughs when I was talking to God, one on one, and listening closely.
But sometimes, a little perspective can help open that door, so I wanted to start there:
How to begin change
When I've written about Bakugo's character in a story setting, I've found the show's method to be the most effective. Building relationships with people who he can see as equals is the healthiest, fastest way to help him change.
What is perhaps missed by the fans is the key to why some people can get close to Bakugo, and others can't.
When Kirishima starts to be friends with him, it kicks off because Kirishima says that Bakugo is really saying he has faith in their classmates, and that is "thinking like a man." Which is of course, his highest form of praise.
I don't ship them, but I do Bro-ship, it's just too wholesome. It takes quite a while for Bakugo to be able to return any positive feedback to Kiri, but eventually, in season 4, he succeeds. He also acknowledges their friendship at other times.
Bakugo has pretty big trust issues. He doesn't like having blind fans even if he tolerated it in school. And it's imperative for him to feel people are not afraid of him before he softens up at all.
I've been told I'm intimidating because of my intelligence and my confidence. I hate it. To me, it seems like an excuse. I don't find people intimidating who are smart or confident, I actually am drawn to them.
Being friends with other confident people has done wonders for my self image. I don't think I really began to have self esteem until that happened and people encouraged me. All I heard at home was I was ugly, annoying, difficult, or just average at best. What I heard from outside was just the opposite, people said I was sweet, funny, brave, and beautiful.
Sort of Bakugo's situation, but I see why he has a hard time accepting it. It's easy to think people might just find you scary. I also have a history of somewhat aggressive behavior, though nothing like what you get in trouble for at school. I learned to be more considerate, but developing that fear that people were just scared of me became a problem.
The best help for isolation, if you're the type who people find scary, is to seek out circle of people who are not unhealthy, but not easily intimidated. Drama and Sports were good venues for me, being loud and energetic there was not really an issue. I got more used to it.
But it can really be anywhere, it may seem hard at first, changes are anyone with this problem has been surround by timid/insecure people most of their lives.
So, more you could say to Bakugo:
The truth is, a lot of it isn't even about you, the person, being scary.
I've realized over time that people who are insecure already will blame you for stepping on their issues just by not having them. I once got bullied for doing something right after someone else made a mistake.
(This happens to Bakugo also, when one student form Shiketsu high, who clearly has a massive complex of his own, blames him for being a "Beast" as he says.
I find Bakugo is often blamed. I mean, would what he says really bother people if they didn't take it a certain way? Some of it is intentionally mean, but other times he's just saying something that's true, in the least delicate way possible. If it wasn't true, would they be offended?)
It's always tricky to get offended by the truth and then blame the offender. No matter how much you criticize their approach, they were still right, and how do you get away from that?
Positive affirmation is about the only way to help Bakugo's complexes also. But, having had at least one of both of those myself, I think there's more to it.
Personally, I grew up getting affirmed when it was useful for my dad to butter me up. Or to soften the blow of what was otherwise a sickening tear-down fest where I was put in a very unfair position. I've ended up with a real problem receiving praise after that. (Can you relate?)
Real Talk
If we were to be brutally honest about the home situation, and the hero course, then what I'd tell Bakugo and any one else with verbally abusive parents) is this:
You can try and try to be good enough for them, and you believe you never will be, and you are right.
You absolutely will never be good enough for someone who demands more of you than you could ever give them.
Who expects you to never make a mistake, and doesn't really define what mistakes are.
You will never be good enough for someone who disapproves of you more because of their own pain than because of anything you ever did.
And you'll never be good enough for a world that is more interested in glam and glory than they are in being real and authentic.
No one can really be a flawless plastic image, and even perfection, if it were Real, would not satisfy people who want a perfect Fake Image. Real does not interested the world.
We play ourselves, you know. We know it will never be enough, but we can't seem to resist the temptaion to try anyway, in that endless cycle. It hink that's why Jesus warned us not to seek the praise of men, and to not love our family more than Him.
You can never be enough for your family if they are toxic, but you can be enough for God, He knows exactly what to expect of You at all times.
It's funny that, though God only ever asks us to do what is possible for us with His help, while people often ask us to do what is utterly impossible, we prefer to try to meet their standards and shy away from God's.
Helping
So, I actually receive it best when people point out to me upfront that I should just take the compliment. Like that bit or realism helps me understand what they mean. I need it made clear to me why I am being praised, I guess. I have learned to trust people mean well most of the time, but from close family, I still have issues with trust.
I think that's why you (Bakugo), also respond best to praise that is given for a clear reason, [though, if you know or are a Bakugo, be careful about this. Don't ever say "I am praising you because I want you to feel good", phrasing it like that also sounds manipulative.
Giving a reason has to be down carefully, preferably almost so it's not indentifiable as doing that.
This is a lot of work, and you can't spend all your time catering to people's issues, but in my experience, just once or twice with the same person usually gets the message across, and they will start trusting you. ]
Setting people up to fail
Another way you mishandle trauma is by testing people. I do this too, oh boy do I ever!
You are aggressive to see if people will run away. You're not exactly subtle about that fact. Really, it's astounding no one around you has caught on to why you acts this way.
But the very reason the guys are drawn to you is because it challenges them, luckily, they are grateful for that instead of resentful.
Still, it should be addressed.
There are many people out there who will hurt you or will try, and you should learn how to spot that early one, BUT, not everyone wants to hurt you.
Many people don't hurt other intentionally. Many want to be kind, and many even want to help others heal.
While you cannot trust everyone, you should trust someone. People don't all deserve to be treated like the bad guy.
The best friends will understand if you sometimes get triggered, but they cannot be your punching bag either. If they forgive you, take that as motivation to improve toward them because you got a second chance.
You will make more than one mistake while you are growing, but let the mistakes be the kind that happen because you were trying, not because you were running from it. Any real friend will forgive those mistakes. If they don't, they are not really your friend.
Being the best
Improvement is not about being the best just to win, though that's nice. It's about enriching your life and other people's.
We don't try to get better to earn acceptance, no one will ever accept you based on earned merit, people assign value to you if they have the right heart, or they never will. The good opinion of worthless people is just as worthless as their character.
We improve because it's the right thing to do, for the people around us, for ourselves, for God I think. Because being healthy is the natural way to be, what we are designed to be. Not because it's a competition, though think of it that way if it helps you, just doesn't think that mean others should lose.
[Therapy would probably benefit someone like Bakugo because he is so set on self-improvement, it's actually canon in CeCe's series that he comes in like 9 times a week just to get better at it. One of his best traits is his desire to be the best version of himself he can be, people blame him for not dealing with his issues, but I ask, was he ever given the change to?
Looking at the actual mental health care on the show (next to none), while Deku is allowed to break bones to fight, and Kaminari to short circuit his brain, while Iida tried to kill a guy and no one really calls him on it after an initial reproach from Todoroki… yeah, I'm not betting that Bakugo's ever had access to professional help–or even regular help.
Plus his mom basically spells out of us that his home environment only breeds issues for him, rather than being an escape from pressure.
Given the chance to improve, I actually find it easy to believe Bakugo would go to therapy and try hard at it. Though no doubt he would fight with the counselor.]
Truth be told, I have had to restrain myself from snapping at my life coach also since my natural response is to get defensive when my issues are brought up.
In the end, you want to root for the person who has problems but learns and grows form them, than the one who seems fine, and just stays the same. People who seem fine are never actually fine.
But I'd like to add something to all this that I think will be uniquely my perspective.
Therapy is just not the answer.
It would help, undoubtedly, but I don't think it will make you into your best self.
The best therapists know how to encourage you and help you take steps to fix your life outside of the office.
I think therapy would help identify the causes of the issues, but how do you actually fix them?
Letting people in is probably the best human solution there is, good thing you're already doing that.
But I'd go a step farther.
I really think only God can do some things.
The worse of mental issues is that you are always alone with them at some point. You can build up a support system so that in your darkest moments, you have back up to call in, and I found that very helpful.
But there are hundreds of moments in a month, sometimes a week, where I am doing something else, or alone for a period of time, and that is when I get attacked the most with anxiety, intrusive thoughts, and anger, sometimes.
Bakugo admits to Deku that he's had stuff playing on loop in his head, telling him it was his fault, and he should have been stronger.
For me, though it's hard still, at least I never have to be alone with my thoughts.
All the time I've gone through this hell on earth that is trauma, I've had two voices in my head. One always telling me my worst fears will be realized and I am a monster, the other, speaking reassurance, Love, and that I am not what I think.
I have wondered which I will listen to. But in the end, I always choose the Good One. Slowly, the other voice sounds less convincing and weaker.
I can't imagine what I would be like if I had only my own voice to put against the darkness. Some people get by on that somehow, but just barely.
I found Bakugo an inspiring character actually, an encouragement to be as strong as I can be, and not feel ashamed or like I should hold back. I could wish more people thought like him.
In the end, you want to root for the person who has problems but learns and grows form them, thant he one who seems fine, and just stays the same.
True Acceptance
One more warning: When I hear that, I don't take it in, I am often a prisoner of doubt.
And Bakugo is too. He blows off All Might's praise because he just can't believe it… yet, hearing it still changes him, maybe a little part of him holds onto the hope that he can be that person, someday.
I've learned about both already are far more the person you want to be than you think, and yet you think too small at the same time. We set ridiculously low bars for ourselves.
Bakugo's self doubt is only going to be cured by taking many small steps toward believing. I was happy to see him do this in season 4 with the remedial training and encouraging one of the bratty kids.
Me? I am starting to try, I've been thinking of more ways to do it.
We'll work on it together Bakugo.
(Yeah, I know that was cheesy, but sometimes a fictional example can be easier to handle than real one, we tend to question real people's motives far more)
And that's how I'd conclude Bakugo's therapy: Sometimes what you really need to hear is that who you are, flawed as it is, is something people very much need, and you have a very important thing to contribute to the world and your friends, if you would not give up.
And that you are more than talent and strength, you are also compassionate. When you are strong to build others up, you are the strongest there is.
And that was installment one of Anime Therapy, brought to you by Natasha, hope you liked the new style I was trying out for the post, please comment if you had any questions or ideas to add to this discussion, or any other characters you'd like to submit for further consideration.
I will probably do ones from MHA, Naruto, and Fruits Basket mostly, I've found those to have the most realistic characters. But hey, I could throw in Love is War, or Lovely Complex, if I'm in a lighter mood.
So, apparently it was a mile marker on WordPress to receive 1, 337 likes…kind of a random number, but I did! Yay! Thank you all for the continued support.
Make a one-time donation
Make a monthly donation
Make a yearly donation
Choose an amount
Or enter a custom amount
$
---
Your contribution is appreciated.
Your contribution is appreciated.
Your contribution is appreciated.
Donate
Donate monthly
Donate yearly
Whew! I have been looking forward to writing this one!
Let's talk about this anime: Darling in the Franxx.
I heard about this from an AMV of all things, and someone in the comments gave me the title, so I looked it up, liked the reviews, and decided to check it out. Then my sister, who I convinced to join me, told me "Oh, I heard this whole show is one big metaphor for sex." I was surprised since the review I watched never mentioned this (nor most of the plot) just the ending. But I said the reviews were so positive, I was sure it couldn't be just sex jokes, people said it was deep and moving. So, both my sisters agreed to try out one episode.
Spoiler Warning now, I will be talking about the end and all major plot points:
So, episode one did confirm all my sisters thought, and I was kind of grossed out. They refused to watch any more, but I was still convinced it had to get better if so many people who weren't even anime fans liked it. So, weeks later, I finally picked it back up, and within about a week, I both finished it and convinced them to watch the end with me, my younger sister actually got more interested because I watched a back story episode and she paid attention and decided it was interesting.
By the end, we all liked it, and actually had no complaint about the ending, which was a rare opinion among the fans, I already knew.
I tend to run long with reviews, so I decided not to bother giving a full synopsis of the show's plot here, trust me, the plot is the weakest element, and the end was all over the place.
But what is worth talking about is the themes, pacing, and characters themselves.
Fun fact, this show is not based on a manga like most anime, it's actually original.
One of the best epidsoes is the backstory of MC Hiro and 2nd MC Zero 2, it's the first anime epsidose I've seen with a split narrative throughout the whole thing and it was very skillfully done even by my American standards (as it's far more common here).
The characters
So, the characters of this show, who I will not be able to spell all the names of, sadly, are a cast of kids who pilot special mechs that are designed after weird bug monsters, typical anime stuff. The mechs need a male and female pairing to operate, and the teens are basically organized into different types of ships. We have
Goro and Ichigo– the competent pairing (you've seen it plenty of times in anime)
Miku and Zorome–the old married couple, who bicker constantly and are often immature but would rather do that with each other than get along with anyone else.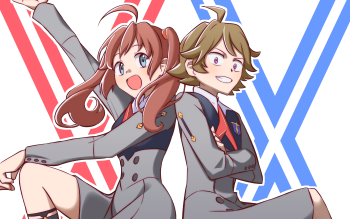 Eventually after some partner swapping, we also have Kokoro and Mitsuru
And we have Ikuno and Futoshi, who are the only non-ship partners (she's supposed to be gay, he gets married to someone else later.)
Lastly, of course, we have Hiro and Zero 2, who I think the show believes are the pervy couple, but they really aren't.
The whole confusion kicks off after Hiro fails to be able to pair with his old partner, Naomi, and she's taken away from their home, she comes back later though.
So, these are the pairings we have to work with and analyze, like most multi-ship animes, the show uses the different personalities and dynamics to show different ideas of romantic or friendship love. Over time as they develop emotions and affection for each other, the friendships get stronger, though feelings get more complicated, and they become more of a family than a plantoon (squad? What's a ten person soldier group called?)
We see the kids mature, and resolve conflicts that arise form having emotions. They start to realize people aren't perfect if they have feelings, which is why the Adults on the show have chosen to shut down all their feelings, but by the end the kids understand that to not have feelings is really not to be living at all, it's not to be human at all.
This anime offends me less in the "not having answers to its own problems" complaint I usually have, because the kids are starting from the ground up, and have no resources to teach them morals or philosophy, you wouldn't expect Socratic answers from them, just gong off feelings and their own logic is all they can do, and their logic isn't so bad considering.
What makes Hiro different, we are told, is that he asks questions, what attracts him to 02 is that she also fights the system of cruelty and apathy that he hates so much but doesn't understand how to leave. He's just a kid when they meet, but they promise to be together forever. Which the show appropriately acknowledges as marriage.
02 is embittered by eyars of mistreatment as a living experiment from a very sick doctor (who is still somehow not the villain) and being told she's a monster. She starts off as a very uncaring, sometimes psychotic seeming character. While she clearly is drawn to Hiro, she doesn't realize who he is, and tries to use him to get her goal.
She had the most complex character, I would say. While we don't approve her behavior, we see how ears of being told you're a monster, and forced to act like one by being sued a s a weapon, and given men to literally drain the life out of, without anyone seeming to care about it, would twist someone pretty bad. She shows signs of guilt, but is unable to change just because the team calls her a monster. It takes Hiro thinking that for her to realize what she's done, but she still doesn't stop because she thinks she's lost it all already.
Hiro then realizes he has to be with 02, even if she's done some bad things, because she is still a person who he loves, and he wants. So, he forgives her, and she finally accepts his love. Then the 2nd half of the story begins.
Along the way, we deal with Ichigo having feelings for Hiro, and having to accept he won't be hers, which is hard when she's never had love before, and doesn't see other options, though Goro loves her. And Mitsuru and Kokoro begin to develop a relationship also. Culminating in them getting married, torn apart by the Adults, and then eventually getting back together and having a baby.
The characters are not extrmeely intersting in of themselves, but they are human and likable. I didn't expect a whole lot since there was so many, but they all did what they needed to for the plot, and it's not a long enough show to spend as much time as MHA or Naruto on developing personality ad backstory for everyone, the pint it the expereinces they share, and what they do with them. Sci-fi anime tends to focus more on that then on individusla, form what I've seen.
Themes
Okay, this is the strongest aspect of the show, and I want to try to stay on track here, there's a lot I could talk about.
First, the elephant in the room: Sex, is the show really about sex?
Yes, and no.
I would not show any kids this show, the innuendo isn't really the problem because it's mostly non visual, but there are scary, gory elements I didn't have an easy time with myself.
That said, if you're a parent looking this review up to see if it's okay for kids, just watch it yourself first and decide if your kids can handle it.
I'd say young teenagers are more at risk of missing the deeper themes and just watching it for the sexual innuendo, and probably young adults too, to be honest.
I mostly don't get turned on by animation, it's just not real enough for me to be effected, it bothers me more in live action movies, I try to avoid highly sexual ones. But a 2D character? They don't look like a real person. So, I can watch most anime and only be grossed out by the idea of it, not tempted to actually look. But this is a specific trait of mine and I am cautious recommending anime to other people who may have more of an issue, as clearly plenty of otakus don't have any difficult sexualizing 2D characters (ew).
So, if you do have a problem with it, this may not be the show for you, at least int eh first 3 episodes, it gets better after that.
The show is about sex. It's like one long Sex Ed class, there's metaphors for infertility, deep intimacy, compatibility, DNA, and possibly STDs, though it was unclear. A lot of the language has double meanings.
However, on the other hand, none of what it says about Sex is really wrong. The show is not promoting immorality, or promiscuity, or perverseness. The topics are broached lightly, but the mature route is taken by the kids. They talk honestly about how they should treat each other with respect, and forgive each other for having a little trouble occasionally with ogling, as it is hard to never do that if you like someone (and if you are married, wouldn't even be natural.)
Kissing is talked about, and Hiro decides it is something you should only do with the one person you love, you should kiss around, basically. Partner swaps are taken seriously.
Though riding in the Franxx mechs is a metaphor for sex, the show remembers it is just a metaphor, and doesn't treat changing partners as cheating, more like realizing you're not right for your bf or gf and not forcing yourself to stay with them. Though Kokorp does break a promise, it's not literally marriage, since the show later has actual marriage, so you don't have to feel it's the icky affair divorce and infidelity would be.
Also the Franxx are a metaphor for emotional intimacy, the kids literally connect their minds and feelings inside them, and while sex is one way to do that, it's not the only purpose of the metaphor. People who are not sexually attracted to each other can still pilot together, if they have mutual trust and are willing to try, because it is also about relational intimacy. The lesbian and the reaming guy can still work together because they are friends, not as effective as the others maybe, but it's not a sexual thing for them.
Some fans probably saw this as inconsistent, but I saw it as wisdom on the writer's part not to take their own metaphor too far, that always cause major plot issues in a story, you need to remember no metaphor is perfect.
The idea that you should find the right person and stick with them forever is actually stressed constantly by the show. And you could say it leaves room for arranged marriage, at least two of the couples are put together by the Adults without getting a say in it, but they eventually grow close and make it work, while the other get to choose their own partners eventually, and they make that work. The point is if you are willing to try and you have a decent person, you can learn to get along.
Then there's 02, she, I eventually realized, is sort of in the role of a slut/prostitute, if you follow the metaphor. She lets herself be used, and devours other people, which of course is a sexual term, one found in the Bible also. Used specifically for harlots and cheaters. like most lusts, 02 does this because she has no self respect and feels it is all she is good for, and she hates the men she is given the same way most sinners hate the ones they sin against, she calls them "fodder" because that is what the system is giving them to her to be, and she hates it but feels stuck.
As with many whores, though, 02 secretly dreams of love and trust just like ordinary people can have. She met Hiro years ago and wants to find him again and be with him, no matter who she has to kill and what she has to do. As her conscience grows, she gets more desperate and unhinged, then feels ashamed once she finds out the truth.
I thought it was one of the most powerful thematic moments when it hit her that her lifestyle of debauchery in order to find love was exactly what made her unable to have it once she did find it. A major reality check you could say.
Then, in a Hosea like move, Hiro forgives her and accepts her anyway, and she confesses "I am a monster" but he's already told her he doesn't care.
Let's unpack that.
Should you actually be with someone like that? People like 02 have very deep issues, and often will do what she did, try to suck your life out in order to fill their own void, like with her, it may not even be something she always does on purpose, it just happens. Then they may start doing it on purpose as a way to cope.
The show stresses that 02 is a monster in some ways. That her actions made her that way, even if her DNA didn't. But believing she was a monster is what caused her to do that. Hiro was the first person who made her feel human and she wanted to be human so she could be with him.
I believe the "monster" metaphor is meant to represent how people do have ugly parts to them, and you have to accept that.
I was reminded of Fruits Basket, which I am also currently re-watching, in episode 23, I believe, when Kyo laments his mother covering up his ugly form. he says he knew it was monstrous, and he wish she would just face that with him together, instead of pretending he was not what he was.
People are not literally bests or monsters, but it's a metaphor, so we can't take it too literally. The point is that we all have ugly sides to us.
I don't hold with calling that a good thing, it's not. But neither of these shows seems to be falling into that error. 02 is clearly not a monster for her horns and pink hair, bur for her actions. Kyo had damage and a curse that makes him have an ugly side, but it is not who he is truly, he transforms back to a human when Tohru accepts that about him.
I was reminded of myself. I spent many years worried about being a monster, I used to think it was just me, I later learned it's almost everyone, at some level, whether we all use that word or not. I struggle even today with wondering if anyone will ever love me enough to get past that.
Most people would not describe me as someone with confidence issues, or as a bad person. I have gotten much better at loving myself than I use to be, but it doesn't rear its' ugly head at times.
I know that I will always, in this life, have moments of insecurity. Maybe not about this, but about some things, to be human is to sometimes have fear. But you don't have to live in torment of it.
My family does accept me, much more than ever before, and I have healed, but an abusive past is a detriment to many people when they consider who they want to spend their life with. Though I do not believe I will repeat my dad's mistakes, some people don't think that way. And I know that the trust issues I have are likely to flare up in a romantic relationship, all the therapy in the world will not take it away, it just gives you a way to work it out. Something many people don't understand.
Hiro chooses to see 02 as beautiful despite her differences, and at first she rejects that as much as any broken person would, but when she realizes he loved her from the beginning, she melts.
The relationship is not one side though. Hiro teaches 02 how to accept love, but she teaches him what passion and emotion are, she brings him to life.
It's very much how I've read the male-female relationship is meant to work. Man gives strength and care to woman, she gives it back to him in life and beauty and enriching his existence, you need both.
Goro and Ichigo have a more typical anime type relationship where Goro had to be in it for the long game, and Ichigo doesn't love him at first, but eventually he does win her over, though we don't get to see it own screen. The point is he never becomes bitter because she likes someone else, and she learns to be mature about it, and let Hiro go. I was surprised at the illogical hate fans had for her, when I didn't really see any other way she would have handled it, knowing nothing and with 02 being a anything but healthy at first.
It's a tough call too, some broken people should not be in a romantic relationship, and if your friends are warning you about that, you should take it seriously. Other times, a broken person can be healed through a romantic relationships.
I am no expert in this field, but the best clues I can guess at are look very carefully at what kind of broken they are, the reason behind it, and if they seem at all willing to change. 02 wants to become human so much that once she realizes what that means, she changes very quickly, not without road-bumps along the way, but still, Hiro's trust in her proves justified. If she didn't want that, it would be an entirely different thing, and some anime do go there, some of Western shows go there (actually way too many now) and that is very toxic.
Final Themes
All right, the final themes I want to talk about are the idea of what makes us human, what it means to bring life into the world, and the surprising take on what sex is really about.
Some feelings make us human. But pure lust doesn't. The doctor character lusts after a creature on the show, but that makes him a monster, very Claude Frollo like. 02 understand lust in a weird, twisted, way, but not love. Hatred doesn't make us human.
But the alternative the show's villains offer, that of only purely spiritual feelings, is also not human. They don't quite go so far as killing god, thanks goodness, but the idea of becoming gods is actually voiced, to my surprise. The Doctor says repeatedly "I'm an atheist."
He might be, but is the show? Not really. Prayer is actually part of the solution to the final battle. Not prayer to any specific god, but still. Spirituality is not actually discouraged, but the idea of disassociating it with being human, and leaving behind humanity to be "spiritual" is what is denounced.
C. S. Lewis warned that Spiritual pride and Spiritual sins are the worst kind. The most dehumanizing. In the end, a witch becomes little better than a pure beast, because their value for anything good will be eaten away by their darkness, this is quite literally in "The Silver Chair" where the witch is literally a serpent. not human at all.
Now, the Bible teaches us that our mortal bodies do house sin, and we will be rid of them. But we will be given new bodies, not be disembodied spirits. Jesus is described as having a body.
The point is not to think of it as choosing between a body and a soul, but it becoming a new kind of being, never before seen, that is someone both at the same time. That is what the Bible says Jesus is, and that is is till now unheard of.
And, to my astonsihment, DITF actaully went to that conclusion.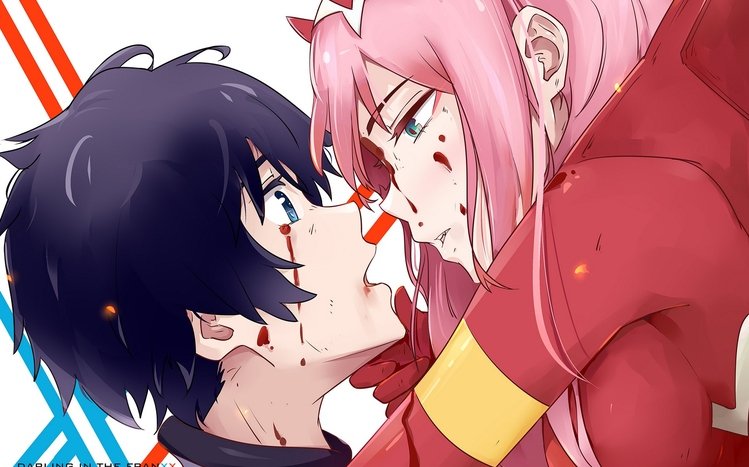 At the very end, 02 and Hiro combine their bodies, minds, and spirit, to become something that is both a physical and spiritual entity. Hard to explain with any scientific logic, but if you are following the metaphor, it makes perfect sense. True perfection is the melding of those two or three things.
Not many people even in church know this, but the sexual act is supposed to represent in a very small way, the connection between Christ and the Church.
In the best sex, between a man and wife, you experience the other person. You become one with them, while remaining yourself.
The show describes this as "I can't tell where you begin and I end" and going deeper inside that person.
While you could see that as crass, it only happens when the show is putting empathsis on the spiritual connection, not just the physical act of sex. Yes, the physical components do mirror the emotional ones in that way, I'm a virgin and I can understand that. The whole sexual design is a living metaphor for connection between people.
Which is why it's been degraded so much by the culture. We sexualize everything, because we have no ability to understand spiritual intimacy anymore. Sex is the closest experience to that the average person has, so many people bring it into everything.
But, it is about so much more than that.
The show is far from being vulgar. It keeps it within the context of a husband and wife, and explores what it really means.
It deviates a little from just sex, as they share memories too, but the point is it's a deep connection. When it goes from 02 using him to her doing it out of love, they become a whole new person, in a very literal sense.
The show ends with them saying they are ONE. Not like that weird alien creeps are all one, uni-formally, but ONE because they joined together two very different creatures, but embrace that fully.
I realize I can't write this without it sounding like innuendo, darn it show!
But there is a reason we use those terms about sex too, it is true. When it's between people who have that real relationship out of the bedroom it will be expressed in the bedroom too.
I don't feel embarrassed talking about it, though I've never experienced it, because I see it as beautiful. God-ordained, and I see no reason to treat it like a shameful thing.
I was surprised that the show used the terminology is did. It sounded like the Bible. Saying the two became One. Hiro literally leaves his Papa to become joined to 02 (though in this case, he wasn't leaving anything worth having, as PAPA was just the villain.)
The Bible has the unique idea, among religions, that becoming one doesn't take away your individuality. That God is 3 in 1, all 3 being different, but being 1. That husband and wife show this to us on a smaller scale.
It's like if you fit puzzle pieces together, the only way they can fit is if they are different, yet made to fit together. Men and women quite literally are made to fit together. If we were more alike, we couldn't do that.
In the most poignant part of the metaphor, Hiro and 02 even look alike, and have exchanged DNA (not like that), they have fully merged, yet remain separate in a way.
Not everyone knows this, but your DNA in sex does get imprinted ont eh toher person, in a strange way. Even if it's just one time and a one night stand. I've heard that it's harmful in every ocntext but marriage.
Married people start to look and act alike after awhile, and sound alike. My mom's sense of humor a=changed after marrying my dad.
Actually, if that's not happening, it's a sign of dysfunction.
Finally, the theme of life, and legacy. Not much to say on, but I really liked that the show depicted having a baby as something to value, and the beauty of new life. When Mitsuru cried at his daughter being born, I got emotional, something is very precious about seeing babies valued in media.
In Conclusion
There are more themes in the show, micro themes like what to do with unplanned pregnancy, and if you don't remember something are you still responsible, and I liked the show's way of handling them all, but I can't go into them here, I covered the most important stuff.
So, I hope this was enough to convince you to check this show out, but even if you don't, I hope you got something out of this post.
I have to admit, I better be careful who I admit having watched this too, since I think its reputation is skewed by the people who only watched it for the sex thrills. They were probably disappointed ultimately in its mature take on all that. I loved it though.
It's not the anime I enjoyed the most, and it may not be on my top 5 list of ones I'll re-watch, it's not really that kind of story. But it is beautiful, and poignant, and worth seeing at least once. It's also one of the first ones I've seen that I honestly can't disagree with the conclusion of, and that is remarkable.
Until next time, stay honest–Natasha
Make a one-time donation
Make a monthly donation
Make a yearly donation
Choose an amount
Or enter a custom amount
$
---
Your contribution is appreciated.
Your contribution is appreciated.
Your contribution is appreciated.
Donate
Donate monthly
Donate yearly
Well, I have big news: I finally upgraded my blog to a paid plan. Woohoo!
I now have my own domain, so it's more like a website now. As far as I know, this just means higher search priority and the ability to earn money off my site, but it's good to upgrade anyway. After 4 years or so of building this site up for free, it seemed like the next logical step.
So, thank you all for being a part of it, and hopefully I can add some new features soon, maybe build a community.
For now, I thought I'd continue with my analysis about Purple Hyacinth.
Not that I want to review it per sec, but I want to use it as a framing device for one of the ideas it made me think of after reading. I think that analysis is easier to swallow with as story setting.
I found one comment under Purple Hyacinth (PH) that struck me as quite profound.
"This Webtoon tells us that even though that person is telling the truth, the truth is not enough to gain someone's trust." (It's under episode 76, if you want to know).
I got to thinking about PH, and how it really does a good job of making you think about truth.
Haven't you ever wished you could tell if people were lying to you? But what if you actually could? Would it really make your life easier?
I mean, Lauren can't exactly convince everyone to believe her, can she? Other people don't believe that she wouldn't lie to them, or isn't just crazy (which is what her boss thinks), or might use her if they did believe her (#plottwist, if the Leader ever finds out about her.)
It's in this way I relate most to Lauren, and I don't use the word "relate" to apply to most characters, even ones I like, so I have an especial reason to say I can see myself a little in her determination.
Supposedly, empaths like me are able to tell when people lie. But I tend to be a little naive, being raised in a Christian home where lying was off the table, I tend to take people at their word. Even if I can feel something is off, it tends to be unconscious, until I look back on it.
I think if I were the suspicious type and tried to use my ability actively, I could probably tell if someone was lying. I usually am more comfortable naturally around people who are honest with me, even before I've seen them put to the test. I can read what people want very easily, so if their focus is elsewhere why we're talking, I can feel that they are only pretending to listen to me. That's something man people are able to do.
Writers especially tend to notice this stuff about others, and their books tend to be more interesting, but also exhausting. If you've ever read an author with a style that goes like "The look in their eyes said…" or "Their tone just seemed to say…" you may be reading one with empathetic abilities. Anime often employs such tropes in how it shows emotions.
I can't say whether that means people in Japan pay more attention to facial expressions and tone, or whether they just exaggerate it in anime because they don't catch it in real life.
It can be a lot of emotions to handle, but I get very drawn in by writers like that, you feel for the characters.
Lauren's ability is a bit like that, catching a tone of voice like most people detect sarcasm. But since she doesn't know the actual truth, she is playing the elimination game. Which makes it far more complex to read about, but also brings up a lot more questions. It makes sense that she became a detective.
I found Lauren's problem with losing it when she hears lies about the mystery she's been trying to solve for 10 years to be very relatable.
All of us with a hero complex, whether because of toxic family dynamics, or as a response to trauma, or both, would find it maddening to know someone is lying, but not be able to get the truth out of them. Then to be stopped by others from even trying.
Lauren has massive survivor's guilt because she knew something was off, the day the tragedy happened, but she couldn't do anything about it. Regular survivor's guilt is bad enough, even when you're aware it's irrational, but imagine if you did know, but couldn't do anything with that knowledge.
The ability to detect lies sounds God-like, but it makes her no more able to know the actual truth. Turns out people can still deceive you without lying, by just selectively telling the truth.
It's intriguing, Christians believe that truth is essential, and powerful. The word says "You shall know the truth, and the truth shall make you free."
But does the truth set Lauren free?
Thanks to Kieren and Sandman, she learns the truth about the mole in her district, about her parents, and herself, in a way. She learns she is a hypocrite.
In one telling scene, she admits to Kieren that knowing the truth about the mole makes her not even care that much that he died anymore. In a way, Lauren is very selective in her compassion and seeing value in human life. She claims she wouldn't hesitate to kill a murderer like the PH, or any other assassin, and she seems to have no pity for them.
And why should she?
Why should any of us?
Well, Lauren can't afford to pity them because her whole life is about stopping htem and avenging her friend. And perhaps, alleviating her own guilt.
Learning the truth presents a challenge for her, if she is not in the position she thought, if the Phantom Scythe wasn't what she thought, if the people around her aren't what she thought… then can she keep living her life this way?
It's too early to tell what the story will do with it, but for me, it's intriguing enough that it even comes up.
I mean, the truth really upsets Lauren every time she learns it, for someone who pursues it so avidly, it's rarely happy or easier for her. And she tends to ignore the truths that might soften the blow, like that Kieren is capable of actual remorse or honor.
Still, she chooses to tell the truth.
It all got me thinking about what is the value of truth?
I mean, when Will finds out the truth about his brother, it doesn't make him happier.
I think most of us have the mistaken idea that knowing the truth will always make us happier or satisfied.
When C. S. Lewis became convinced of the truth of Christianity, he wrote in Surprised by Joy that he was perhaps "the most reluctant convert" in his time and country, if I remember right. He was not happy, he though it would mean a lot of unpleasant work.
To be sure, there are many unpleasant things in Christianity. If you've never head a Christian say as much, they are faking it.
Any genuine religion, that even claims to be the truth, will admit it has unpleasant parts. Islamists don't all imagine that the extreme parts of their creed are supposed to be fun, that is the point.
It's stuff like New Age, that claims to be all about serenity and peace and that crap. Nothing that is real is always pleasant.
You might argue, if you are a philosopher, that pleasure is real and always pleasant.
But that is not strictly true is it? Guilty pleasures are addictive, but there is an unpleasantness in it, isn't there? Some junkies hate the drug or alcohol even as they consume it and get rush, I have been addicted to the much less harmful coffee and even I had moments of hating that I needed it.
One of the reasons I believe in the doctrine of hell is because there must be things I do not like about any Real fact of life. No one gets life to suit their fancy.
And in ,fact, when we talk about the truth making us free, do we always mean the truth is pleasant? I don't know where that idea came from.
Probably, in the church at least, because Jesus is the truth, and knowing Jesus will certainly make you happier. That is true…but it will not necessarily make you happier immediately. Some people, like me, get a rush of joy when they first become saved, others, like my sister, don't. And like Lewis too, incidentally.
It really has nothing to do with how you convert. People who convert in the middle of an evangelical movement sometimes feel nothing, while I read a story of a man who had an intellectual based conversion, and immediately felt peace. God seems to care more for what the individual needs than the setting and method of conversion.
Suppose you feel ill and think it is a minor thing, and then find out it was cancer. Did the truth make you happier?
No, but if that truth means you seek treatment before it is too late, and recover, the truth did indeed set you free. Ignorance is not bliss for people who actually want to improve. It is only bliss for people who want to stay the same. Which is, unfortunately, a lot of people.
What interests me in PH is that the truth may make Lauren unhappy, but for all I can see, it is setting her free, little by little. She will only be free of guilt once she knows the truth, and free of anger.
I rather think, in cases like hers, the "not knowing" it what causes bitterness, and if she knew what happened, she would not be bitter anymore.
Spoiler alert:
AS evidenced in the most recent episode, where we learn she once saved the life of someone she didn't like who had previously lied to her, and possibly helped kill her friend and family. Lauren may hate the guy, but she hates mostly out of frustration, not true malice or vengeance.
To me, it made her a more likable character to see that difference, and it reminds me more of how I deal with truth.
Honestly, I resented my dad and loathed him for years when I was confused about what was right and what was wrong in our house. But the mores I realize the truth was it was mostly him the whole time, I don't hate him.
I don't like him, but I have no malice really.
Some of you may have experience this too, does't most of our hatred happen because we doubt ourselves and feel guilty? Only a small percentage of it is truly about the other person's actions. In fact, honestly, if we hated people more what what they did being wrong than for our own insecurities about it, we might be better people.
The Word says God hates wickedness, and David said in Psalms 139 that he hated God's enemies with "perfect hatred", and he's not talking about hating because they did bad things to him.
This does not mean we are supposed to hate nonbelievers, David is talking about hating evil and that people do evil, and not pitying that they must be stopped.
This sort of ties into what I said earlier about Lauren not pitying assassins, yet it's very easy for us as the readers to pity Kieren, being privy to more of his life. And he himself display more pity, oddly enough, than Lauren does. He knows what it's like to be chewed up and spit out by society or the people around you.
Lauren may not realize she's had rather a fortunate life, from status standpoint,and so doesn't know how people are tempted by desperation to do terrible things.
I say "tempted," most people say "driven." But I don't believe desperation can truly force someone to do do something they know they shouldn't do, and it is not an excuse. It makes them more sympathetic, perhaps not truly evil, but many a person who starts off by being desperate never stops doing evil, and in the end, does it because they want to. That's why it's a poor excuse, and a dangerous one, to do anything.
But, if the truth is, Lauren has done some shady things out of her desperation to find answers, then the truth is, she is also not above falling into that trap. And do it justice, the story has her pay for that sorely.
Just as we all will, sooner or later, if we take that route.
The relationship of truth to desperation is probably too complex for me to get into at the tail end of a post, but suffice it to say for now that in my studies, the truth seems to be the only thing that ever puts an end to desperation. One way or another. Good or bad.
Now, how does all this affect us?
It's an interesting story, and lesson, but does it matter in everyday life?
I'd say of course it does.
Something as small as a phone call can turn on whether you choose the truth or the lie. We lie for convenience. I tend to not lie, but I do make excuses that are only part of the reason I don't want to do something.
I've had people tell me I was BS-ing them when I was being completely serious, just because it is what they would have been doing if they were the one saying it, I imagine.
So, truth is an unavoidable part of our day to day interactions and decisions, as you all are well aware, and I think PH points out something quite profound in showing that even a small lie has the power to throw everything off. We may not always be able to trace from the effect back to the cause, but it's there. It could be possible if we had all the facts to prove that lying really only complicates our lives further.
Actually, the old VeggieTales about "The Fib from Outer Space" comes to mind here. But kids' lies are at least easy to figure out, adults are often not.
Still, like Lauren, I can be frustrated by knowing that just because I point out to you readers the benefits of honesty, doesn't mean you'll listen or walk away from this post with anything changed in your lives. I may just be writing this to myself.
I'm not really blaming you all though, I don't usually do what random people on the internet tell me, why would I expect any different?
Why do we blog then? Why do we feel the need to put our ideas out there as truth, hoping that someone somewhere will like it?
We humans can't help it. Sharing truth is the most basic service we render each other, and heroes and villains alike perform it. Chesterton wrote that "to preach anything is to give it away." To have the faint hope, in other words, that it will better the person you preach it to.
A truly evil man is the one who no longer preaches, is just a pure tyrant who does whatever they will and doesn't bother to give a reason.
One, who the same author says, "believes in himself."
Not wanting to pursue truth is really becoming inhuman. Which is why Lewis calls the indoctrination of the youth against truth "the abolition of man."
But that's all a story for another time. For now, it's just nice to get a story that reintroduces us to the need for truth. Whether I will always enjoy the story or not, I am always glad to be redirected to what matters.
And I guess that's what I hope for this blog too, until next time, stay honest–Natasha.