I had to include the full name because there are so many Momos in anime😄😂
Well, I revamped my Bakugo post again, if you want to check it out– Anime Therapy with Bakugo.
I am still finding my level with how to write these posts, this one would be harder to do in second person form.
Ah well, just like before, this was partly inspired by CeCe's Therapy at UA series, though she only has one Momo video.
Gathering Intel
CeCe's analysis isn't very extensive, just that Momo is one of the most over-powered characters so she should have more confidence, and that the heroes Momo thinks are stronger than her are "self sacrificial idiots" (which is true, most of the time, except for Todoroki probably).
I will have to expound on it myself, since, actually, I haven't seen anyone else give the real skinny on what makes Momo an interesting character, especially through the lens of her issues. Though this will be less therapy oriented, and more an analysis of her character that includes her psychology and how it could change, but I don't know if a therapist would give you this advice, since they are more focused on helping you accept yourself and be the best you you could be, not so much on transformation of who you are, that's where being a Christian with a message comes in.
And if by chance you are one of the people, or know one, who thinks she's boring and overrated, allow me the chance to change your mind, let's go:
Momo has no real personality disorders like most of the boys do. She doesn't overcompensate, she has no complex, and she isn't mean or prideful, without being weak. She's that anime girl we all love, the Classy Queen archetype. The Mom friend. The brainiac with a heart of gold.
So, naturally she's my favorite, along with Bakugo. But she's not perfect, and over time I picked out what I believe are her main issues and struggles that never get talked about.
Momo's lack of confidence is not actually her biggest problem, when it comes to fighting itself. That's easy to overcome, she just needed to succeed a few times, she's already pretty well over it. And many might say that concludes her arc. But there's way more to Momo's place in the story than just her fighting ability.
Momo has been, from the start, highlighted by the story for her exceptional intelligence, perception, and use of her quirk. She's the perfect student. A natural leader. She's essentially, what Bakugo tries to be. To the point where even in season 1, when Bakugo is at his most prideful, he admits he agrees with her assessment of his actions (a little detail most Bakugo haters miss when they say he's never humble, btw.) Since Bakugo never agrees with anyone, ever, about his actions, that's noteworthy in of itself. Momo's analysis is clearly superior if it can't be argued with.
Yet, Momo often finds herself unsure what to do. It's like, having all the talent and skill that most heroes dream of at such an early stage makes her even more uncertain how to apply it.
It's been pointed out that, if she were a villain, the heroes would basically be doomed. Momo couldn't be beaten if she were evil, she just couldn't. Not by the students anyway.
And that's interesting, because misusing her power as a hero is one of Momo's chief concerns as the show progresses. It's rather surprising that in the Bakugo rescue arc, it's Momo who makes up the singular girl on the squad, instead of Uraraka, who's loyalty to Deku and Iida you might expect to be more of a factor.
Momo's reason is to keep them in line. She says she doesn't think they should break the rules and use their quirks, but she "Understands how they feel" and will "Stand by her classmates". This is an interesting point.
Momo and Iida share a lot of similarities, they are top students who value the rules, and can follow them with ease due to their status and gifting. They both veer more towards order and submitting to authority. You'd expect her to side with Iida on this issue. While she expresses agreement with him, notably her actions indicate more sympathy with the rule breakers. She understands how they feel more than she wants to avoid trouble. When it comes to the point, Momo doesn't make any move to stop them from taking action.
What intrigues me further is that the MHA movies "Two Heroes" actually revisits this same issue, though I think it's set before that arc, so you could also say it preludes it. In that movie, there's a time in an elevator when the students all debate whether they should help or not, and Iida again says they shouldn't, and Momo begins to agree, but Todoroki ask s "Is it right to just do nothing?" and Momo hesitates and says she's not sure, "It's complicated." (Which, by the way, is one of the ways I ship them, their contrasting views have a lot to teach each other).
In the end, Momo still chooses to help, even to fight once it comes to the point. As, of course, they all do.
I have to love her, but all this wouldn't have given me insight into her character if I hadn't had someone else to compare her to, and that person is Bakugo.
At first, they seem nothing alike. But, as I talked about in my Bakugo post, it's been pointed out by the fandom that he is "crushed by expectations." That the pressure society puts on him is part of why he is the way he is.
But, look at it more closely. Bakugo is smart, talented, and has a great quirk. His strategy isn't bad when he actually employs it, and he almost always wins. All that is true of Momo also, though, as girl on a shonen, she doesn't win as often, but that she beats male characters at all is rather surprising (good for her and Mina, destroying sexism in shonen one small step at a time, right?) It's not a stretch to say Momo is under the exact same pressures as Bakugo. She is able to please people more– so nartually that it's too important to her.
The real problem Momo has is not her lack of confidence in her ability, it's her lack of confidence in herself. She doesn't believe she knows the right thing to do. She will yield to the judgement of teachers, and other students before she'll trust her own. It's brought to light in her episode with Todoroki where she worries that she has not done the "right thing" in the exam, but that could speak for her attitude toward life. Momo is constantly torn between what her heart tells her, and what her head believes because she's heard it her whole life.
I some ways she stands to be more of a victim of her culture than the boys do. The very fact that she can fit the mold of what makes a perfect hero so well is not a good sign.
To fit any mold completely is to lose any individuality you have to pleasing others. It's losing your spark that makes you human, not a Barbie Doll of an icon.
It was writing fan fic with Momo in it that made this clear to me. Confronting someone like her with ideas that question the whole foundation of society, you hit a huge wall. Can you picture Momo defying society? Can you picture her doing it, believing it was entirely the right thing to do?
See, not every hero needs to defy society to be considered a hero, but every hero needs to be willing to.
Society is just another word for what the Bible calls "The World" and warns us not to love it, "for the World passes away". When the Bible warns us not to love the world, it doesn't mean the world full of people, we're told God loves the world in John 3:16, The World, in this sense, means all the sins and evils that are brought out by Mass Mentality, or a Mob Mindset, if you will. Peer Pressure, corruption of a whole country, glorifying evil as a whole. That's the World. The World changes in what it holds up as the alternative to God, but, it never points us back to God. It will never be encouraging true Goodness, because the World doesn't have any standard of it.
In the words of Switchfoot's Rise Above It:
"Just because you're running doesn't mean that you're scared, just because it's law don't mean that it's fair. Never let another tell your soul what to fear. Here we go again, give it one more try, don't believe the system's on your side. Just another lover turned enemy fight…"
The Hero World, as the name says, is obsessed with Heroes as the alternative to any Divine Direction. Heroes are asked to be more than human. Never to be afraid, never to waver, never to make mistakes. And if they do, instead of it being written off as one person making a mistake, the whole society of heroes is called into question.
Really, it's just asking for the League of Villains to knock down its scarecrow.
How does Momo fit into this?
Only too well, that's the issue, as I said. She can be the ideal hero. There's not one hero in a thousand that's likely to have all she's got going for her, on top of her natural talent, she's kind and has major cash to back up whatever she wants to do. The girl doesn't even need an agency, she could be her own Agency.
But, Momo is not just some ideal. She's a kid, with fears and feelings of her own. Which her classmates understand, though it can't be said many other people do. Aizawa even observes with a tinge of pity that she's still got the emotional maturity of a 15 year old girl, like that's somehow a problem. You could call it Pyrrha Nikos syndrome, as Pyrrha was the first character to introduce me to it
But, it's a bigger problem if Momo becomes unshakable. Someone like her, firmly fixed in the ideals of society, with no filter to measure them though, is dangerous. She becomes a tool of that same society so easily. Much more than Bakugo is ever likely to, she can promote the ideal of perfection in heroes…until she snaps under the weight of it.
Momo's greatest flaw is her lack of confidence, but curing that simply outwardly by giving her confidence in her hero skills, will actually be more likely to cement the deep issue she has of not following her own morality.
You can't be a truly good person and spend your whole life doing what others tell you. Read that sentence again.
There's a quote that's gone around the feminist circles a lot, but it bears repeating here "Well behaved Women rarely make history." –Laurel Thatcher Ulrich (You know that originally, it wasn't "rarely", it's "seldom" but that's another story, sorry, English class is kicking in)
It's notable that anime preaches conformity, but fills its shows with characters who cannot conform. Whether because they are outcasts, monsters, or idiots. Any reason will do. The one reason you will almost never see is a rational, normal, intelligent person who simply decided the rules were stupid, and chose to rebel. (If you have a counterexample, please comment it below, I'd like to watch it for myself.)
Finally, Momo has one more issue that's linked to all this, but is more of a microcosm.
Due to her exceptional ability, and her great levels of kindness and compassion, Momo tens to feel it's her responsibility to fix problems win the class, even between other students.
She's the Mom character. she wants to take care of everyone. I love her for that. It's a good thing a lot of the time, goodness knows, it's hard to care about other people sometimes, having a natural inclination to do that is a gift.
We see it when she encourages Iida in the festival, tells Bakugo and Todoroki to stop fighting in the Jump Fest OVA from season one, and tells the others not to pressure Jiro into playing in public. Momo is always trying to make people feel better.
But it is to the point at times where she feels responsible too much. Sometimes people should be pushed. Kaminari maybe understood better that Jiro really wanted to be valued for her musical talent, and Momo didn't. Because Momo always wants there to be peace. But, peace is not always an option until issues are resolved.
Momo avoids conflict and confrontation. Because she is a people pleaser herself, and it's easy for her, she assumes that it's best for everyone to be that way. To not make waves. She gives way to others, even when it's not a moral issue, but a matter of preference. She's almost too giving.
She starts of in the class with this problem not being so developed. She's willing to criticize and correct. She's even a little sassy in the USJ incident. But what changes in her is I believe is the result of the trauma of people being hurt so often.
Momo can't stop it, she can't be in control and have a plan to keep everyone safe, and she copes with that by worrying even more about them constantly. Momo will treat every small problem like a crisis, even if it's just someone getting minorly uncomfortable. She will downplay all her own accomplishments because it's just not enough for her.
Momo might not have had this problem so badly, since she seems to come from a fairly stable background, if not for the UA trauma, but that's kicked her to be in crisis mode almost all the time. It's not that difficult to figure out psychologically.
I think it kicked in in the festival, but why did she take losing to Tokayami so hard? Because she felt helpless. When you've been in a life or death situation, any failure in training is going to feel like it's endangering the life of you and people around you.
Even if in the actual crisis she always does something useful, in her mind that's never good enough, because she couldn't' prevent it and handle it all perfectly.
Now that I've detailed the reasons behind her problems, what's the actual therapy?
Believe it or not, this hits home for me too.
I'm not a hero, but I grew up in church, raised to believe there was one right way to behave. I still believe that, but I believe now that you can't depend on one person to always tell you that. Or one system. There is no man, or man made thing, that will not make you into a villain if you listen to it exclusively. Just as C. S. Lewis pointed, there is nothing in human love that will prevent if from becoming devilish if you let it go unchecked as the Best Love, without moderation.
I don't personally relate to Momo's perfectionism. I was tempted to it sometimes as a teenager, but my personality makes it impossible for me to people please, I could never dedicate myself enough to destroying who I am to pull it off, and I'm not easy naturally. But, I do have a sister who's a lot like Momo in that way. And after listening to her for years, I think I have an idea what it's like. I also have a mom who's much more like that.
It won't be easy for Momo to let go. I think out of all our human failings, letting go of the need to control must be the absolute hardest things for us to do. Even people who embrace a chaotic lifestyle need to feel in content, notice how they usually flip their crap if you suggest any kind of order. To them control is not being controlled.
Other people love order so much it's like an addiction, those people freak me out, but I imagine I'd freak them out too if they saw my room… yeah…
My sister had to work for a long time on it. She still prefers order more than I do, but she's become less uptight about some of it. It took a lot of encouragement from us to get her to start loosening up on herself, not hyper scheduling everything, not having a checklist of things to do for every hour of every day.
She wasn't happy that way, but there was a sort of satisfaction in it, there usually is.
But she's much happier now, and less anxiety driven.
Another thing she had to do was learn to express if she wasn't okay. For a long time, she couldn't even form those words in a coherent way, she was so used to shoving it all aside to make my dad happy, or the rest of us.
I had to rag it out of her a lot of the time. And from what I've read, sometimes that's what you have to do, push and push and push until someone tells you what's wrong.
Just the thing Momo will never suggest doing, but she might need it done for herself.
I know a lot of people have probably been told that if someone doesn't want to talk about something, you shouldn't push them.
There are cases that's true, but if you notice these warning signs, you might need to actually push them until they snap at you, and get some feeling out
They never, ever, ever talk about how they feel.
They always make it about your feelings, so you feel great, but its been years, and you still don't know anything about what goes on in their heads.
They constantly apologize if you do anything for them, and never ask you for help unless they've run out of every other option, and even then they feel guilty (I can relate to this one, though.)
If they do one or all of these things, you need to make them realize you seriously want to hear about em. They may start with just one, very vague negative feeling, but be understanding about that, and they may start to relax.
It's important that they now it's okay to feel that way, at least around you. Sometimes all someone needs is one person who they can be vulnerable with.
About people pleasing:
Again, I've never done it. I've tried to not offend people, that's the most I can pull off–and usually I fail at that.
What I notice when other people do it though is that they never show me anger, or criticize me. They agree with whatever I say, and they make my happiness the verdict on how a conversation went, or how their personality is, or if they are succeed in life.
Yes, I definitely see Momo in this.
The only way to fix this is to work long and hard at figuring out what you want out of life. And then, choosing to tell yourself it's okay to have it.
You won't feel like that at first, if anything, you'll feel like a bad person.
It's then you have to choose to trust the people in your life, and the wisdom of many therapists, philosophers and even theologians that say it's good for you to have dreams and desires of your own, and it's good to show how you really feel.
Reach out for a hug sometimes. Other people aren't mind readers. Try not to change the subject if someone asks how you are. Little steps, built up over time, will do wonders.
The deeper heart issues have to be resolved by feeling yourself different stuff. If you are around people who put you down, you need to look for better friend. It's true, people who see you as a target will gravitate toward you, it just happens.
Even the best human will take advantage of someone they know will give in, I've done it. I try not to as much.
It's okay to do that in a normal friendship, every so often, that's just love. it's not okay if it 's only ever you who's giving something to them. Even if you are comfortable that way, remember, other people need to feel good for being unselfish too, it's actually doing them a massive favor to make them feel needed. It's critical to our psyche.
Read books that encourage you to see value in yourself.
In my case and my sister's. it was getting closer to God, who values all of us enough to die for us. And choosing to believe hat, and t recognizing what our dad taught us was a pack of lies, and bullcrap.
I think the most fun thing you can do to get over this is simply choose to enjoy yourself.
My sister has started taking time purposely to hang out with people she likes, and do things she enjoys. It's great therapy.
Some of you (I don't think Momo is this far gone though) may be so damage you don't even know what you like to do. I've been close to that place myself.
Then just experiment. Try stuff that sounds interesting, or at least different, try everything, like the song says. If you gravitate toward something, make it a hobby.
You will probably find friends doing that who will build you up because you enjoy the seam things. That's the best way to become a real person, enjoying yourself. Pushing yourself outside your comfort zone.
Once you build up some confidence, don't be hard to confront people to. Make boundaries. I would try to do with with the help of people you do trust first, my sister found that useful, even I find it useful, though I don't need it.
Have good people back you up, especially if you are been abused or bullied, never try to confront that person alone. Have a witness. Record it if necessary. Police evidence might come in handy.
If it's a decent person who's just never been stood up to by you before, expect them to be surprised and to have a hard time adjusting to it, they never knew you had likes and dislikes.If they really care, then they will accept it once you explain why you never told them before, and forgive you (because eyes, it was unfair to them, but they'll understand if they love you).
And that's what I can tell you for now. That's all a great place to start.
And I hope to see Momo grow in these areas, but, hey, if not, I'll just write it that way myself.😉
By the way if you are interested in checking out my fan fictions, here is a link to my MHA story, I have two currently, and they are actually getting a lot of view right now. One's only been up for 2 months we're already at 600+ so not bad. Plus I have my own fan art that people made for me included.
MHA: https://www.wattpad.com/myworks/195185530-my-hero-academia-mystery-from-another-world
MHA Fantasy AU: https://www.wattpad.com/myworks/262518284-mha-fantasy-quest-for-the-sol
Hope you enjoyed this and found it helpful or insightful in some ways, until next time, stay honest–Natasha.
Make a one-time donation
Make a monthly donation
Make a yearly donation
Choose an amount
Or enter a custom amount
$
---
Your contribution is appreciated.
Your contribution is appreciated.
Your contribution is appreciated.
Donate
Donate monthly
Donate yearly
Diving into more CeCe (or morallygrayismyfavoritecolor) inspired analysis of the show and concept of MHA.
Actually, I have to thank a lot of of UA tik tok people for bringing up excellent points in their satire, and compliment them, it's not a venue I'd normally look for profundity in.
I could probably have made this into a therapy post of Aizawa, but as it extends to so many more characters, as well as anime in general, I think that'd be limiting. So, let's go.
We've probably all heard, if we live in an English speaking country, the proverb "Honesty is the Best Policy"
I am sure there are variations of it in pretty much every culture too. Here's a handful of them I found:
"Honesty is the first chapter in the book of wisdom." –Thomas Jefferson
"Every lie is two lies, the lie we tell others and the lie we tell ourselves to justify it." —Robert Brault 
"Integrity is telling myself the truth. And honesty is telling the truth to other people."
― Spencer Johnson
"Honesty is the best policy.If I lose mine honor, I lose myself."
—William Shakespeare
"Honesty is more than not lying. It is truth telling, truth speaking, truth living, and truth loving."
― James E Faust
"No legacy is so rich as honesty." –William Shakespeare, All's Well That Ends Well
"It takes strength and courage to admit the truth." 
― Rick Riordan, The Red Pyramid
"When you tell a lie, you steal someone's right to the truth."
–Khaled Hosseini, The Kite Runner
I like that last one especially. I believe people are born with certain rights, not just life, liberity, and happiness, but also the right to know the truth.
So, I guess I could frame this as a debate between yours truly, and the UA staff (as well as other teachers) about whether the continued practice of lying to students, or at the very least concealing part of the truth, is truly a wise idea.
Even though I will be using fictional examples, thousands of parents, teachers, and leader regularly lie to their kids and followers in real life, and there are even whole books you can find that justify this approach, I believe Machiavelli even talks about it, so nothing I bring up is not going to have its parallel in real life, in fact, I bet some of you reading have been lied to quite a lot by authority figures.
My personal experience is, I've been lied to by both my parents, though lying was always strictly punished in our house as one of the most serious offenses, my dad has lied about me, and they both have gone back on promises they claimed to have forgotten or else decided to ignore. It's not quite the same as UA's approach, but it is dishonestly of a severe nature.
There, now that I've justified writing yet another post about MHA, let's do this:
Starting with my premise that people are born with the right to the truth, let's put that up against the premise assumed by UA and every other teacher (the ones on Naruto are full of examples of this) that truth is often too dangerous to be entrusted to students.
Is there any basis for either premise?
I'll start with the opposition to my point:
There are times when truth is dangerous, it can't be denied. If we make total honesty at all times our rule, we'll compromise every war in history, several covert ops, and many brave people who've ever protected information under torture or duress.
There's an Aesop's fable that comes to mind here, The Fox and the Woodcutter.
"A Fox having been hunted hard, and run a long chase, saw a Countryman at work in a wood, and begged him to help him to some hiding-place. The man said he might go into his cottage, which was close by. He was no sooner in, than the Huntsmen came up. "Have you seen a Fox pass this way?" said they. The Countryman said "No," but pointed at the same time towards the place where the Fox lay. The Huntsmen did not take the hint, however, and made off again at full speed. The Fox, who had seen all that took place through a chink in the wall, thereupon came out, and was walking away without a word. "Why, how now?" said the man; "haven't you the manners to thank your host before you go?" "Yes, yes," said the Fox; "if you had been as honest with your finger as you were with your tongue, I shouldn't have gone without saying good-bye.
I used to not get this story at all, how is it honest to lie? But later I understood that loyalty is also a kind of honesty, and sometimes must trump telling the truth to someone's enemy.
There is a philopshy that says that you can forfeit your basc rights by doing evil, so your enemy can forfeit his right to the truth, by being your enemy. Trying to kill someone who has not harmed you, for examople, forfeits yoru right to their honesty.
The Bible does not openly endorse lying in this case, but there are a few times, when David is running away from King Saul, and Rahab is hiding the spies, where lying is sued to protect God's chosen people, who are alos innocent, and it is not condemned, at least.
I suppose God prefers total honesty, but will not always pusih lying to save someone's life, which is about theo nly time I think it is accepatbe.
There's another side to it, I read in "The Hiding Place" that Corrie Ten Boom's sister told the truth about a jew she was hiding, getting her arrested, but her sister was confident God would honor her honesty, the jew later was rescued and gotten to safety. Corrie is amazed by her sister's faith, and it's being justified.
Corrie herself lied while doing underground work, and felt it was all right. God clearly honored her work for His people.
So, my answer is: listen to your own conscience, at times the reason you do something, and whether you have faith in God either to lie or to be honest, is more important.
But in cases where lying is just covering up stuff you'd prefer people not know, but it's not morally wrong to tell them, you have a very different story.
I might not quibble with UA not disclosing that they suspect a traitor to the students, since if one of the students is the traitor, that could be dangerous to do, and if the students turn on each other, that is also dangerous.
I will give due credit to Aizawa for being honest during the camp attack, since it saved the kids' lives, and kind of reminds me of what Mrs. Incredible tells her kids in "The Incredibles".
But what about in regular training when Aizawa uses his signature "rational deception" or "logical ruse" depending on whether you watch sub or dub (not sure why they changed it, actually, what's the difference?)
Aizawa says he will expel them, or keep them out of camp, etc, if they don't accomplish certain things. It often seems like he uses "rational deception" as a cover for changing his mind. I guess changing your mind as a teacher must be frowned upon in Japan or something, since I've never seen it happen.
The logic behind all this is that the students (or people in general) will perform better if they think the stakes are higher, and so keeping them in a perpetual state of thinking that is the most effective way to train them.
Some people go along with this way of thinking, and will defend it on the gournds that "it's more realistic that way."
However, one might ask if that is really true.
Training someone to be in constant fear of failure and dire conseuences does not actually simulate real life very well.
There are some things you can't mess up in life, surgery, taxes, moral choices, etc. But there are other things like forgetting to lock your car, or tripping, or saying something dumb, that are going to happen, no matter how smart you are.
I'm a pretty intelligent person, and I tried to schedule an interview for during my class time two days ago, so I would know, even I can do dumb crap sometimes.
And most of the time, the absolute worst thing isn't going to happen, you aren't going to be disgraced forever for a mistake.
There are people who will make you feel like that, Miranda Priestly from "The Devil Wears Prada" is an example of that kind of person who messes with your head, but a healthy person would know to dismiss that as unfair.
What you are far more likely to get, by constantly putting students in fear of terrible consequences, is people who cannot let stuff go, cannot laugh off any situation to de-stress from it, and cannot be lenient with others who make mistakes. People who will always try hard, but will probably make mistakes because they are so desperate to win that they forego commonsense.
Which is exactly what Class 1-A has become like, ironically.
There are some short term benefits from the methodically that might make it look like a good idea, and I should be fair and talk about those:
So, as Aizawa points out, the class is ready for challenges. They learn not to hesitate, though he admits that's from being attacked by villains, not from his teaching.
What they learn form the logical ruse stuff is never to take any teaching experience at face value, there will always be a twist.
However, I'd argue they are not anymore prepared for the future by this approach.
How exactly does knowing you could be deceived at any time prepare you to meet expectations? If expectations are never what you are told, does that mean that you know how to meet them? How the heck would you know that?
It's like, being lied to constantly doesn't give you the ability to discern the truth. In fact, it might just teach you to mistrust it when you actually hear it (as in the Webtoon I wrote about the other month, Exploring the importance of truth with the Purple Hyacinth).
Also, how do lies prepare you for the real world?
Isn't it imperative to know the facts? To know what is real out there?
The students clearly have trust issues. They ignore their teachers constantly, and while they get scolded, it doesn't seem to leave a lasting impression, even on Momo, the most scholarly one. Of course, that is because they never really know what's going on, or what is true.
What if the hardest thing to believe, in real life, is that there is no twist? No fourth act reversal, no anime backstory trigger to defeat the villain or inspire the hero, what if this is just the way it is.
It hits home for me to think about that.
For years living in abuse (which bears many similarities to the teaching style of anime, even the better ones), I was convinced there was a twist. There was something I could do to make it better, to fix it.
Over time I learned what every anime good person learns, not to step out of line or make waves, just be as invisible as possible.
My father gave up on love a long time ago, as he told me, really. But I didn't know it wasn't my fault, I thought if I was a different kind of person, it would be okay. If I was like my sisters.
Turns out the very obstinacy I have been born with and unable to get rid of (I don't know a way to get rid of obstinacy, really, because to break any habit, you have to be obstinate, kind of an exercise in futility) ended up being the salvation of us all from the situation itself. I carried my point. My dad told me I had won. He thought that would bother me, I just said "okay."
And then he said "F— you" that's a direct quote.
That hurt a lot, but I felt less bad than you might think, because somehow, I knew this was how it had to be.
In anime, and Japan, I'm guessing as a whole, they rank students. What this means is that there is no tie for first, there is no equality, it is always a hierarchy. I can't say for sure there are never exceptions to this, but there have been none on any show I've seen except MHA, and that was tie for third place in a sports festival where there was apparently no procedure to break the tie (or it wasn't implemented because of a family situation).
Ranking sets it up so that someone always has to be at the very bottom, and at the very top, and everyone else can be judged by where they fall in between.
In MHA, Momo is always academically first, though Bakugo is first in physical fitness, while Kaminari is always last academically, and the last in physical stuff wavers from season to season, but we aren't updated on it.
The thing is, UA is a top school, so for Kaminari to get in at all, he must have done well in at least some subjects academically, following the internal logic of the show. Meaning, he's probably ahead of many students in other schools. He fails exams, but the kid has a crap ton more on his plate than the average high school student, since he has to to do hero training for hours, cutting into his study time.
Though he's not the smartest, watching him in training, he's not an idiot. He can handle most situations just fine.
To top this off, he also has a side effect to his quirk that deadens his intelligence, and it's uncertain if it affects him long term (if so, he shouldn't be using it).
I'm not writing a defense of Kaminari here, I'm merely pointing out the factors around him, and he's at the bottom, but on what scale?
A 6 ft tall person is short compared to a giant, after all. An average person is tall compared to a midget.
The facts are, Kaminari may actually be fine, but the hierarchy will always keep him at the bottom as long as he struggles more with the pressures of hero work.
Also, I might point out that intelligence is not measured by academic achievement. Someone can be quite perceptive who isn't good at school. You can be a bad student and still a brilliant inventor, or strategist (look it up someone time, people didn't think Einstein was smart.)
So, you put a kid in an environment of constant comparison where not everyone can always win, and what do you get?
By the way, I don't support "everyone's a winner" by any means, if someone isn't talented enough or hard working enough, than fine, they should do something else.
But I do support the idea that everyone can win at something and has a gift, and when it comes to such an arbitrary thing as "heroes" how can you say academic prowess is a reliable measure of it?
What I mean is, if you expelled someone for failing at their grades, from a hero school, how exactly is that fair? What does that have to do with being a hero. Expelling them for cheating, now, would make sense.
Or expelling them for being a pervert and harassing girls… but, get real, consequences for disrespecting women, on an anime? Or men, for that matter? (Yes, men get sexually harassed on anime too, I've seen it, it's played off as a joke even more often than for women.)
I would almost have to conclude that the whole system of schooling itself is actually the Rational Deception. These expectations and failures that have no bearing on the real world aspects of heroism.
I don't hate anime, obviously, or expect it to be 100% realistic, but my point is, even on MHA, these things are not left out of canon, and it's admitted not everything about the school is fair… however, so far, nothing seems to be done to change that, and if I were the parents on this show, I'd be concerned about letting my students live on Campus and be under the school's exclusive control. But I guess, as an American, I am for less government control over education to begin with.
Of course the attitude of anime is always "try harder".
See, it's okay to lie to students, if it makes them "try harder"
It's okay to terrify them, if it makes them "Try harder"
It's okay to over work them more than any doctor would approve, against repeated warnings by Recovery Girl, if it's so they will "try harder".
And the result?
I mean, let's look at the Pros.
Aizawa sleeps more than he really should, and seems tired and out of it expect when he gets mad or the kids are in dangers. It seems, either he is depressed, or the effects of the rigorous training for years to keep his body fit enough to be a pro has taken its toll and he can't function without extra rest.
All Might repeatedly overuses his quirk against everyone else's advice so that he will stay No#1 Hero, until he uses it all up. he might have kept working for another year or two, had he showed restraint, and been able to protect Deku longer.
Endeavor is never satisfied with his success and feels a constant need to compare himself to All Might and push for the top, even while it destroys his family life. We later get hints Endeavor is not wholly without regret that he did this, but he is still far too obsessed with being the best Hero to really realize his mistake was making that his goal from the beginning.
I suppose the idea I am really up against here is the whole Eastern idea that power and strength will justify any means to get them.
Well, I doubt I can dismantle that in one blog post, I'm sure I will revisit it, but, I can touch on it.
Many people in the West, that is, Europe and America and Canada, may not realize how counter-intuitive our ides of strength are. That, to this day, not everyone has what we consider the "civilized" view that power should not be our main goal in life.
I've come to understand that power-hunger is not always just about its thrills, often, it's because people fear for their family and friends and think power is the best way to protect them. Or they want to prove they can be something. It appeals to people who often feel powerless to change naything.
I'm lucky to live in a country where I can have a voice, though it's becoming more dangerous to, it's not illegal yet. There's still many paths to change I can pursue if I wish. I have always been prepared for the idea that that may change for me, soon enough, and I am resolved not to be intimidated when it does, at least not enough not to keep doing things.
But, I have all the benefit of having been taught growing up that I have a Divine Right to pursue what I believe is Good, regardless of what the rest of the world says. America's philosophy is that if even the Government is standing in you way, you as an individual have the right to oppose it, from God, even if you have no right under the law of the land. AS our Declaration says the right to "Life, Liberty, and the Pursuit of Happiness." I will never be ashamed to be part of a country with people like that in it, even if I am ashamed of what our media does to make fools out of us.
And that, I realize now more than ever, is not a common mindset. Quite possibly, one someone from the other end of the world may not have even heard before.
America has the true underdog story, we started out as small, ragtatg farmers, and business men, winning a war agisnt trained soldiers. But it wasn't for power, it was for our rights. Our idealogy is that Right makes Might. Not the other way around.
Which, is, of course, a Christian idealogy too.
I believe that growing up in the protection of a strong force, while you learn what you believe, prepares you for venturing out where you will meet people who will kill you for believing that, or else reject you.
I don't buy the idea that you can mistreat and traumatize people into been prepared for the real world. It's more likely to make them unable to accept any goodness in the world that might steel them against its evils.
For the UA kids, and others like them, it makes sens that their greatest source of strength is each other, the people bearing it with them. When all else fails, mankind tends to find solace in brotherhood. Our last comfort against evil oppressors or injustice is that we are not alone in how we feel, and we don't have to eat it alone.
Anime is wright to say loneliness is the worst suffering, even after mistreatment and trauma, it's going through it alone that is the worst. But, it can't be denied that a culture that encouraged mistreatment makes it far harder to not be isolated. It can be difficult to stay alive to the hope.
I remember for years of living at home with few to no friends, and moving every five years, so that I lost friends after I finally made them, or lost at least my proximity to them, I always wished for more. I started to feel, though, that it would never happen. And people moved away form me to, and didn't keep in touch. It's been a realization over time for me that I have to choose to keep hoping, the Bible says "Hope does not disappoint".
Staying open to change is the biggest part of getting it, I think.
I suppose this has nothing to do with UA, or does it?
I mean, you can take the passive attitude that the characters often do, that all this is not going anywhere and they'd better just deal with it… or there's there more interesting attitude of the fans who make loving critiques of it that, it really could change, it would just take a handful of people, having the guts to do it.
As long as you are inspired not to be passive, its not going to waste.
I will keep defending the importance of truth, as well as justice, however I can.
Until next time–Natasha.
Make a one-time donation
Make a monthly donation
Make a yearly donation
Choose an amount
Or enter a custom amount
$
---
Your contribution is appreciated.
Your contribution is appreciated.
Your contribution is appreciated.
Donate
Donate monthly
Donate yearly
There's a tik tok series that I've become obsessed with lately because it's kind of living my fantasy: The Cece Counselor tik toks, (I will link one of the videos at the bottom if you want to check out the creator.)
After watching all the videos, I decided that only thing it was missing was more time to talk about the issues, since in a 2 minutes segment, you really can't get that far. And thus this idea was born.
I'm getting into the Therapy session of one of my faves, Bakugo Katsuki.
So, the way I thought I'd structure this is to lay out the issues CeCe came up with, then the events of the show that back up and explain the issues, and then the answers that I or a therapist might be able to give Bakugo to help.
9Ideally, since these are real life issues people have, a person would be able to insert themselves into the place of the character and see it their way.)
Let's get started:
List of issues Cece provides
Massive emotional and mental trauma
Inferiority complex/superiority complex
Villainous and violent
Hating yourself/Feeling that you'll not be good enough to be a hero
Lasting Trauma from villain attacks
Lack of Emotional Availability for Friendship
If I'm going to do this right, I better define a few terms, it often surprises me how outside the circle of my church which focus a lot on emotional health) not a whole lot of people know these terms.
an experience that produces psychological injury or pain.
the psychological injury so caused.
"An inferiority complex is an intense personal feeling of inadequacy, often resulting in the belief that one is in some way deficient, or inferior, to others.
An inferiority complex may cause an individual to overcompensate in a number of ways…
It may also cause an individual to be prone to flashy outward displays, with behaviors ranging from attention-seeking to excessive competitiveness and aggression, in an attempt to compensate for their either real or imagined deficiencies." (Wikipedia)
A superiority complex is a defense mechanism that develops over time to help a person cope with painful feelings of inferiority. Individuals with this complex typically come across as supercilious, haughty, and disdainful toward others. They may treat others in an imperious, overbearing, and even aggressive manner.
In everyday usage, the term "superiority complex" is used to refer to an overly high opinion of oneself." (Wikipedia)
Guess CeCe called it (I'd love to know if she just Googled this stuff before making the tik tok like I just did for my post).
I love psychology and the study of emotions, whatever the name for that is (I looked it up, its called Affective Science, interesting term isn't it?)
I agree with CeCe's assessment, when she says he is neither villainous or violent, but has "massive emotional and mental trauma."
So le't get into that.
Disasters
Bakugo, you certainly have some trauma from getting attacked by villains, most notably from getting kidnapped. What bothers him the most is not what happens to him (though he is clearly scared) but that his hero, All Might, loses his power during the rescue mission. You are not strictly the reason he lost it, but you thinks you are.
It breaks you to think that your hero lost his power trying to save you, when he spent so much time trying to be strong enough to never need help.
Family
Your mom, though not all bad, has no real sense of your emotional weaknesses, and blamed you for getting kidnapped, saying if you hadn't been so weak, it wouldn't have happened.
(I believe this is her way of trying to humble him, as she is aware of his pride and jerkish behavior, and says he is fearless. Can't imagine where he got the aggressive behavior and inability to have a normal conversation from…)
I could relate to that, I've had people try to humble me in exactly the same way, if I had ten bucks for every time I heard "You're brilliant, but too touchy, and unteachable and narcissistic" from my father, and his friends…
My mom's way of helping this was to tell me "I don't think you're brilliant/highly intelligent, special, etc."
So, yeah, I get your complex a little.
Environment
(I will have to drop the 2nd person approach for this part since it's more about society)
I Bakugo's been "Crushed by expectation", hero society glorifies quirks so much, we're shown that when everyone praises his quirk, he gets the idea that there will be no one more amazing than him. That idea gets fed by his spineless followers all throughout school and middle school. However, clearly not without some knowledge on is part that it could be shattered. His fear of that upon coming to UA becomes apparent.
Bakugo may be a bit stubborn (okay, a lot stubborn) but he's not stupid. He knows that more powerful people exist than him, that if he's not trying his hardest, he could fall behind. He trained for years before entering UA to get good enough to be a hero. His desperation to stay on top fuels his bragging through the sports festival and all subsequent conflicts we see. To the point where he doesn't want to accept the medal because Todoroki was not trying his "hardest".
They say don't hate the player, hate the game.
Like it or not, Bakugo's whacked out ways get him results, and if Endeavor is any indication, that is all the majority of people really care about. Not how good you are as a person underneath that power.
To add to the pile of things that contribute to his complex, he also gets victim-blamed by the media and some of the hero students for being targeted, they say it was his personality.
All Might points out later that the villains grossly underestimated Bakugo's heart and spirit. I'm sure Bakugo feels all the insult of the villains thinking he would ever agree to join them.
All Might is the only one, other than Aizawa, who seems to see that Bakugo has a lot more to him than anger and violence, and through their help, Bakugo has started to believe that about himself too.
Now that we have the reasons for his issues laid out, let's talk solutions:
If there's one thing I've learned in a year of therapy, inner healing, and frustration, it's that there is not a single one moment where you realize the truth and your issues shatter.
You have several small moments or larger moments of something breaking, some new understanding, and new freedom, like climbing a stair, always a little higher, sometimes you take two steps up instead of one… but you are far from the top still.
I am neither qualified to answer all Bakugo's problems fully, nor can they be, in my opinion, all answered by a human.
Many times, I've had the biggest breakthroughs when I was talking to God, one on one, and listening closely.
But sometimes, a little perspective can help open that door, so I wanted to start there:
How to begin change
When I've written about Bakugo's character in a story setting, I've found the show's method to be the most effective. Building relationships with people who he can see as equals is the healthiest, fastest way to help him change.
What is perhaps missed by the fans is the key to why some people can get close to Bakugo, and others can't.
When Kirishima starts to be friends with him, it kicks off because Kirishima says that Bakugo is really saying he has faith in their classmates, and that is "thinking like a man." Which is of course, his highest form of praise.
I don't ship them, but I do Bro-ship, it's just too wholesome. It takes quite a while for Bakugo to be able to return any positive feedback to Kiri, but eventually, in season 4, he succeeds. He also acknowledges their friendship at other times.
Bakugo has pretty big trust issues. He doesn't like having blind fans even if he tolerated it in school. And it's imperative for him to feel people are not afraid of him before he softens up at all.
I've been told I'm intimidating because of my intelligence and my confidence. I hate it. To me, it seems like an excuse. I don't find people intimidating who are smart or confident, I actually am drawn to them.
Being friends with other confident people has done wonders for my self image. I don't think I really began to have self esteem until that happened and people encouraged me. All I heard at home was I was ugly, annoying, difficult, or just average at best. What I heard from outside was just the opposite, people said I was sweet, funny, brave, and beautiful.
Sort of Bakugo's situation, but I see why he has a hard time accepting it. It's easy to think people might just find you scary. I also have a history of somewhat aggressive behavior, though nothing like what you get in trouble for at school. I learned to be more considerate, but developing that fear that people were just scared of me became a problem.
The best help for isolation, if you're the type who people find scary, is to seek out circle of people who are not unhealthy, but not easily intimidated. Drama and Sports were good venues for me, being loud and energetic there was not really an issue. I got more used to it.
But it can really be anywhere, it may seem hard at first, changes are anyone with this problem has been surround by timid/insecure people most of their lives.
So, more you could say to Bakugo:
The truth is, a lot of it isn't even about you, the person, being scary.
I've realized over time that people who are insecure already will blame you for stepping on their issues just by not having them. I once got bullied for doing something right after someone else made a mistake.
(This happens to Bakugo also, when one student form Shiketsu high, who clearly has a massive complex of his own, blames him for being a "Beast" as he says.
I find Bakugo is often blamed. I mean, would what he says really bother people if they didn't take it a certain way? Some of it is intentionally mean, but other times he's just saying something that's true, in the least delicate way possible. If it wasn't true, would they be offended?)
It's always tricky to get offended by the truth and then blame the offender. No matter how much you criticize their approach, they were still right, and how do you get away from that?
Positive affirmation is about the only way to help Bakugo's complexes also. But, having had at least one of both of those myself, I think there's more to it.
Personally, I grew up getting affirmed when it was useful for my dad to butter me up. Or to soften the blow of what was otherwise a sickening tear-down fest where I was put in a very unfair position. I've ended up with a real problem receiving praise after that. (Can you relate?)
Real Talk
If we were to be brutally honest about the home situation, and the hero course, then what I'd tell Bakugo and any one else with verbally abusive parents) is this:
You can try and try to be good enough for them, and you believe you never will be, and you are right.
You absolutely will never be good enough for someone who demands more of you than you could ever give them.
Who expects you to never make a mistake, and doesn't really define what mistakes are.
You will never be good enough for someone who disapproves of you more because of their own pain than because of anything you ever did.
And you'll never be good enough for a world that is more interested in glam and glory than they are in being real and authentic.
No one can really be a flawless plastic image, and even perfection, if it were Real, would not satisfy people who want a perfect Fake Image. Real does not interested the world.
We play ourselves, you know. We know it will never be enough, but we can't seem to resist the temptaion to try anyway, in that endless cycle. It hink that's why Jesus warned us not to seek the praise of men, and to not love our family more than Him.
You can never be enough for your family if they are toxic, but you can be enough for God, He knows exactly what to expect of You at all times.
It's funny that, though God only ever asks us to do what is possible for us with His help, while people often ask us to do what is utterly impossible, we prefer to try to meet their standards and shy away from God's.
Helping
So, I actually receive it best when people point out to me upfront that I should just take the compliment. Like that bit or realism helps me understand what they mean. I need it made clear to me why I am being praised, I guess. I have learned to trust people mean well most of the time, but from close family, I still have issues with trust.
I think that's why you (Bakugo), also respond best to praise that is given for a clear reason, [though, if you know or are a Bakugo, be careful about this. Don't ever say "I am praising you because I want you to feel good", phrasing it like that also sounds manipulative.
Giving a reason has to be down carefully, preferably almost so it's not indentifiable as doing that.
This is a lot of work, and you can't spend all your time catering to people's issues, but in my experience, just once or twice with the same person usually gets the message across, and they will start trusting you. ]
Setting people up to fail
Another way you mishandle trauma is by testing people. I do this too, oh boy do I ever!
You are aggressive to see if people will run away. You're not exactly subtle about that fact. Really, it's astounding no one around you has caught on to why you acts this way.
But the very reason the guys are drawn to you is because it challenges them, luckily, they are grateful for that instead of resentful.
Still, it should be addressed.
There are many people out there who will hurt you or will try, and you should learn how to spot that early one, BUT, not everyone wants to hurt you.
Many people don't hurt other intentionally. Many want to be kind, and many even want to help others heal.
While you cannot trust everyone, you should trust someone. People don't all deserve to be treated like the bad guy.
The best friends will understand if you sometimes get triggered, but they cannot be your punching bag either. If they forgive you, take that as motivation to improve toward them because you got a second chance.
You will make more than one mistake while you are growing, but let the mistakes be the kind that happen because you were trying, not because you were running from it. Any real friend will forgive those mistakes. If they don't, they are not really your friend.
Being the best
Improvement is not about being the best just to win, though that's nice. It's about enriching your life and other people's.
We don't try to get better to earn acceptance, no one will ever accept you based on earned merit, people assign value to you if they have the right heart, or they never will. The good opinion of worthless people is just as worthless as their character.
We improve because it's the right thing to do, for the people around us, for ourselves, for God I think. Because being healthy is the natural way to be, what we are designed to be. Not because it's a competition, though think of it that way if it helps you, just doesn't think that mean others should lose.
[Therapy would probably benefit someone like Bakugo because he is so set on self-improvement, it's actually canon in CeCe's series that he comes in like 9 times a week just to get better at it. One of his best traits is his desire to be the best version of himself he can be, people blame him for not dealing with his issues, but I ask, was he ever given the change to?
Looking at the actual mental health care on the show (next to none), while Deku is allowed to break bones to fight, and Kaminari to short circuit his brain, while Iida tried to kill a guy and no one really calls him on it after an initial reproach from Todoroki… yeah, I'm not betting that Bakugo's ever had access to professional help–or even regular help.
Plus his mom basically spells out of us that his home environment only breeds issues for him, rather than being an escape from pressure.
Given the chance to improve, I actually find it easy to believe Bakugo would go to therapy and try hard at it. Though no doubt he would fight with the counselor.]
Truth be told, I have had to restrain myself from snapping at my life coach also since my natural response is to get defensive when my issues are brought up.
In the end, you want to root for the person who has problems but learns and grows form them, than the one who seems fine, and just stays the same. People who seem fine are never actually fine.
But I'd like to add something to all this that I think will be uniquely my perspective.
Therapy is just not the answer.
It would help, undoubtedly, but I don't think it will make you into your best self.
The best therapists know how to encourage you and help you take steps to fix your life outside of the office.
I think therapy would help identify the causes of the issues, but how do you actually fix them?
Letting people in is probably the best human solution there is, good thing you're already doing that.
But I'd go a step farther.
I really think only God can do some things.
The worse of mental issues is that you are always alone with them at some point. You can build up a support system so that in your darkest moments, you have back up to call in, and I found that very helpful.
But there are hundreds of moments in a month, sometimes a week, where I am doing something else, or alone for a period of time, and that is when I get attacked the most with anxiety, intrusive thoughts, and anger, sometimes.
Bakugo admits to Deku that he's had stuff playing on loop in his head, telling him it was his fault, and he should have been stronger.
For me, though it's hard still, at least I never have to be alone with my thoughts.
All the time I've gone through this hell on earth that is trauma, I've had two voices in my head. One always telling me my worst fears will be realized and I am a monster, the other, speaking reassurance, Love, and that I am not what I think.
I have wondered which I will listen to. But in the end, I always choose the Good One. Slowly, the other voice sounds less convincing and weaker.
I can't imagine what I would be like if I had only my own voice to put against the darkness. Some people get by on that somehow, but just barely.
I found Bakugo an inspiring character actually, an encouragement to be as strong as I can be, and not feel ashamed or like I should hold back. I could wish more people thought like him.
In the end, you want to root for the person who has problems but learns and grows form them, thant he one who seems fine, and just stays the same.
True Acceptance
One more warning: When I hear that, I don't take it in, I am often a prisoner of doubt.
And Bakugo is too. He blows off All Might's praise because he just can't believe it… yet, hearing it still changes him, maybe a little part of him holds onto the hope that he can be that person, someday.
I've learned about both already are far more the person you want to be than you think, and yet you think too small at the same time. We set ridiculously low bars for ourselves.
Bakugo's self doubt is only going to be cured by taking many small steps toward believing. I was happy to see him do this in season 4 with the remedial training and encouraging one of the bratty kids.
Me? I am starting to try, I've been thinking of more ways to do it.
We'll work on it together Bakugo.
(Yeah, I know that was cheesy, but sometimes a fictional example can be easier to handle than real one, we tend to question real people's motives far more)
And that's how I'd conclude Bakugo's therapy: Sometimes what you really need to hear is that who you are, flawed as it is, is something people very much need, and you have a very important thing to contribute to the world and your friends, if you would not give up.
And that you are more than talent and strength, you are also compassionate. When you are strong to build others up, you are the strongest there is.
And that was installment one of Anime Therapy, brought to you by Natasha, hope you liked the new style I was trying out for the post, please comment if you had any questions or ideas to add to this discussion, or any other characters you'd like to submit for further consideration.
I will probably do ones from MHA, Naruto, and Fruits Basket mostly, I've found those to have the most realistic characters. But hey, I could throw in Love is War, or Lovely Complex, if I'm in a lighter mood.
So, apparently it was a mile marker on WordPress to receive 1, 337 likes…kind of a random number, but I did! Yay! Thank you all for the continued support.
Make a one-time donation
Make a monthly donation
Make a yearly donation
Choose an amount
Or enter a custom amount
$
---
Your contribution is appreciated.
Your contribution is appreciated.
Your contribution is appreciated.
Donate
Donate monthly
Donate yearly
Whew! I have been looking forward to writing this one!
Let's talk about this anime: Darling in the Franxx.
I heard about this from an AMV of all things, and someone in the comments gave me the title, so I looked it up, liked the reviews, and decided to check it out. Then my sister, who I convinced to join me, told me "Oh, I heard this whole show is one big metaphor for sex." I was surprised since the review I watched never mentioned this (nor most of the plot) just the ending. But I said the reviews were so positive, I was sure it couldn't be just sex jokes, people said it was deep and moving. So, both my sisters agreed to try out one episode.
Spoiler Warning now, I will be talking about the end and all major plot points:
So, episode one did confirm all my sisters thought, and I was kind of grossed out. They refused to watch any more, but I was still convinced it had to get better if so many people who weren't even anime fans liked it. So, weeks later, I finally picked it back up, and within about a week, I both finished it and convinced them to watch the end with me, my younger sister actually got more interested because I watched a back story episode and she paid attention and decided it was interesting.
By the end, we all liked it, and actually had no complaint about the ending, which was a rare opinion among the fans, I already knew.
I tend to run long with reviews, so I decided not to bother giving a full synopsis of the show's plot here, trust me, the plot is the weakest element, and the end was all over the place.
But what is worth talking about is the themes, pacing, and characters themselves.
Fun fact, this show is not based on a manga like most anime, it's actually original.
One of the best epidsoes is the backstory of MC Hiro and 2nd MC Zero 2, it's the first anime epsidose I've seen with a split narrative throughout the whole thing and it was very skillfully done even by my American standards (as it's far more common here).
The characters
So, the characters of this show, who I will not be able to spell all the names of, sadly, are a cast of kids who pilot special mechs that are designed after weird bug monsters, typical anime stuff. The mechs need a male and female pairing to operate, and the teens are basically organized into different types of ships. We have
Goro and Ichigo– the competent pairing (you've seen it plenty of times in anime)
Miku and Zorome–the old married couple, who bicker constantly and are often immature but would rather do that with each other than get along with anyone else.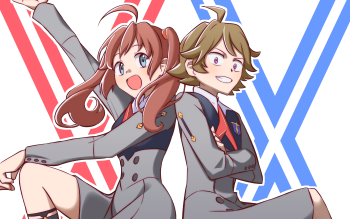 Eventually after some partner swapping, we also have Kokoro and Mitsuru
And we have Ikuno and Futoshi, who are the only non-ship partners (she's supposed to be gay, he gets married to someone else later.)
Lastly, of course, we have Hiro and Zero 2, who I think the show believes are the pervy couple, but they really aren't.
The whole confusion kicks off after Hiro fails to be able to pair with his old partner, Naomi, and she's taken away from their home, she comes back later though.
So, these are the pairings we have to work with and analyze, like most multi-ship animes, the show uses the different personalities and dynamics to show different ideas of romantic or friendship love. Over time as they develop emotions and affection for each other, the friendships get stronger, though feelings get more complicated, and they become more of a family than a plantoon (squad? What's a ten person soldier group called?)
We see the kids mature, and resolve conflicts that arise form having emotions. They start to realize people aren't perfect if they have feelings, which is why the Adults on the show have chosen to shut down all their feelings, but by the end the kids understand that to not have feelings is really not to be living at all, it's not to be human at all.
This anime offends me less in the "not having answers to its own problems" complaint I usually have, because the kids are starting from the ground up, and have no resources to teach them morals or philosophy, you wouldn't expect Socratic answers from them, just gong off feelings and their own logic is all they can do, and their logic isn't so bad considering.
What makes Hiro different, we are told, is that he asks questions, what attracts him to 02 is that she also fights the system of cruelty and apathy that he hates so much but doesn't understand how to leave. He's just a kid when they meet, but they promise to be together forever. Which the show appropriately acknowledges as marriage.
02 is embittered by eyars of mistreatment as a living experiment from a very sick doctor (who is still somehow not the villain) and being told she's a monster. She starts off as a very uncaring, sometimes psychotic seeming character. While she clearly is drawn to Hiro, she doesn't realize who he is, and tries to use him to get her goal.
She had the most complex character, I would say. While we don't approve her behavior, we see how ears of being told you're a monster, and forced to act like one by being sued a s a weapon, and given men to literally drain the life out of, without anyone seeming to care about it, would twist someone pretty bad. She shows signs of guilt, but is unable to change just because the team calls her a monster. It takes Hiro thinking that for her to realize what she's done, but she still doesn't stop because she thinks she's lost it all already.
Hiro then realizes he has to be with 02, even if she's done some bad things, because she is still a person who he loves, and he wants. So, he forgives her, and she finally accepts his love. Then the 2nd half of the story begins.
Along the way, we deal with Ichigo having feelings for Hiro, and having to accept he won't be hers, which is hard when she's never had love before, and doesn't see other options, though Goro loves her. And Mitsuru and Kokoro begin to develop a relationship also. Culminating in them getting married, torn apart by the Adults, and then eventually getting back together and having a baby.
The characters are not extrmeely intersting in of themselves, but they are human and likable. I didn't expect a whole lot since there was so many, but they all did what they needed to for the plot, and it's not a long enough show to spend as much time as MHA or Naruto on developing personality ad backstory for everyone, the pint it the expereinces they share, and what they do with them. Sci-fi anime tends to focus more on that then on individusla, form what I've seen.
Themes
Okay, this is the strongest aspect of the show, and I want to try to stay on track here, there's a lot I could talk about.
First, the elephant in the room: Sex, is the show really about sex?
Yes, and no.
I would not show any kids this show, the innuendo isn't really the problem because it's mostly non visual, but there are scary, gory elements I didn't have an easy time with myself.
That said, if you're a parent looking this review up to see if it's okay for kids, just watch it yourself first and decide if your kids can handle it.
I'd say young teenagers are more at risk of missing the deeper themes and just watching it for the sexual innuendo, and probably young adults too, to be honest.
I mostly don't get turned on by animation, it's just not real enough for me to be effected, it bothers me more in live action movies, I try to avoid highly sexual ones. But a 2D character? They don't look like a real person. So, I can watch most anime and only be grossed out by the idea of it, not tempted to actually look. But this is a specific trait of mine and I am cautious recommending anime to other people who may have more of an issue, as clearly plenty of otakus don't have any difficult sexualizing 2D characters (ew).
So, if you do have a problem with it, this may not be the show for you, at least int eh first 3 episodes, it gets better after that.
The show is about sex. It's like one long Sex Ed class, there's metaphors for infertility, deep intimacy, compatibility, DNA, and possibly STDs, though it was unclear. A lot of the language has double meanings.
However, on the other hand, none of what it says about Sex is really wrong. The show is not promoting immorality, or promiscuity, or perverseness. The topics are broached lightly, but the mature route is taken by the kids. They talk honestly about how they should treat each other with respect, and forgive each other for having a little trouble occasionally with ogling, as it is hard to never do that if you like someone (and if you are married, wouldn't even be natural.)
Kissing is talked about, and Hiro decides it is something you should only do with the one person you love, you should kiss around, basically. Partner swaps are taken seriously.
Though riding in the Franxx mechs is a metaphor for sex, the show remembers it is just a metaphor, and doesn't treat changing partners as cheating, more like realizing you're not right for your bf or gf and not forcing yourself to stay with them. Though Kokorp does break a promise, it's not literally marriage, since the show later has actual marriage, so you don't have to feel it's the icky affair divorce and infidelity would be.
Also the Franxx are a metaphor for emotional intimacy, the kids literally connect their minds and feelings inside them, and while sex is one way to do that, it's not the only purpose of the metaphor. People who are not sexually attracted to each other can still pilot together, if they have mutual trust and are willing to try, because it is also about relational intimacy. The lesbian and the reaming guy can still work together because they are friends, not as effective as the others maybe, but it's not a sexual thing for them.
Some fans probably saw this as inconsistent, but I saw it as wisdom on the writer's part not to take their own metaphor too far, that always cause major plot issues in a story, you need to remember no metaphor is perfect.
The idea that you should find the right person and stick with them forever is actually stressed constantly by the show. And you could say it leaves room for arranged marriage, at least two of the couples are put together by the Adults without getting a say in it, but they eventually grow close and make it work, while the other get to choose their own partners eventually, and they make that work. The point is if you are willing to try and you have a decent person, you can learn to get along.
Then there's 02, she, I eventually realized, is sort of in the role of a slut/prostitute, if you follow the metaphor. She lets herself be used, and devours other people, which of course is a sexual term, one found in the Bible also. Used specifically for harlots and cheaters. like most lusts, 02 does this because she has no self respect and feels it is all she is good for, and she hates the men she is given the same way most sinners hate the ones they sin against, she calls them "fodder" because that is what the system is giving them to her to be, and she hates it but feels stuck.
As with many whores, though, 02 secretly dreams of love and trust just like ordinary people can have. She met Hiro years ago and wants to find him again and be with him, no matter who she has to kill and what she has to do. As her conscience grows, she gets more desperate and unhinged, then feels ashamed once she finds out the truth.
I thought it was one of the most powerful thematic moments when it hit her that her lifestyle of debauchery in order to find love was exactly what made her unable to have it once she did find it. A major reality check you could say.
Then, in a Hosea like move, Hiro forgives her and accepts her anyway, and she confesses "I am a monster" but he's already told her he doesn't care.
Let's unpack that.
Should you actually be with someone like that? People like 02 have very deep issues, and often will do what she did, try to suck your life out in order to fill their own void, like with her, it may not even be something she always does on purpose, it just happens. Then they may start doing it on purpose as a way to cope.
The show stresses that 02 is a monster in some ways. That her actions made her that way, even if her DNA didn't. But believing she was a monster is what caused her to do that. Hiro was the first person who made her feel human and she wanted to be human so she could be with him.
I believe the "monster" metaphor is meant to represent how people do have ugly parts to them, and you have to accept that.
I was reminded of Fruits Basket, which I am also currently re-watching, in episode 23, I believe, when Kyo laments his mother covering up his ugly form. he says he knew it was monstrous, and he wish she would just face that with him together, instead of pretending he was not what he was.
People are not literally bests or monsters, but it's a metaphor, so we can't take it too literally. The point is that we all have ugly sides to us.
I don't hold with calling that a good thing, it's not. But neither of these shows seems to be falling into that error. 02 is clearly not a monster for her horns and pink hair, bur for her actions. Kyo had damage and a curse that makes him have an ugly side, but it is not who he is truly, he transforms back to a human when Tohru accepts that about him.
I was reminded of myself. I spent many years worried about being a monster, I used to think it was just me, I later learned it's almost everyone, at some level, whether we all use that word or not. I struggle even today with wondering if anyone will ever love me enough to get past that.
Most people would not describe me as someone with confidence issues, or as a bad person. I have gotten much better at loving myself than I use to be, but it doesn't rear its' ugly head at times.
I know that I will always, in this life, have moments of insecurity. Maybe not about this, but about some things, to be human is to sometimes have fear. But you don't have to live in torment of it.
My family does accept me, much more than ever before, and I have healed, but an abusive past is a detriment to many people when they consider who they want to spend their life with. Though I do not believe I will repeat my dad's mistakes, some people don't think that way. And I know that the trust issues I have are likely to flare up in a romantic relationship, all the therapy in the world will not take it away, it just gives you a way to work it out. Something many people don't understand.
Hiro chooses to see 02 as beautiful despite her differences, and at first she rejects that as much as any broken person would, but when she realizes he loved her from the beginning, she melts.
The relationship is not one side though. Hiro teaches 02 how to accept love, but she teaches him what passion and emotion are, she brings him to life.
It's very much how I've read the male-female relationship is meant to work. Man gives strength and care to woman, she gives it back to him in life and beauty and enriching his existence, you need both.
Goro and Ichigo have a more typical anime type relationship where Goro had to be in it for the long game, and Ichigo doesn't love him at first, but eventually he does win her over, though we don't get to see it own screen. The point is he never becomes bitter because she likes someone else, and she learns to be mature about it, and let Hiro go. I was surprised at the illogical hate fans had for her, when I didn't really see any other way she would have handled it, knowing nothing and with 02 being a anything but healthy at first.
It's a tough call too, some broken people should not be in a romantic relationship, and if your friends are warning you about that, you should take it seriously. Other times, a broken person can be healed through a romantic relationships.
I am no expert in this field, but the best clues I can guess at are look very carefully at what kind of broken they are, the reason behind it, and if they seem at all willing to change. 02 wants to become human so much that once she realizes what that means, she changes very quickly, not without road-bumps along the way, but still, Hiro's trust in her proves justified. If she didn't want that, it would be an entirely different thing, and some anime do go there, some of Western shows go there (actually way too many now) and that is very toxic.
Final Themes
All right, the final themes I want to talk about are the idea of what makes us human, what it means to bring life into the world, and the surprising take on what sex is really about.
Some feelings make us human. But pure lust doesn't. The doctor character lusts after a creature on the show, but that makes him a monster, very Claude Frollo like. 02 understand lust in a weird, twisted, way, but not love. Hatred doesn't make us human.
But the alternative the show's villains offer, that of only purely spiritual feelings, is also not human. They don't quite go so far as killing god, thanks goodness, but the idea of becoming gods is actually voiced, to my surprise. The Doctor says repeatedly "I'm an atheist."
He might be, but is the show? Not really. Prayer is actually part of the solution to the final battle. Not prayer to any specific god, but still. Spirituality is not actually discouraged, but the idea of disassociating it with being human, and leaving behind humanity to be "spiritual" is what is denounced.
C. S. Lewis warned that Spiritual pride and Spiritual sins are the worst kind. The most dehumanizing. In the end, a witch becomes little better than a pure beast, because their value for anything good will be eaten away by their darkness, this is quite literally in "The Silver Chair" where the witch is literally a serpent. not human at all.
Now, the Bible teaches us that our mortal bodies do house sin, and we will be rid of them. But we will be given new bodies, not be disembodied spirits. Jesus is described as having a body.
The point is not to think of it as choosing between a body and a soul, but it becoming a new kind of being, never before seen, that is someone both at the same time. That is what the Bible says Jesus is, and that is is till now unheard of.
And, to my astonsihment, DITF actaully went to that conclusion.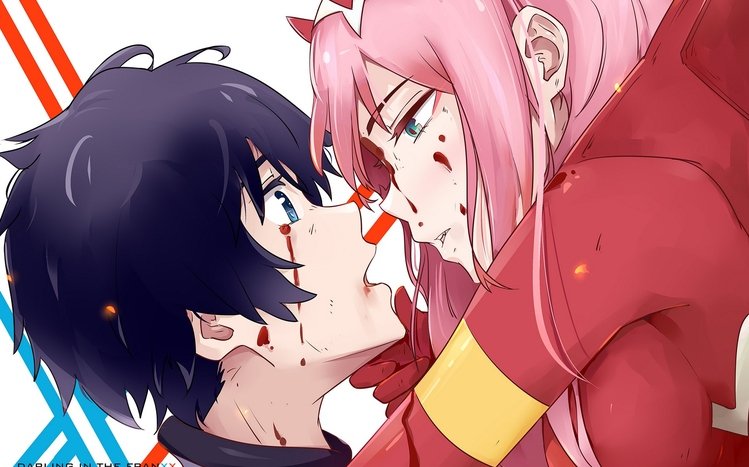 At the very end, 02 and Hiro combine their bodies, minds, and spirit, to become something that is both a physical and spiritual entity. Hard to explain with any scientific logic, but if you are following the metaphor, it makes perfect sense. True perfection is the melding of those two or three things.
Not many people even in church know this, but the sexual act is supposed to represent in a very small way, the connection between Christ and the Church.
In the best sex, between a man and wife, you experience the other person. You become one with them, while remaining yourself.
The show describes this as "I can't tell where you begin and I end" and going deeper inside that person.
While you could see that as crass, it only happens when the show is putting empathsis on the spiritual connection, not just the physical act of sex. Yes, the physical components do mirror the emotional ones in that way, I'm a virgin and I can understand that. The whole sexual design is a living metaphor for connection between people.
Which is why it's been degraded so much by the culture. We sexualize everything, because we have no ability to understand spiritual intimacy anymore. Sex is the closest experience to that the average person has, so many people bring it into everything.
But, it is about so much more than that.
The show is far from being vulgar. It keeps it within the context of a husband and wife, and explores what it really means.
It deviates a little from just sex, as they share memories too, but the point is it's a deep connection. When it goes from 02 using him to her doing it out of love, they become a whole new person, in a very literal sense.
The show ends with them saying they are ONE. Not like that weird alien creeps are all one, uni-formally, but ONE because they joined together two very different creatures, but embrace that fully.
I realize I can't write this without it sounding like innuendo, darn it show!
But there is a reason we use those terms about sex too, it is true. When it's between people who have that real relationship out of the bedroom it will be expressed in the bedroom too.
I don't feel embarrassed talking about it, though I've never experienced it, because I see it as beautiful. God-ordained, and I see no reason to treat it like a shameful thing.
I was surprised that the show used the terminology is did. It sounded like the Bible. Saying the two became One. Hiro literally leaves his Papa to become joined to 02 (though in this case, he wasn't leaving anything worth having, as PAPA was just the villain.)
The Bible has the unique idea, among religions, that becoming one doesn't take away your individuality. That God is 3 in 1, all 3 being different, but being 1. That husband and wife show this to us on a smaller scale.
It's like if you fit puzzle pieces together, the only way they can fit is if they are different, yet made to fit together. Men and women quite literally are made to fit together. If we were more alike, we couldn't do that.
In the most poignant part of the metaphor, Hiro and 02 even look alike, and have exchanged DNA (not like that), they have fully merged, yet remain separate in a way.
Not everyone knows this, but your DNA in sex does get imprinted ont eh toher person, in a strange way. Even if it's just one time and a one night stand. I've heard that it's harmful in every ocntext but marriage.
Married people start to look and act alike after awhile, and sound alike. My mom's sense of humor a=changed after marrying my dad.
Actually, if that's not happening, it's a sign of dysfunction.
Finally, the theme of life, and legacy. Not much to say on, but I really liked that the show depicted having a baby as something to value, and the beauty of new life. When Mitsuru cried at his daughter being born, I got emotional, something is very precious about seeing babies valued in media.
In Conclusion
There are more themes in the show, micro themes like what to do with unplanned pregnancy, and if you don't remember something are you still responsible, and I liked the show's way of handling them all, but I can't go into them here, I covered the most important stuff.
So, I hope this was enough to convince you to check this show out, but even if you don't, I hope you got something out of this post.
I have to admit, I better be careful who I admit having watched this too, since I think its reputation is skewed by the people who only watched it for the sex thrills. They were probably disappointed ultimately in its mature take on all that. I loved it though.
It's not the anime I enjoyed the most, and it may not be on my top 5 list of ones I'll re-watch, it's not really that kind of story. But it is beautiful, and poignant, and worth seeing at least once. It's also one of the first ones I've seen that I honestly can't disagree with the conclusion of, and that is remarkable.
Until next time, stay honest–Natasha
Make a one-time donation
Make a monthly donation
Make a yearly donation
Choose an amount
Or enter a custom amount
$
---
Your contribution is appreciated.
Your contribution is appreciated.
Your contribution is appreciated.
Donate
Donate monthly
Donate yearly
I was reading Pride and Prejudice, like I do usually twice a year, at least, and I started drawing some comparisons between the Regency Period and Anime.
If that sounds like a stretch, you haven't been familiar with both materials, I'm sure anyone who was would know exactly where I'm going right now.
It's funny how your background can influence your perception of something so much. Even just what country you are born in. It's not a new idea to me, but many people don't even think of their country as influencing their points of view. They think everyone thinks that way, if they are smart or normal people.
For instance, the odd blend of respect and disrespect in Asian cultures toward teacher figures, I've found it to be somewhat true. They allow for a lot of teasing and humor about certain things, but you absolutely never question others without severe punishment. Which can be the same here in the West, just usually over different stuff.
Free thinking is rare anywhere, even America, and I'm well aware of that as a citizen.
The difference is America puts more stress on free thinking being a good thing than many countries do.
I won't pretend to be an expert on the intricacies of other cultures, I will have to go on what I've read and watched and heard form people who've been there about it, but even so, there's some interesting things you could note.
My strange fan fic story
While I've been working on my now 3000 page long, year's wroth of effort, fan fiction, I've delved into Japanese culture at a very deep level. People who don't study anime deeply don't realize how much you can know about a real place from the fiction it produces. I've written before about how Anime kills God (Killing God With the Power of Friendship: an anime conundrum. ), and doesn't fix the problems it raises in its stories (Anime won't Fix-it!), there have a been a couple exceptions, very rare, that I've seen so far. Usually, it doesn't extend to the whole anime, just one part in it.
When I wrote my Naruto fan fic (I do plan to publish it, if anyone's interested, I'll probably link it to this blog eventually) I constructed a narrative about how the country would receive Christianity, all on my own, without doing research into Japan's history with Christianity, and I didn't really plan to make any statement on Japan itself, since I didn't know about it.
But in my history class, we briwfly covered that very topic, and then my sister filled me in more from a documentary she watched, there's also a movie called "The Silence" that I'm planning to watch.
My narrative was that if someone like Christian Missionaries came to the Naruto world (i. e. basically Japan), they would be feared and hated, and people would try to kick them out. I based this on the Bible and other accounts of missionary work not any history of Japan, I didn't know about it, as I said.
But to my shock, I learned that my fictional idea was almost exactly what happened. And I had written the motives and reasoning in much the same way without prior knowledge.
Japan has a lot of missionaries at one point, but when new powers rose up, they felt threatened but Christianity's freer way of thinking and thought it would encourage people not to follow their new ways, so they kicked them out as a while, and to this day, Japan has a very small christian population. And treats religious items and icons as the enemy in most of its anime.
Coincidence? I can't believe it.
(That joke wan't planed, but then I saw it and couldn't pass it up 🙂
I had taken characters of Naruto and explored their reaction to the ideas, just like I do on this blog with media, and I got the same result. Fear of challenging the status quo, fear of a loss of control… it was scary (for more if my ideas on Naruto, check out this series: Naruto: 5 months of frustration-pt 1.)
I got the idea that Japan must be terrified of God after seeing so much anime, and I got some confirmation from a fellow blogger who lives there that this may be closer to the truth than I thought.
I probably sound like I'm bragging here, but I don't think I figured it out because I'm just smart, in fact, some might still argue that I'm even right, but I do think fiction tells you an immense amount about its culture.
You have to have an eye for it, I've had years of training in critical thinking, writing tropes, and artistic style recognition, I spot this stuff very naturally. But most people could if they studied it.
I will say the most helpful advice about reading or watching the ideology of any art from a different background is this: Look for what isn't there.
Are there things characters never say that you would expect them to say?
Are there events that never happen that seem like they would happen?
Are there events that do happen, but for unexplained reasons that contradict the set up?
In American media this happens quite often too, but anime is almost unilaterally this way. It's called "anime logic" by the fans.
Other examples:
I notice it in French stuff too, as I've watched quite a bit for French class. And, I also notice it in ASL media.
Some things will never be said.
In French stuff, you will never hear that love is unimportant, I would be very surprised to be given a counter example of it. Tragic love is more popular than here, but love in some form is part of pretty much all their stories. They have a reputation for a reason.
In Deaf media, the opinion that Deaf people should try to become part of the hearing world more is not going to b supported by the media, whatever private opinions the actual members of the culture have. It's not allowed.
If I watched more I'd probably notice other stuff, I could say French media considers feelings more important than logic in writing, but I haven't seen enough to be sure.
In British writing, which I have read more of, logic and reality are much more central to any story, even a children's story. The question of what is real will come up in most stories, and logic is far more likely to guide the hero's actions than passion. If passion does take over, it will be pointed out as unusual, not seen as the most natural thing. The English always seem half ashamed of being ruled by passion, when they are, though that maybe a development more of the last few centuries. Shakespeare doesn't have the same feel, though logic and wit are the main attractions of his writing too.
All this to say, I do this with everything, and I've also become more acquainted with my own countries stories.
We value freedom, independence, and discovery. All our original stories usually focus on that. Growing up, moving on, and become your own person is one of our favorite themes, both form the start of our nation to present day.
Our disregard for the opinions of authority figures is often seen as disrespect and cheek by other countries.
But after studying their media more myself, I have come to be exceedingly grateful that I was born in America, if I had my personality and was born somewhere else, I'd be miserable, probably. Or I'd never have developed my skills to the point I have (I'm aware that there are free thinkers in other countries, but there's not such a rich support for it as here).
I'm a Xenophile, but I far prefer American idealism to any other.
America sees no reason to treat royalty, nobility, or gentry with any particular deference, we tend to see everyone as equally valuable int heir rights. One an's opinion may be right or wrong depending on their character, not their station.
To my Western audience, that no doubt sounded obvious.
But, it really isn't.
Authority in other cultures
In English books you will find great preference given to the opions of anyone higher ranking, whatever their character is known to be. From morality to clothing to food, they are just assumed to know better.
Like in "Fiddler on The Roof" when Rev Tevya says "If you're rich they think you really know."
There's some reason for this, rich people are generally more educated, and therefore might really know more, but as Pride and Prejudice so eloquently shows, that doesn't guarantee they understand any better than a common beggar the real problems of life, or how to treat people well.
Anime takes a very similar view to the British though, it tends to show that teachers and leaders may not always know best, but must be followed anyway. That rebellion is justified only when unspeakable atrocities have happened and the world is about to end, and even then, it's 50-50 whether the system will actually be overthrown.
The idea of contradicting a teacher/leader is almost unheard of, I've seen a couple exceptions, but notably, even then you rarely criticize the leader themselves, just say they are mistaken.
Oh, the times I've longed to see one of those sick tyrants get punched and told "You are a monster with a god complex!"
Instead it usually boils down to "Our feelings just make us not want to be mindless robots, so sorry, but we'll take you down, but please don't take it too hard, you're probably right, people suck, but we like being alive so..."
I'm all for being alive, but after the villains deliver their indictment against humanity, it feels like a hero needs more than "feelings" to come back with (literally every Fairy Tail arc ever.)
These are the good ones though, far worse anime have a compromise with evil that would be truly disgusting if we believed it was real. Like accepting a demon half, or something :-[
But, since they cannot defeat the monster, they befriend it.
This attitude doesn't surprise me too much if I think of how Asian countries tend to move from one dictatorship to another, some more subtle, others blatant, and even now the same ideas permeate their culture even if the legal system has relaxed in some.
I doubt many people there would even argue that point with me, if I put it to them in different words. What we call limited thinking is usually called tradition and family ties.
I'm not against tradition of family ties either if they are good, but Americans reserve the right to distinguish between good and bad traditions and family responsibility, while many cultures see no difference in duty, whether you have cruel or kind traditions or family. You show respect either way.
America promotes the idea of earning respect, for leaders as well as peers, while you will not find that idea in most countries, leaders get respect based solely on position.
Someone might wonder, though, if I disagree with this, since the Bible teaches it.
My answer is no, I don't think you get to disrespect a leader just based on not liking them. But I do think that you should not obey them if they are leading you to folly or evil. And that line just seems to disappear in many countries.
Of course, people are diverse, I can't make blanket statements without knowing I am ignoring the exceptions. So, yes, exceptions exist, whole groups of them no doubt. I am talking about the ideas generally promoted, not what I think every single inhabitant of a foreign country will act like. I feel I shouldn't need to state that, but I've seen enough comment sections and review to know people will not give me credit of taking that into consideration unless I say I am.
Being american also informed my view on my abusive father. I will probably never forget in this life him screaming at me multiple times "You WILL respect me! I am your farther!"
My life coach laughed about it, like "why would I respect you when you don't act worthy of it?"
The Bible does not say to respect your parents, it says to Honor them.
Honor is not respect. I realizing. You can honor the position they are in, acknowledge it, and be kinder to them because of it, without respecting who they are.
I don't respect my dad at all. He is, in my opinion, an almost 60 year old child, but he is still my Dad, and I will honor him as far as I safely can, which is not very far, and not as far as he wants.
The man doesn't know what respect is himself. To him it means blind obedience, never arguing with him, never questioning his words. Even when I pointed out that he was okay with my questioning other authorities, he said "but I'm your dad, that's different." How is it different? I wondered.
I think his idea is that if I loved him, I would not question him. I would just do what he says. I would ignore my better judgment.
But, I think being an american, I found it easier interpret the Bible as promoting independence in this case.
The Bible could make the case either for dependence or independence on rulers, it's all in how you want to read it, the truth of the matter is, the Real Message is telling us to use wisdom and discretion, and follow God first, than figure out how leaders factor into it. Some of the old saints rebelled or stuck out on their own, others did their best to live in peace with authority. You have to seek God for what to do in your situation.
And I am against any ideology that doesn't allow for that. My complaint against anime isn't that it promotes respecting leaders, but that it promotes it against all else. And the alternative is your own judgement based on feelings. Never turning to God and asking, what should I do?
Even though in real life, that is what people fall back on, whatever the media says.
There is no standard of morality in anime, unlike in British stories. The similarity to the British empire lies in this: that the British acknowledge God, but ignore the bible in how they treat the poor, lower class with less respect than the upper class, rich. There are most certainly exceptions, Elizabeth is an example of it, but the general attitudes is of that.
(Actually, it's funny, anime and Korean media both make rich people out to be quire decent human beings, who don't really care about money or status, at leas if they are a hot love interest, while American's tend to write all rich people as spoiled snobs. I find both portrayals equally stereotypical.)
The real crux of moral issues in anime is: who is stronger?
It seems like it's promoting the underdog, don't shows like MHA do that?
Not really… I wish they did, but anime can't commit to that message, no matter what.
Fairy Tail bases power off feelings, and morality is based off feelings.
But the logical point to be made is that, everyone has feelings, the bad guys do too, and there's might be very strong, so how does the power of feelings, or friendship, fix anything?
Anime won't go so far as to say evil should win, but the reason for good winning is pretty flimsy. What if some day, a villain has stronger feelings that a hero?
Actually, MHA stands out again as an interesting example here. When the hero killer Stain is cornered by the heroes, the strength of his feelings and convictions freezes all of them, and they cannot resist him. Deku recounts it in an awed, scared tone, recognizing he was so intense they couldn't make a move. Stain then collapses from injuries, and straining himself, not from any of them.
Here is a startling case of a villain truly having more passion than the heroes and the show rather uncomfortably moves on from the subject, but damage is done. Stain's influence still affects the villains and heroes to the current point in the story. Gran Torino points out only All Might has a passion strong enough to oppose Stain, it can't be said that Deku is there yet.
If anything, Bakugo is far closer, but not close enough.
Conviction is dangerous in anime but irresistible, they admit. To many people who want to see change. The heroes are not offering them change. One wonders who the real villains of the story are. The villains do evil, and that's not excusable, but if they didn't do evil, if they simply held the same view and rebelled in less reprehensible ways, would it change anything? Or would the heroes still look down on them?
When I watched it, I found Stain intimidating, but I didn't believe I would have backed down there, and I couldn't understand why the heroes did. Now I do, they lack conviction. I have conviction. Of something else, I believe in more than Stain.
It's true I don't know how I would be if my life was truly in danger, but I would attribute that to cowardice, not that I had no alternative perspective. I hope I would be brave.
MHA is truly interesting more for what it dares to acknowledge than anything else, at times. Like Bakugo's trauma after being kidnapped.
If stronger feelings determine who wins, might still makes right, it's just a different kind of might. All Might has all the strong feelings, do you see where this is going?
It's the same on every shonen, and every shoujo. The persistent, strongly emotional person wins, or the highly intelligent one (Dr. Stone, among other examples).
I don't take issue with strength, just if that's the only reason. If the villains were stronger than the heroes, they would win, and there would be no moral reason to resist if everyone else was too weak to do so.
It should be first and foremost about what is right.
The idea can be worked in that right is what makes the MC powerful, but it is not focused on enough to ever be certain that that's the real point, and the answer to all failures is to try harder, work harder, and do better.
Never just that your outlook and approach is wrong.
I am sure I ticked off several weeaboos if they read this, but I don't really care…
I think I'll wrap up this post here for now, do you have any other thoughts about this subject? Feel free to comment and discuss, I always read comments.
Until next time, stay honest–Natasha.
I hit 200 followers! *party noises* thanks you guys!
Want to hear a crazy story?
Life happens weirdly doesn't it? Yesterday we were just minding our own business, and we got a message that our dad was having a medical emergency, alone at his house.
My energetic aunt who lives, like, a 1,000 miles away from us, was somehow the one trying to organize all this, and my dad was calling a bunch of people, but didn't think to just call a taxi.
Later we found out, to add insult to injury, he'd actually almost passed out several times earlier in the day, but neglected to go to the doctor then, instead he still drove home. I believe they call this "dumb luck".
After he finally was taken to the hospital probably an hour and a half after he should have just called a taxi or 911, they discovered he had a heart attack and he went in for immediate surgery. The attack was bad and could have killed him.
I haven't talked to my dad in about 18 months, give or take, and this was the first time I spoke to him, but, with an emergency like that, it would have been cruel not to.
Getting on the speaker, we all talked to him. Almost the first words out of his mouth, once he said "I really would like to talk to the girls in case this is the end for me" or some rubbish like that, were "God has really been working on my heart, and I've changed a lot… and I believe with forgiveness should come reconciliation, that the Bible makes it clear they go together." (I paraphrase a little for clarity, but I assure you I am not exaggerating, I don't do that, the truth is bad enough on it's own.)
I suppose it sounds innocent enough, to someone outside the family, but those of you with toxic family members know hot there are certain phrases and words and tones and references that have been built up over the years a s part of an intricate web of manipulation, usually disguised as harmless so that others don't catch on. But the family members know themselves what it means.
You see, my dad will use the bible as a weapon to cover his own bad behavior. He'd yell at us and rage and throw fits, and use "honor your father" as an exude, ignoring "don't provoke your children to wrath." He'd storm about not being respected as "the head of the house" but ignore "love your wives as Christ loved the church." You've probably met people like this too.
Abusive parents tend to use love as a requirement only when they want love, and then deny it to their victims especially children if they are the most insecure about children, or their wife, if they are more insecure about romantic relationships. Depends on their own background usually. Most of the time, it's both.
My dad also swore to us more times than I can count that God was working on his heart, and he was a different person. He treated us exactly the same every time, and treated God the same too. My dad lives in a fantasy world when it comes to spirituality. It's simply a game of rules and appearances to him, not depth.
He also said he'd been healed of a lot of stuff, I don't buy that for an instant.
Later on, he told us that if this was his last request to us, he wanted us not to hold any bitterness or resentment in our heats because God wouldn't like it. And that he loved us so much, and missed us, blah blah blah.
He didn't ask once how we'd been doing, my sister told him, but he barley listened. He talked about how he'd been doing most of the time, and how he might die, (though it wasn't actually that likely), yada yada, and reconciliation, and it was so nice to talk to us again. It was almost worth it for this to happen just to be able o talk to us…
I sympathize with the fear and terror of a medical emergency, I've driven my sister to the ER when no one else was home and she was throwing up and having other signs of a concussion. I've taken care of my other sister after she fainted from sun poisoning. I've had terrible moments myself, especially last year. I am not one to put that down.
But, none of us use medical emergencies as an excuse to be vindictive and manipulative. Amidst all this chaos, my dad still managed to impress me with how petty he can be.
I mean, if it truly could be your last words to your children and wife, would you spend it going on about how terrible you were doing, and how they made you so lonely by not calling, and poor you.
I know I would want to spend it saying things that would leave good memories, if nothing else. It's not he time for final digs.
I concluded he never really believed he was going to die, as indeed, it was past the point where that was likely anymore. It was an attention grab.
It may sound terrible of me to think so, but his mom pulls stuff like this also, and he's done it before, and it's really much sicker to do it at all than to realize someone else is doing it.
I suppose we knew deep down he used his health to manipulate us for pity and attention, I just didn't think of it much with all the other, more violent stuff, but this one was always so blinking unfair because how can you get angry at soemoen who's sick? Even if they are making it worse on purpose?
The man says he intends to go right back to work instead of resting like you are supposed to do, I doubt he'll actually do that, but he wants us to talk him out of it. These tricks are as old as our lives.
I don't intend to try, but it's very frustrating to hear someone be such an idiot, and just to garner sympathy.
My aunt was no help, she just encouraged it, and event old my sister "can't you put aside your feud for a short time?"
Yes, a feud, that's all 20 years of abuse, neglect, and folly was… sure.
Because none of us have proof of physical damage, our family has elected not to take us that seriously, at least, the one who listen to my dad and aunt in the first place.
Based on my studies and comparing to others who've undergone the same treatment, we more than qualify for all three types of abuse, with Emotional being the crowning one.
My dad is something called a "dark empath" if I understand right. He know what you want to hear, and need to hear, but instead of genuinely giving it to you out of compassion, he gives it in a fake twisted way, that always brings the focus back to him. I've almost never heard the guy shut up about himself in the whole time I've known him.
In conversation with me, it has never been about me. Same with all of us, including my mom.
He's not totally without sympathetic feelings, but it's a superficial kind that always ends up becoming about him after about 5 seconds. I don't doubt he feels bad, but empaths can take our feelings into themselves, and then reflect them back. A dark empath can do that, in a bad bay, making the misery all there own and expecting you to feel sorry for them, when you're the one suffering.
In proof of this point, my aunt entered her late son's name in a walk-a-thon for charity that she asked us all to participate in. She asked my dad not to start telling stories about the past and making it about him. That was what he immediately did after she asked, including telling them her embarrassing nickname and encouraging us girls to participate. I declined.
My father is cruel, he was cruel as a kid, he's cruel now.
Yet, he has the audacity to say he loves us so much while crying and acting like he's in the worst pain in the world. Like we ever did anything to him. Sheesh.
Okay, as you can tell, I am blowing off steam and I may regret being so raw after I've had a few days to think about it.
But I bet you've felt the same, and maybe you even understand why it would bother me how he acted.
But is it worse that none of it really surprised me? I didn't call him when he got Covid-19 because I knew he'd say stuff I didn't want to hear, and I wouldn't be comforting him at all, save for the sick satisfaction he gets out of having us pity him and kowtow to him. Perhaps he imagines he is making us feel guilty.
And I called this time only because it might have been my last chance, and however terrible a person he might be, I don't want anyone to die without hearing some last kind words form the people around them.
I didn't expect him to really appreciate that, and I was not disappointed in that, but he went further than I would have believed, it took him less than 5 minutes to say something manipulative.
All the nice things he said just because he's been told to say them. It's nauseating. I felt my throat tighten up.
I wanted to laugh, my sister held me back, she felt the same but didn't want me to visibly show it while he was still on the line, especially since we were on speaker. I held back, but if he hadn't been about to go in for heart surgery, I'd have given him a piece of my mind.
I hope you understand I am not advocating bullying someone who's potentially dying or in a lot of pain. I am saying it was out of basic decency that I didn't do that, but I assure you, had our position been reversed, he would not have afforded me the same courtesy. That's how delusional he is.
I believe we have to show mercy, so I told him I loved him, and we'd forgiven him. That was when he came back with that "reconciliation" crap.
Since he brought it up, and some of you might have similar problems, perhaps I should answer here what the Bible's idea of reconciliation is.
In the Old Testament, there are far more examples of reconciliation than in the New, because it talks more about people's stories. The best examples or Joseph with his brothers, Jacob with his twin, Esau and also his uncle Laban; David with Saul; Hagar with Sarah, and Hosea with Gomer.
In only two of those examples did reconciliation involve establishing close contact, or living in the same house. Joseph, and Hosea both stayed in close touch with their family, though we don't know how often Joseph saw his brothers, or how much Gomer reciprocated Hosea's love (that was a direct assignment from God to give an example of loving an unfaithful woman. But Gomer was not abusive.)
Joseph did not reconcile with his brothers until he was in a position of power and it was entirely safe to do so, and after testing them to see if they really had changed. Once they proved they had truly repented and regretted their wrongs, he revealed himself.
This is where most therapists will leave it, if you have proof they changed, then you can become close again. I don't think Joseph intended to kill his brothers if they didn't change, but I doubt he would have revealed all to them in the same way.
In the other examples I listed, peace was made, and the people went their separate was to live out their own lives. Even Hagar eventually left Sarah's service, and she was a slave who couldn't legally do so on her own, but Sarah chose to send her away, and God made it to be for the best. Later in the New Testament, Hager is used as a metaphor for how the slave to sin must be driven out so the child of the promise (us) can flourish. A powerful symbol for abuse also.
"Nevertheless what does the Scripture say? "Cast out the bondwoman and her son, for the son of the bondwoman shall not be heir with the son of the freewoman."" (Galatians 4:30)
So, my dad has no real basis for using the bible as leverage here, but it's an old trick he clearly thinks we will still fall for.
As for the New Testament, it was actually or inspiration for kicking him out. When we talked to our mom about it, we reminded her of how Paul kicked some people out of the young church till they could learn respect for God and stop teaching false doctrines. Two people who tried to deceive the believers dropped dead on the spot (harsh, I assure you it doesn't happen often, I've near heard of another case, I think it was just to make a point).
Paul also says that while we are not to judge the world for being the way it is, we are not to associate with people in the church who claim to be holy but still act like the world.
"I meant that you are not to associate with anyone who claims to be a believer yet indulges in sexual sin, or is greedy, or worships idols, or is abusive, or is a drunkard, or cheats people. Don't even eat with such people." 1 Corinthians 5:11 (This version includes "abusive" others don't, but the idea is there.)
This gets me to thinking about how people tend to split into two camps about abusers:
There's the people who are so angry about it they stop seeing abusers as human. You should see the death threats against fictional characters that Webtoon and YouTube are littered with, and probably concerning real life stuff also.
Then there's people who recognize abusers are still wounded human beings, but use that as a reason to stay with them and give them a sort of emotional life support that just barely keeps them functionality at status quo, usually worse.
I am not in either camp, but I do lean more toward staying away from them, as I think the Bible teaches to do anyway.
There's an anime coming to mind that depicts this struggle well, called Torodora
(Tiger Dragon for you language buffs) in which the main girl had a toxic father, and the main guy encourages her to "reconcile" and give him a chance when he shows up randomly in her life, her dad says all the right things, and seems really repentant.
Then after things go well for a few weeks, there's a play that Taiga (the girl) is going to have the lead role in, and her dad promises to come see. As you can guess, he doesn't show up, and instead of calling her himself, he calls Ryuuji, (the main guy) to ask him to tell her for him, that something came up.
Ryuuji can't understand how the guy could be such a jerk, after seeming so sincere, then Taiga's best friend drops the final death bomb on him by informing him that the same thing happened a year or so ago, same act, and Taiga went with it, only to be disappointed. Ryuuji feels horrible for not listening when she warned him, and pressure in Taiga based on his preconceived notions of her situation, but he learns from it.
Ryuuji makes the same mistake I've made myself, and have felt other people made with me, and still do. He judges by his own experience and the very few things he sees about someone else.
People who haven't had abusive parents tend to hear how we victim-kids talk about our parents, and think "Wow, they're a brat." Because we'll say things like "My parents don't love me" and "Yeah, that's my dad, what a jerk." "I just can't believe him" "I don't miss him" etc.
And yeah, bratty kids do say it, but we have to remember, everyone who fake whines about stuff that's not actually bad is doing it in imitation of people who have had serious problems.
Like people jokingly say they have depression because depressed people abound so much right now, but it's not a joke to someone who really has it, and it probably feels like overstating it to them, whether they say so or not.
Or people saying they have a problem with binging when they really couldn't, while people suffer with real additions around them and don't think it's funny.
It's the same with having bad parents, people will joke and whine about it who shouldn't precisely because of the attention it gets them to sound like people who do. It's the difference between real and fake ailments.
And anyone with experience with learn to tell the genuine victims from the fakers very quickly. I've gotten fairly good at it myself in a short amount of time.
But I've been treated like a faker. Faking my problems to get attention has always been disgusting to me, I can't say that even as a kid I would do that very often, if at all, and as an adult, I don't pretend to have problems I don't have.
The lasting damage from being emotionally abused is that I assume everyone disapproves of me, constantly, and it's taken a whole year and a half away form my dad to even crack that image enough for me to see some light on the other side. I hope one day I will not feel that way at all, but it's been hard to shake, even after years of trying.
My aunt has been treating us like fakes who are making a mountain out of a molehill, and our dad talked to us the same way. It's like it's nothing to them that we got so miserable we had to kick him out or we'd run off ourselves. They don't get it.
Well, people who refuse to see the obvious cannot be taught, it's the sad truth.
Remember my last post, when I talked about PH, and how the truth sets Lauren free?
See post here:
I'm back! Sorry for the absence. I do have a lot of subjects to write about right now. I tend to avoid politics on this blog unless something catches my attention, but I'm always thinking about culture. Something I've been thinking about it lately is how in Church, we often go with the flow. We … Continue reading A Narcissistic Culture
Hey fahm. You know, I never talked like that before I liked Camie's character in mha, it's funny how you can change how you talk based on things like that. Well, I think it's fun to have more of an accent anyway. How's everyone doing? I know I haven't updated this blog a whole lot … Continue reading Does Christianity work on me?
Time for a confession: I'm bad at love. I'm the blogger who's always like "love, love, love" "The secret to life" "the truth about love…" etc. But I suck at it. I don't know if anyone is actually good at love, though. Is there a single person out there who prioritizes love as their goal … Continue reading "I'm bad at love!"
Well, it does when she accepts it, there's plenty of truth she's still fighting in the story, that's at the basis of her dysfunction.
And to tell the truth about yourself is very, very hard.
For me, it's a question I have a lot. Am I a worse person than I realize? Do I lie to myself. Am I not as kind and compassionate as I think?
But even asking that question, in earnest, shows I am more those things than someone like my dad, who will make excuse possibly to his dying day, if yesterday was any indication. I know his father did, I visited him just a day or two before he died. Still full of dishonesty, though he had made huge strides in forgiveness compared to how he'd been a few years ago.
I will say, trying to be better than your abusive parent is a low bar, my dad aimed for that, and failed because he had a warped perception of what "better" really meant. If better meant not smacking us as hard, and raging at us over every little thing, he only succeeded at one of those things. If better meant being less selfish, he never succeeded at all.
"It's been a long road losing all I own, you don't know what you got until you're gone, and it's a nasty habit, spitting at all you have,
but if you're doing all the leaving, then it's never your love lost, if you leave before the start, than there was never love at all.
Heaven knows I'm prone to leave the only God I should've loved, but you're far too beautiful to leave me." (The Oh Hellos, In Memoriam.)
You shouldn't aim to be better than someone else, you should aim to be as good as you can be. As loving, as pure, as brave, as wise, and then you have no real limit, you can always grow.
My family and I will find some way to deal with the crazy of our relatives, but we don't intend to be a part of it.
My sisters and I laugh about how whacked our situation must sound to people who don't know the intimate details. Our little unit was supposed to be the "normal" one in the dysfunctional family that was the stuff TV shows are made of. My grandmother once attacked some police officer. My step family got into occult stuff. My uncle was in a cult for years. Because my mom is the "sane" one, no one could believe she married my dad, and it's the main reason us girls turned out as normal as we did. No one thought we'd be the ones to kick someone out and actually mean it, not just doing it for a power move like the rest of the family.
I am learning to think about it less often, I've gotten used to it.
I wonder what my dad would think if I told him we've been perfectly fine this whole time without him. In fact, we rejoice in his absence, and all of us have had nightmares about him returning. I've said I'd go through it all again before I'd live in the same house as him ever.
You can't imagine till you've gone through it what an utter relief it is not to feel your life and happiness depend solely on one person.
I'm sure he can't fathom it. He thinks we'll cave. We'll get tired of this. He doesn't know I'm already planning my whole life out without him in it as more than a vague figure. Sometimes, the abuse seems unreal to me, like the difference between then and now is so great, I almost can't believe I was ever in that place.
I am getting used to not being treated like dirt, and I'm determined never to go back to that willingly.
Because I am doing better, it's easy to question if we have overreacted. If I were just going by my awareness of it, I might think my aunt was right.
But, I know what God has directed us to do, and I do have people to confer with to remember what happened. I don't think we should harp on it, but it's important not to forget, because you have to be able to protect yourself by setting boundaries.
All this progress could go away if we let ourselves be deceived again, but we don't have to let ourselves, it's a delicate matter, but it's not impossible.
As far as I'm concerned, reconciliation means we forgive and can be on peaceful terms. We are ready for that, my dad is the one incapable of letting it go. So, it'll be on him, and there's nothing more I can do about it.
And that's okay.
And if you have someone like that, just try to believe, it is not your job to take care of them. You don't owe them anything.
All we owe each other in this life is love, and respect for each other's humanity, anything beyond that is something you have to choose carefully to offer the trustworthy people. No one can demand it, if they try, they won't get it.
I think that's all I got for now. Until next time, stay honest–Natasha.